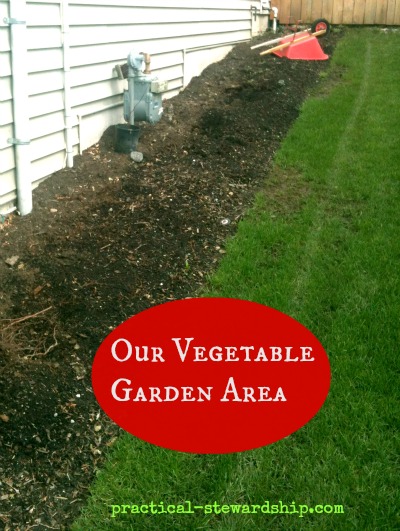 Recently we were introduced to a gardening concept that we found really compelling. It's called wood chip gardening, and it is the subject of the movie Back to Eden…as well as much controversy.
If you'd like to watch the movie, go here!
First, we recommend the movie…almost in its entirety. It's available for free online at the Back to Eden film site, too. So don't take our word for it; watch the movie or spend some time on the site.
Basically the idea is to introduce ground cover for the conditioning of the soil and for optimizing growing conditions. The proponent of the method in the film is named Paul Gautschi, and he suggests that the tilling of soil is a concept that was introduced after sin entered the world. It's something that fallen man does as he works the earth; it's something that best happens when done naturally…and that means without man's help. Barren earth does not produce, yet that's what many of our agricultural fields look like today. But when left alone, soil gathers and produces both nutrients and lush plant life…generally speaking.
It makes sense. Take where I live in the Pacific Northwest, for instance. Nobody cultivates the forest floor, but it's abundant with life…and healthy soil. It's not dependent on us to cultivate it and introduce synthetic fertilizers. More often our efforts only bring long-term problems, though masked by immediate results.
So how can we best simulate what seems to happen so successfully in nature? Enter the wood chips. Gautschi lives in Sequim, Washington in the rain shadow of the Olympic mountains. Though it's on the Olympic Penninsula, an hour away from rain forest, Sequim gets between 15-20 inches of rain annually (that's not a staggering amount of rain). And Gautschi doesn't water his garden. But you wouldn't know it by looking at it.
When left on the surface, the wood chips help to retain water, prevent weed seeds from germinating, and slowly introduce organic matter into the soil, improving it over a course of years. When folks make the mistake of tilling the wood chips into the soil, the process of breaking down the wood chips saps the essential nitrogen from the soil, depriving the hungry plant life of the important nutrient. This also makes sense, because on a forest floor, rotting wood, needles and dead foliage decay from the top down, and fungi and worms and other critters work their magic beneath the surface.
Like everything else, this gardening model comes with mixed reviews. Some people insist that it can't work, but others have had tremendous success in all sorts of different climates the world over.
As for the Sarrs, we are interested in introducing wood chips to both our vegetable garden as well as our flower beds and plant gardens for a few reasons:
We never fertilize anyway (less on principle and more because we're lazy), so this has to be an improvement.
It is almost guaranteed to reduce our water consumption.
The weeding is always easier when there's a layer between the soil and the surface, whether bark, chips or gravel. So weed control and aesthetics will be a plus.
If we do a bit of legwork, we can probably get all the wood chips we could use for free.
Now, I've left a number of questions unanswered that the film and the website address, like the matters of what sort of wood chips are best, when to actually water, how to plant, where to get wood chips, and more. So check it out if you're interested in learning more.
What about you? Have you ever tried wood chip gardening? Do you think it makes sense or does it sound plain silly?
This post may contain affiliate links that cost you no more money, but support our blogging efforts. Thank you!