Thinking ahead saves time.  Thinking ahead saves money.  Thinking ahead saves energy.  This is why I am enjoying sharing our Loose Meal Planning.  Life doesn't always allow me to think ahead as we run along life's trail, but I at least try to think ahead most of the time.  The following recipes are all possibilities for these next couple of weeks as I aim to make the best of the resources that God has given me.  And yet, I will remain flexible to the possibility of major menu modifications, sudden outings, sickness, dinner dates, potlucks, etc….
Re-capping the Last Two Weeks:
We only opened one package of cereal for breakfast; I was very pleased as we work to get away from prepackaged foods!
I didn't beat myself up when didn't have morning smoothies everyday, but we did have WAY more in the morning than before.  I love getting some fruits and veggies in before starting the day. 
I have really been wanting sourdough waffles lately so twice in the last two weeks we have had some.  I am tweaking Martha Stewart's Recipe to use whole wheat flour, coconut oil instead of vegetable oil, no cornmeal (like she calls for), no eggs (chia seeds and water make an amazing egg substitution), and I am trying to figure out the correct water ratio, as she left that unclear.  So in the end my recipe won't resemble hers at all, but it's the base for my experimentation.  Right now the dough is really sticky, but the waffles taste amazing, are soaked (making them easier to digest, breaking down the phytic acid), and very filling!  I have more waffle dough waiting overnight right now.
Since I was experimenting with eating yogurt this past week, we made the 5 ingredient Pop-Tart-Inspired Toaster Pastries.  Soaking the dough overnight made the dough sooo easy to work with the next day.   This was a much better experience than I had with Abbie's failed classroom birthday Homemade Pop-Tarts.  The kids were pleasantly surprised to find a Homemade Pop-Tart in their lunches a couple of times this week.
In trying to keep my grocery budget (go here to see how much I spend a week) in check it has been bothering me that I have been paying $2.49/lb. for Coleman Organic Chickens from Costco without knowing if they are free-range or not.  I would think that if you sold a product free-range, you would brag about it and plaster it all over your product.  Unless I am blind, I could not find this information anywhere on their whole fryers.  Sometimes I need something right in front of my face to deal with it, so when I was in Costco yesterday I finally called Coleman Natural.  They didn't answer at the time, but I left my number, and they called me a few hours later, leaving me a message.  I was disappointed that I missed the call and didn't get to talk to them personally, but I was very happy to find out that all of their organic chicken is free-range!  So now I can buy my organic, free-range chicken from Costco in peace.
We had the Tortilla Soup a couple of days last week and then my
friend made a yummy one, too.  I don't think I could get tired of Tortilla Soup.  Even if it's not loaded with cheese now.
We enjoyed fajitas the last couple of days and the Spicy Ginger

Sauce a few different times.  Abbie says it's one of her favorites; she likes it best with pasta, of course!
So for the next two weeks here are my plans.
BREAKFAST:
Homemade

Granola and commercial cereals like Mom's Best or EnviroKids for the other days.  We still have some leftover granola from the quadruple batch I made almost two weeks ago.  In two of the batches each I put 1/4 cup coconut oil and 1/2 cup of almond butter along with 1/2 cup of honey for the wet ingredients to give the granola an almond bent.  The granola was a bit drier and is remedied with coconut milk, but the granola still has a great flavor.
Steel Cut Oats: frugal and fiber-filled, with fruit, nuts, cinnamo

n and honey.  We have this every Tuesday with leftovers Wednesday.  I love coming downstairs and being greeted with a nice warm meal I haven't touched in 10 hours!  I am putting a little Bragg's Apple Cider Vinegar with the Mother mixed with honey in the steel cut oats for many immune boosting and health benefits.
Saturday Morning Special: I am working to get that sourdough waffle recipe just right before sharing.  If you want a non-sourdough recipe, here is one: Waffles with 100% white whole wheat flour (it's all whole wheat flour).
LUNCH:
Fruit

Crock-pot yogurt for the family with honey and walnuts.  No yogurt for me:(
Scrambled eggs with lots of veggies
Quesadillas
Nachos (my #1 go-to lunch meal) can use a no-cheese cheese for me, and real cheese for the fam.  I coat them with organic greens and organic salsa.  Homemade salsa is something I will only make during tomato season, so I buy the Organic Salsa from Costco during the off-season.
Leftovers from dinner like soups
DINNER:
I just made some pinto/re-fried beans tonight, too late to eat for dinner, so they will become dinner tomorrow.  I am freezing some this time to see how well they freeze, but I am guessing they will freeze well because I have frozen canned re-fried beans in bean burritos without issue.  I am working on getting more kick to my crock-pot re-fried beans before sharing the recipe.
I didn't get to try some lemon lentils, so I will look for recipes this week.  I kind of like it when I don't hit all of my menu goals, so I have more to keep going after, if that makes any sense.

When we were at dinner tonight, we were sharing our favorite dinners.  Ellie said this Chili is her absolute favorite.  I call it the can-can chili, since it's made mostly from cans and I feel like I am cheating making it, it is so fast and easy.
Jonathan mentioned one of his favorite dishes is lasagna, and we haven't had it for months since I have been dairy-free.  My family is eating less dairy since I am

preparing it less, especially if cheese infuses a meal like lasagna.  They still get plenty of dairy, believe me, but I used to be on cheese over-load, flavoring everything with the glorious food.  Since I am going to test eating Mozzarella cheese for four days, this is the perfect time to break out my Jolie-inspired Crock-pot Lasagna.

Yay!  I am going to have some pizza with real Mozzarella, too!  I plan to have it for a couple of meals, too.
I bought my second set of sweet potatoes ever earlier this week because I am going to make sweet potato fries.  Hope we like them!
Pasta used to be an over-regular part of our diet, consuming it multiple times a week.  We might have it a couple of times a month now.  Something that sounds really good now is plain noodles with olive oil, a drizzle of lemon, roasted garlic cloves and maybe bell pepper with some tomatoes.
I will be making some homemade $0.61 sourdough bread at least a couple of times in the next two weeks.

We will continue to have salad with almost every meal.
Since I had to get a rain-check at Fred Meyer for the Boneless Cross Rib Roast maybe I'll buy it in the next two weeks and crock-pot it.  I love the leftovers in a tortilla.  Maybe I'll try it with Mozzarella this time.
SNACKS & DESSERT:
We are still going through apples like crazy because me and the kids are eating an apple a day with nut butter and those tiny little chocolate chips you see pictured below.  I am getting our organic apples at Trader Joe's because they are a perfect small little size for the tiny people who like to eat them in our family.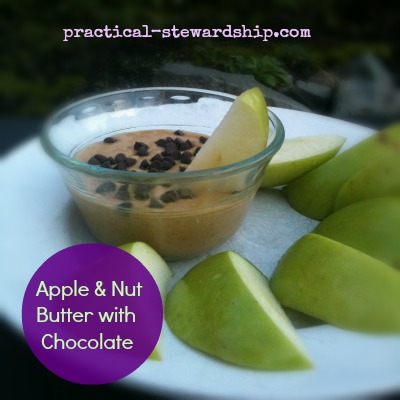 Do you menu plan?  What are you planning to make in the next couple of weeks?  I'd love to hear!!  See other menu plans here.
Do you need some other culinary inspiration?  Go here for the complete list of recipes.
We would love to hear from you!  Get free e-mail updates by subscribing here.  Follow us on Pinterest, Facebook and Twitter. "Moreover, it is required of stewards that they be found faithful" (1 Corinthians 4:2 ESV). Thanks for visiting!
Sonja