Blogging Resources
If you are starting a blog here are a few resources we use, and I sure wish I knew about when we started including hosting, theme, what camera we use, link party ideas, and more.
THEME: We use the Genesis Framework and the Foodie Theme by Shay Bocks. I have personally had many e-mail correspondences with Shay, and she's been so helpful in getting us up and running.
HOSTING: For our hosting, we use Blue Host. Even though it may take a few minutes to reach someone, Blue Host is a very economical way to host, and their support is AMAZING! Seriously, we have needed people to hold our hands through the transfer process and with different hosting issues. EVERY SINGLE PERSON we've talked to (and there have been many) have been so helpful.  They also never make us feel inferior for not having the blogging knowledge they have.
CAMERA: The biggest regret I have in starting our blog is not starting off with the right camera. I used my iPhone 3 and iPhone 4S, for a year and a half before investing in a Canon EOS Rebel T3i Camera. The investment is a decision I have not regretted a bit. I have spent almost a year redoing old pics for old food posts since I didn't start out with a high quality camera (and I still have plenty of recipe pics to update). We have the Canon EF 50mm "Nifty Fifty" Camera Lens
, too, and it takes great closeups of food. Anyway, I love our camera and it been worth every penny!
TECHIE HELP: I have gone through a few different people to get some independent help throughout the years. I haven't always felt completely supported by them because they wouldn't get back to me in a timely manner, and I didn't know how much they knew about the blogging aspect of things. When you are a blog owner you want a partner who is not only tech-savvy, but blog-savvy as well. So I asked my friend, Stacy of Stacy Makes Cents, who she uses. She referred me to her husband, Barry. What I have liked about partnering Barry, is that he has worked extensively with his wife on their blog and other bloggers, so he is familiar, not only with the techie side of things, but with the blogging aspects as well (Google Analytics, Adsense).
Barry's Contact Info: myersbr2@gmail.com.
LINK PARTIES: We have linked to other blogs at "link parties". They usually happen once a week, and you can go here to see our link party list.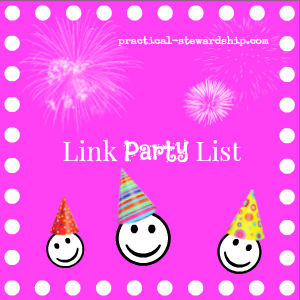 This page contains affiliate links which costs you no more yet supports our blogging efforts.