Panty Liners Tutorial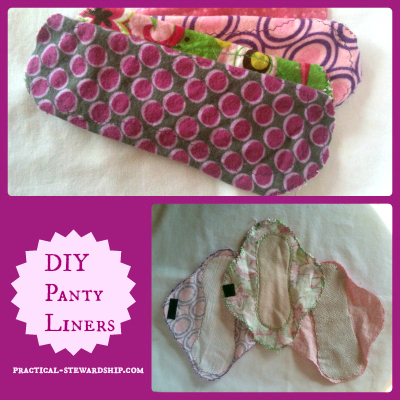 Even as I am typing this, I am cringing a bit hoping my dad and all of my husbands friends don't read this, yet this is a part of life all of us lovely ladies need to address.  And I am sure some of my friends may have thought I have gone off the deep end after posting this.  Yet, I am sure others will think that this was naturally the next step for me since I cloth diapered, use baking soda and vinegar for cleaning and lots of others things, make my own deodorant and astringent, use cloth napkins, re-purpose and the like.  But I'll get over it, now.
As I said, I used cloth diapers with all three of my kids, yet wasn't introduced to the mama cloth/reusable sanitary pads and panty liners until my birthday last year (a year ago), when a friend who thought I might like the reusable pads, gifted me with a few.  I thought they were so great that six months later, during Christmas break, I endeavored to make some.
If you are serious, I mean really serious about saving money, leaving God's earth a little greener, and reducing products in your home made with harsh and potentially irritating chemicals, then maybe you should consider making and/or using reusable panty liners or pads.  If you are already using cloth diapers, then it's almost a no-brainer to use reusable panty liners or pads.  I will admit, when I used cloth diapers, it took a few years for me to stop using disposable baby wipes and switch over to reusable cloth wipes, so I understand it may take some time to make the transition to reusable pads and panty liners.  Then it took me another three years to consider reusable feminine cloths.
Panty liners are really easy to make, and you don't even need a real pattern for this tutorial, but you will need to have a pad with wings that is already working for you size-wise.  Also a disposable panty liner would also be nice to have.
You can make these DIY panty liners out of re-purposed items, too.  Flannel is great to use, so old flannel shirts work well.  I used old diaper inserts made out of hemp and others made out of microfiber to make an extra absorbent backing, but you could use old thin towels or washcloths, too.  Or if you want a really thin panty liner, you can skip #1 and #3 of " The How-to" below.  By the way, I will also be sharing a tutorial in the future for reusable feminine pads/mama cloth.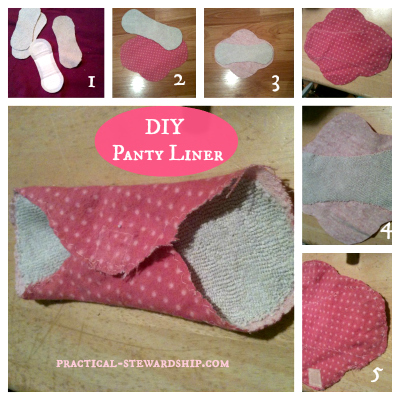 What You Will Need:
flannel
matching thread
fabric pencil (can use a regular pencil if you don't care how hard it is to get out)
sewing machine
scissors
pins
wash cloth, towel, or diaper inserts (for extra absorbance)
pad with wings
panty liner (optional)
snaps (I used Velcro at first-I don't recommend this)
The How-to:
Optional, trace out the panty liner on the wash cloth/towel/diaper liner (I will call it a wash cloth from here on).
Use the pad with wings, and trace the shape on the flannel.
If you are using the wash cloth, pin the cut wash cloth to the back side of the flannel.  Using a zig-zag stitch, sew the wash cloth to the back side of the flannel.
Using a zig-zag stitch, sew around the perimeter of the flannel to reinforce the edges so they don't unravel.  I zig-zag all around the flannel twice.
Attach your snaps on the wings (I enlist my husband here-since this is the most difficult part for me).  And it's done in a snap!
Clean as you would cloth diapers.  You can soak them by submerging them in water with a squirt of vinegar until they are ready to be washed.  When washing, I have them go through two rinse cycles, and then launder as normal in hot water.
Have you made your own cloth wipes?
THIS POST MAY CONTAIN AFFILIATE LINKS THAT COST YOU NO MORE MONEY, BUT SUPPORT OUR BLOGGING EFFORTS. THANK YOU!