This year I finally started cooking dried pinto beans and making homemade refried beans on a regular basis.  I had put off making refried beans for a couple of years.  In fact I bought my first dried pinto beans over a year before I even tried cooking them.  Good thing beans are dried, so it wasn't that big of a deal.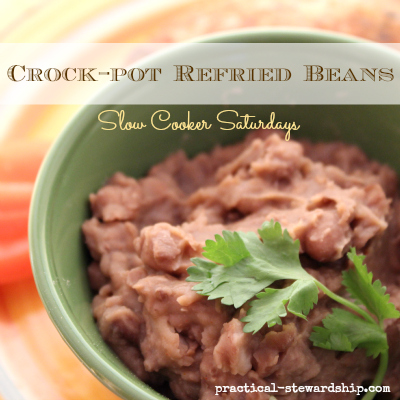 When you are trying to feed your good whole foods frugally, beans are the way to go.  I've been making crock-pot refried beans for about 6 months now, as it was one of my proactive goals to cut the grocery bill this year.  The steps are so easy, and you can really flavor the beans as you want.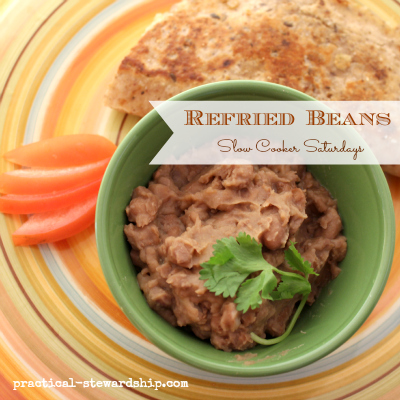 Another great thing about making crock-pot refried beans besides their frugality, and not to mention the convenience of using the crock-pot, is that you can control the amount of sodium that goes into the beans.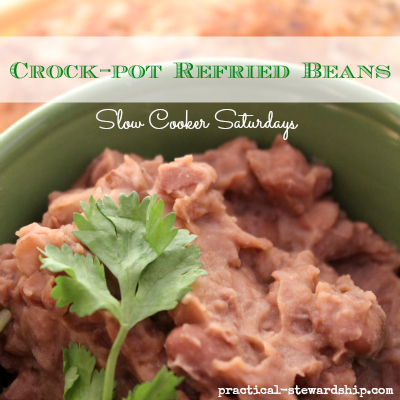 Also, crock-pot refried beans freeze well.  You can freeze can-sized batches (approximately 16 ounces) to make the beans virtually as convenient as using a can.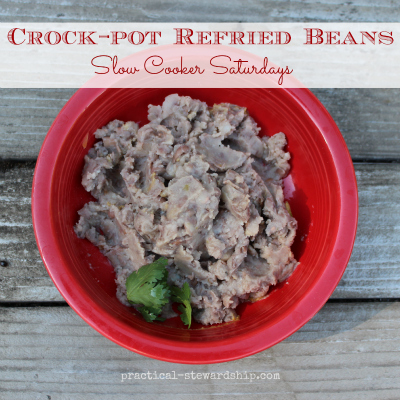 Crock-pot Refried Beans
Ingredients
2 cups pinto beans
2 T olive oil, optional
1 onion, chopped
3 t minced garlic
1 jalapeño pepper, seeded and chopped (wear gloves for this part if needed and don't touch your eyes-I did leave the seeds in for extra heat)
1 t cumin
1 t chili pepper
dash of Cayenne pepper
1 t sea salt
Instructions
Look over your beans to make sure there is no foreign debris.
Rinse dried pinto beans.
Place beans in the crock-pot and fully submerge the beans with water making sure there is an additional 2 inches of water above the bean line.
Let the beans soak overnight, approximately 8-10 hours.
Drain and rinse beans, and submerge beans with 2 inches of water again.
Optional, sauté the onions and garlic in 2 T of olive oil.
Add the onions, garlic, and remaining ingredients to the crock-pot minus the salt.
Cover, and cook on low for about 8 hours, or 5-6 hours hours on high, or until a fork can easily pierce the beans.
Drain excess liquid, and mashed until you reach your desired consistency.
Salt to taste, and add any additional spices to taste.
Cool, serve, or freeze, and enjoy!
The Verdict: I wish I would have started making refried beans in the crock-pot YEARS ago.  It's my only regret about making the beans.  Refried beans are fresh, frugal fiber-filled food that are tasty and a great source of protein.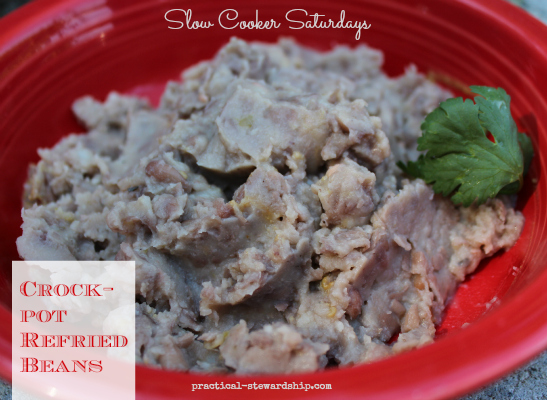 If you are in a rush when putting them together, you can literally just cook them without any seasonings and add them in the middle or toward the end of cooking.
Feel free to double or triple the recipe.  We often don't measure, and just make sure the beans are fully submerged in water with extra water covering the beans.  If the water evaporates during cooking, add a little more until the beans are fully covered again.  I usually end up having to drain a lot of liquid at the end, but I would rather do that then have dry cooked beans.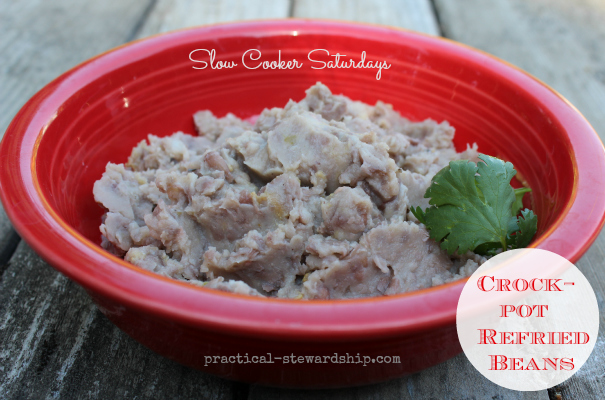 When I want my refried beans to have more of a restaurant-style consistency, I add a little bit of water and olive oil to the batch to thin out the beans.
This is so easy to make, my husband was able to make homemade refried beans for his family when he visited them.
Go here for the complete list of recipes.