Jonathan here with some Grilled Pork with an Asian Sauce.
I'm not sure if I'm ripping a new hole in the universe in the process, but I'm actually doing a recipe post. Can you believe it?  Well, I love cooking pork. It's generally less expensive than beef, more tender and harder to mess up.  (Who likes their beef medium? Well done? Medium-well…?) I cook it all the same way and keep it simple. Anyway, I love pork.
I also love to grill, and I love spicy stuff, and this sort of go-to recipe combines a lot of my favorite things.
Before I begin, let me begin with some general, random tips for grilling the perfect meat.
When possible, marinate at least two hours. Overnight is better. Covered and in the fridge. Yeah.
Before you cook your meat, let it come to room temperature. It cooks more evenly.
Use a good, hot grill. This is where a lot of folks err. I let my grill get super duper hot, preheating it for about 15 minutes before I put the meat on the grill. This gives the grates time to heat thoroughly, too. That makes for better searing and grill marks.
Okay, enough of that. On to the dish!
Grilled Pork with an Asian Flair
Ingredients
3-4 pounds of pork steaks (chops, sirloin, spare ribs, or even a loin roast sliced into steaks)
For the Marinade
1 Cup soy sauce
2/3 Cup olive oil
1/4 Cup honey
1/2 Cup water
2 Tbsp fresh, minced garlic (5-6 fresh cloves would be fine, too)
1 Tbsp pepper
1 tsp paprika
2 Tbsp corn starch
Instructions
Blend all except the corn starch ingredients for the marinade in blender until smooth.
Pour mixture over pork steaks in a glass dish and cover.
Marinate in the fridge 2-12 hours.
The Steaks
%https://practical-stewardship.com/wp-content/uploads/2013/07/Grilled-pork-resting.jpg
Before grilling, let steaks come to room temperature (about 30 minutes should do it).
Place steaks on a clean, well-oiled grill and reduce to medium heat (indirect heat if you're using charcoal).
Grill for 3-5 minutes per side, or until internal temperature is about 145 degrees.
Remove steaks from the grill, then let the meat rest for about 3-5 minutes.
The Marinade Gravy (Sonja's favorite part!)
%https://practical-stewardship.com/wp-content/uploads/2013/07/Grilled-pork-gravy.jpg
Once you have removed the steaks from the marinade, pour the marinade into a sauce pan or skillet.
Whisk in the 2 Tbsp of corn starch to help the solution thicken.
Bring to a simmer, but don't let it burn. This heating will kill any potentially-harmful bacteria. Keep stirring it while it heats up.
Serve it up!
Slice the steaks across the grain to aid tenderness.
Drizzle the gravy over the top, and serve!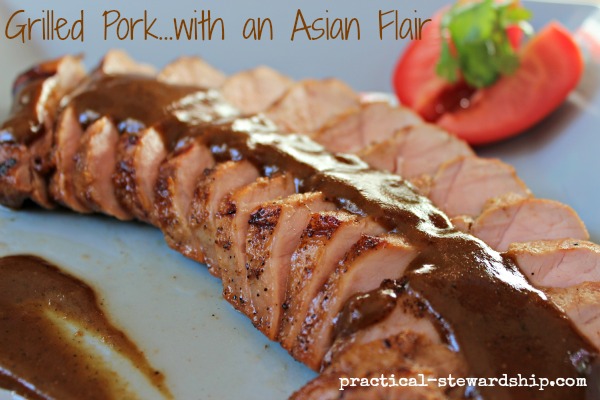 The Verdict: We don't eat enough meat around here, so some good grilled meat is a treat!  Nice, tender, juicy, flavorful.  Oh, yeah!
We enjoyed the leftover in our spicy ginger sauce noodles.  Flavor on top of flavor.
Go here for the complete list of recipes.
Have you tried a spicy ginger sauce?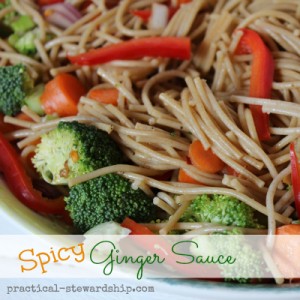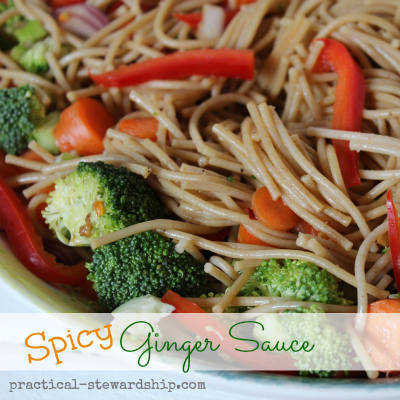 THIS POST MAY CONTAIN AFFILIATE LINKS THAT COST YOU NO MORE MONEY, BUT SUPPORT OUR BLOGGING EFFORTS. THANK YOU!