Cucumber Peach Salsa
Have you ever tried cucumbers and peaches together?  How about in a salsa?  This season we have enjoyed the bounty of cucumbers and peaches.  I wish I could say it was from the fruit of our land, but I can't.  But we have sure enjoyed the fruit of others' labor though.  We have made several cucumber based salads (thanks, Agi), we look forward to making some pickles, and all of my kids love to eat cukes as a snack (this secretly THRILLS me).  I guess it's not really a secret, but I sure love to hear my kids choosing cucumbers to eat over other foods!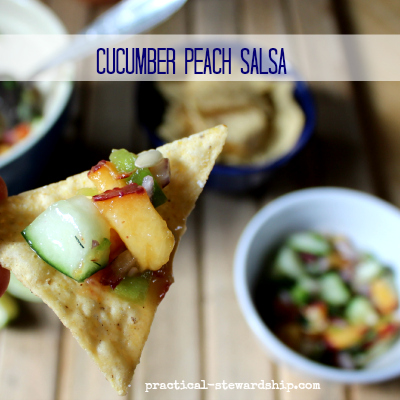 My friend, T, first introduced me to the thought of a cucumber based salsa when she brought one to a potluck in the spring.  It was so fresh tasting-I couldn't stop eating it.  When we came into some cukes earlier this month, I knew I wanted to make a salsa using them but with a little twist from T's original recipe.  I wanted to throw some peaches into the mix.

Variations to the Recipe: Feel free to add more peaches or cucumbers to the mix, based on what your preferences are.  Also, my friend's version of the recipes uses tomatoes instead of the peaches.  I wanted to make a raw salsa, but in one of the versions I looked at they grilled the peaches.  If you are choosing to use a jalapeño pepper, you may want to wear gloves.  The first time I worked with a jalapeño I didn't wear gloves, and my skin was burning from 10 am in the morning when I cut it until I went to sleep that night.  Not fun.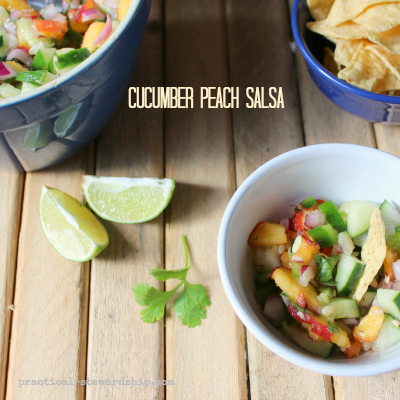 This recipe is adapted from a combination of Taste of Home and Chez Us.
Cucumber Peach Salsa
Ingredients
1 1/2 cucumbers, peeled if desired, seeded and chopped
1 peach, peeled if desired and chopped
1/2 red onion, chopped
1/3 bell pepper, chopped
juice of 1/2 a lime
1-2 t cilantro, minced
1/2 t garlic, minced
1/2 t salt, or more to taste
1/4 t dill weed
optional, 1 jalapeño pepper, seeded if desired, and chopped
drizzle of olive oil
Instructions
Mix ingredients in a large bowl.
Enjoy or refrigerate to let all flavors meld together for about an hour and then serve.
For more dairy-free, egg-free gluten-free ideas, you are invited to follow our Dairy-free, Egg-free, Gluten-free Pinterest Board.
Have you ever made a tomato based raw salsa?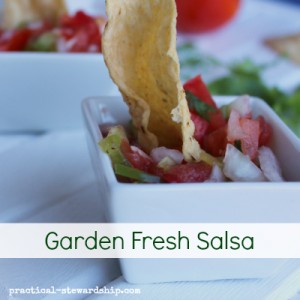 THIS POST MAY CONTAIN AFFILIATE LINKS THAT COST YOU NO MORE MONEY, BUT SUPPORT OUR BLOGGING EFFORTS. THANK YOU!