Easy Homemade Ranch Dressing, Dairy-free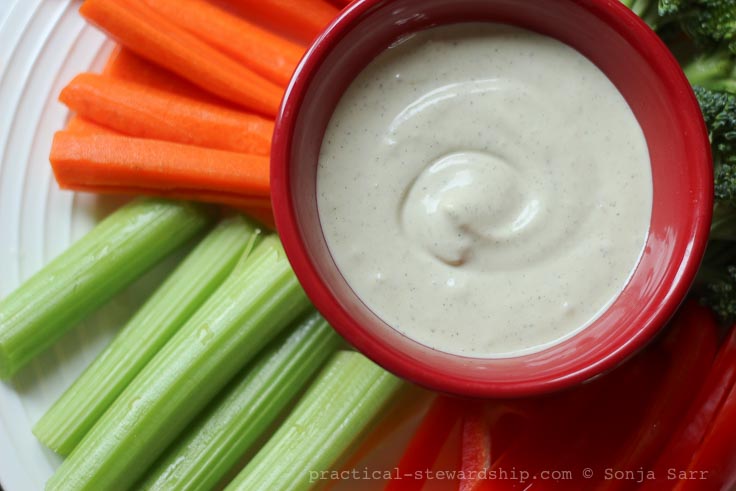 Ranch dressing is an American staple.  For some families, it's the only way they can get their kids to eat a few veggies.  Here is a raw vegan version of ranch dressing that is tasty, super easy to make and comes together really fast, especially with a bit of thinking ahead.  If you didn't know, you wouldn't even think this ranch is dairy-free, it's so rich and creamy.  I've fooled a few of my friends with this recipe, too!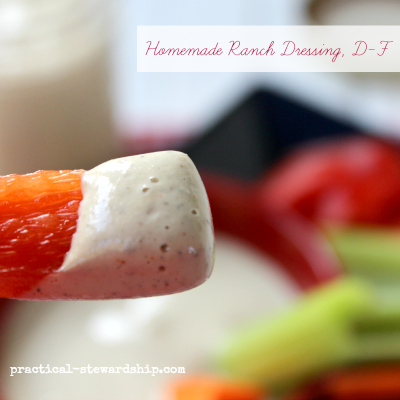 Raw Ranch Dressing is a great match to a plethora of garden fresh vegetables.  I think using a ranch dressing makes it so much easier to increase your daily intake of veggies, and don't most of us need more veggies in our life?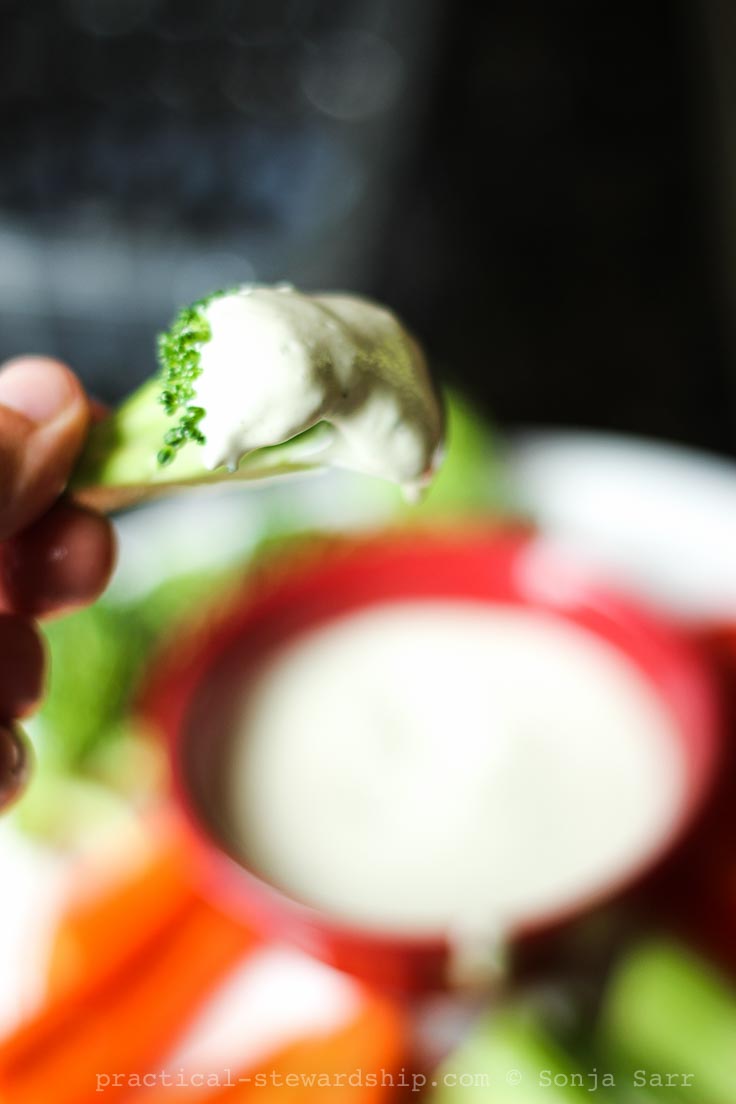 Once you've had a homemade ranch dressing, you never want to go back to store bought.  The homemade version is just so much more fresh, and the ingredients surpass those of it's commercial counterpart.  No more high fructose corn syrup, MSG or low fat ranch versions. If you have a regular blender and know you'd like to make some ranch dressing, plan it around when you soak your cashews.  The longer they soak, the smoother the dressing will be.  If you have a high powered blender like a Vitamix, you can skip the soaking or can soak them for 15 minutes or so.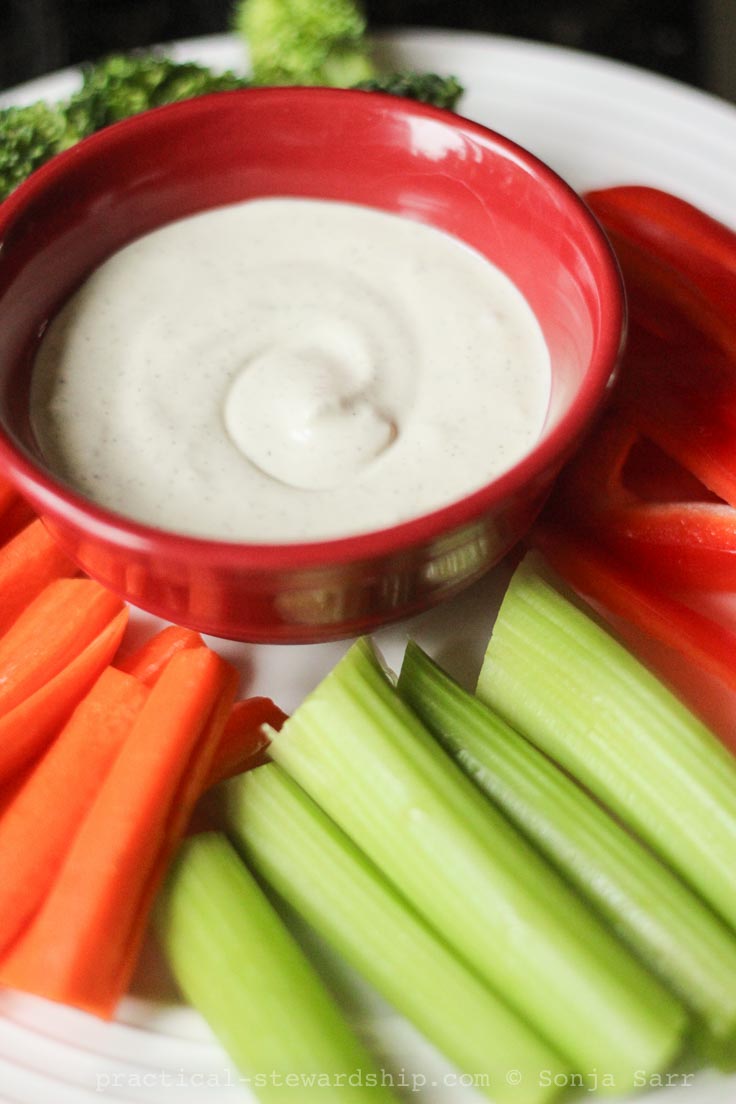 After storing the dressing in the refrigerator, the dressing may thicken.  If the dressing gets too thick, just add almond milk or water by the teaspoon, and stir until the desired consistency is reached.  If you do this you may need to adjust the seasoning and add more salt or whatever you fancy.  I have added the extra liquid without needing to use additional seasonings. The original recipe came from a DVD from our public library a few years ago (source unknown) and then I modified it with some ideas from my friend Jolie who sourced the Gluten-free Goddess.  I love adding the apple cider vinegar for the bite and to help promote good gut health.  Use less apple cider vinegar if you want less bite.  Omit dill if you aren't a fan.  Add celery seed if you'd like.  Recipes can be flexible to taste.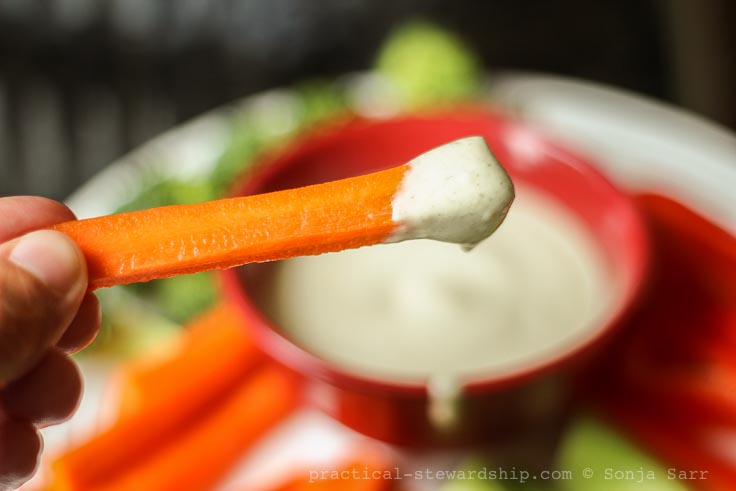 Easy Homemade Ranch Dressing, Dairy-Free, Vegan
Ingredients
1 cup cashews soaked for at least 15 minutes and up to 3 hours
3/4 cup water
1/4 cup apple cider vinegar
2 T lemon juice
1 t onion powder
1 t garlic powder
1/2 t salt
1 T minced fresh basil or 1 t dried basil
1/4 t fresh ground pepper
1/4 t dried dill
1/8 t paprika
dash Cayenne pepper
Instructions
Combine all ingredients in a blender, and blend until smooth.
Pour into airtight container, and store in the fridge.
THIS POST MAY CONTAIN AFFILIATE LINKS THAT COST YOU NO MORE MONEY, BUT SUPPORT OUR BLOGGING EFFORTS. THANK YOU!