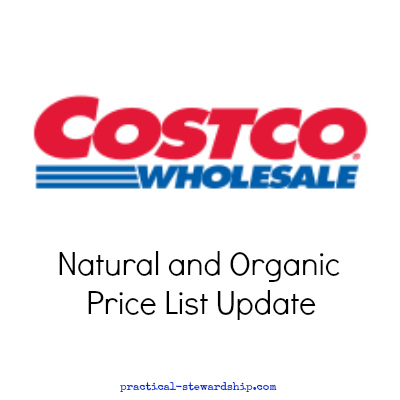 Greetings all!  I just updated the Costco Natural and Organic Grocery Price List today.  The dates these prices were taken were 10/10/13 and 10/16/13 in Snohomish County area of Washington, just North of Seattle.  It takes me a few trips to get the prices because there are so many groceries.  Go to this page to see the most up-to-date prices at Costco.  It took me awhile to get it up because we were out of town visiting my sister Thursday through Sunday, and I am just starting to catch my breath now.
Usually when I shop at Costco, I don't stroll down every aisle looking for interesting products, but when I update my price list I take more time and find interesting products.
Notable additions to the list are (and I am planning on trying all these listed below):
avocado oil (I can't wait to try this!)
gluten-free flour mix (I don't know how well it works, if anyone has insight, I'd love to hear)
packaged dates (actually cheaper than WinCo)
organic sweet potatoes in a 10 lb. bag
lots of organic apples
organic peanut butter (we've been buying this the last month and love it!)
Apple & Eve Organic Black Cherry Juice
Again some prices went up and some actually went down, but most have stayed the same.  Because there has been negligible price changes in the past quarter to quarter and as I continually seek to be a better steward of my time, I will be updating my Costco price list every 6 months.  I will also do this for my WinCo Bulk Foods Price List and am planning to update the WinCo Bulk Foods Price List at the beginning of the new year so I am not updating two huge lists at one time.
The Costco Grocery Price List is on this page (click on the phrase "this page" to see them).  That way if you pin that page, you will always see the most current prices.
Blessings on your frugal food endeavors!
Have you checked out 4 Tips for Saving Money on Groceries?