Happy Thanksgiving Season to everyone!  Here is a super easy and festive salad to throw together quickly if you are looking for a side, the Cranberry Pecan Kale Salad.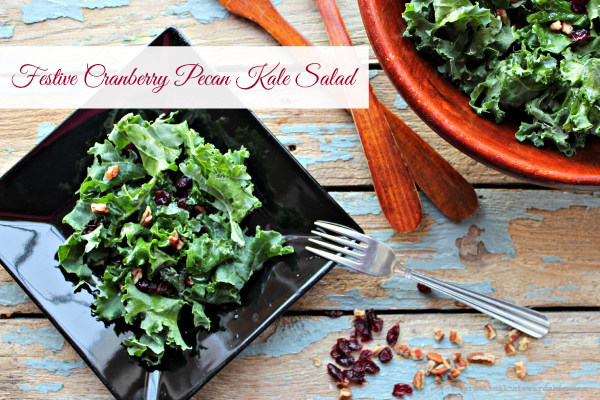 This Cranberry Pecan Kale Salad makes a great addition to any holiday feast. During the past few years hidden amongst the mashed potatoes, gravy, rolls, turkey, and pies at our Thanksgiving is nestled a green salad as I am trying to include more greens in our lifestyle.  Since cranberries and pecans are often used throughout the holidays, I thought their inclusion to the salad would be a festive treat.  And since my kids have been "krazy" for kale recently, kale makes the base of this salad. The rest of the family enjoys feta cheese on this salad.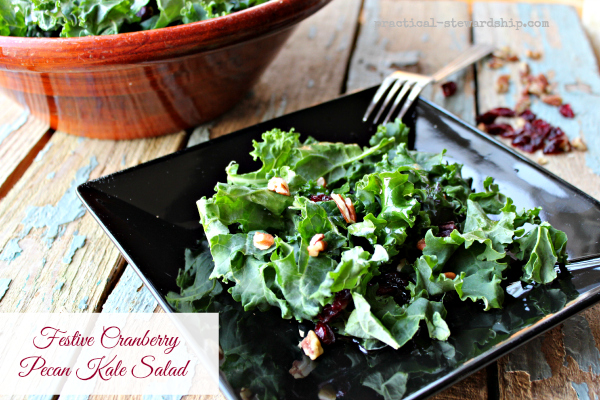 To make this great salad spectacular you can toast the pecans and add thin slices of red onion.  We have turned this kale salad into our main meal before with added protein to the salad like more nuts or chopped ham.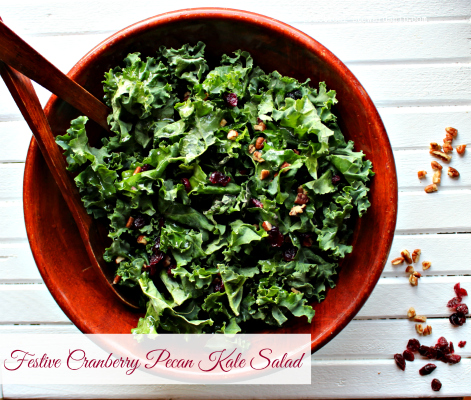 Cranberry Pecan Kale Salad
Ingredients
1 bunch of kale leaves, washed and massaged for a minute (I like to use 1 big leaf per person)
handful of pecans, almonds or walnuts (toasting is optional)
handful of dried cranberries
optional, red onion, thinly sliced to taste
olive oil
rice wine vinegar
Instructions
Mix kale, pecans, and cranberries in a large salad bowl.
Sprinkle vinegar and drizzle olive oil over the salad and toss.
Serve immediately and enjoy!
THIS POST MAY CONTAIN AFFILIATE LINKS THAT COST YOU NO MORE MONEY, BUT SUPPORT OUR BLOGGING EFFORTS. THANK YOU!