Mini Zucchini Pizzas with Sun Dried Tomato Basil Sauce~a fun and tasty way to use a bounty of zucchini.
I've been wanting to share this recipe for over a year. With zucchinis now in abundance, the time has come to share. This recipe is TOTALLY inspired by my neighbor, Clhóe.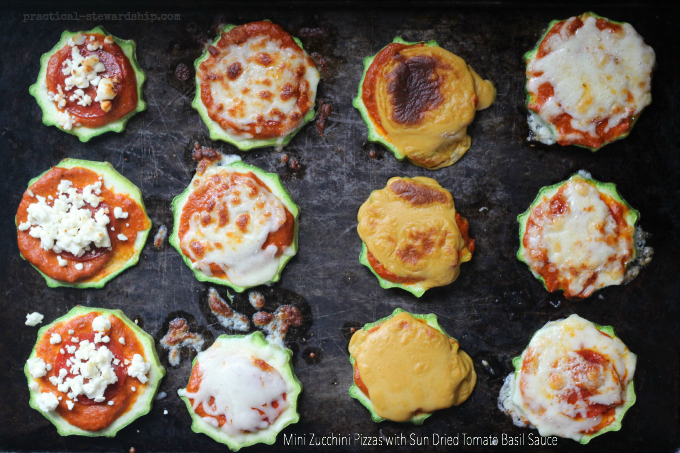 Last year we had our annual cul-de-sac cook-off, and the theme for that year was pizza. We had about five different pizzas. There was a  crock-pot pizza (that I actually didn't bring as much as I love my crock-pot).  Our neighbors contributed some delivery pizza (that wasn't part of the competition).   I brought a pizza with caramelized onions and garlic and my then-six-year-old daughter made her Hawaiian pizza with a sourdough crust (which she made from scratch, crust and everything-and took home the trophy). And then there was Clhóe's creation. She submitted a grain-free pizza using zucchinis as the base with an amazing sun dried tomato basil sauce. She even made a special one for me without cheese, and let me tell you folks, with her sauce, there was no need for cheese since the sauce was bursting with flavor.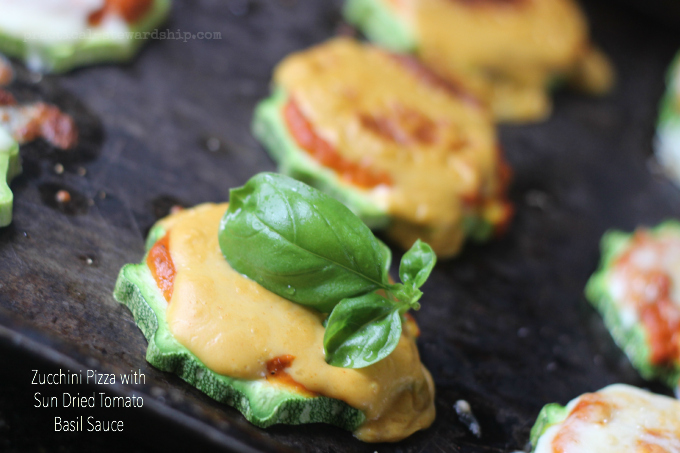 Intrigued, I got the basics of her recipe and set out to make my own. Prior to our cook-off I had never bought sun dried tomatoes, so Clhóe's creation opened my eyes (and taste buds) to the wonderful world of sun dried tomatoes. Sun dried tomatoes really add another layer of flavor to a tomato sauce.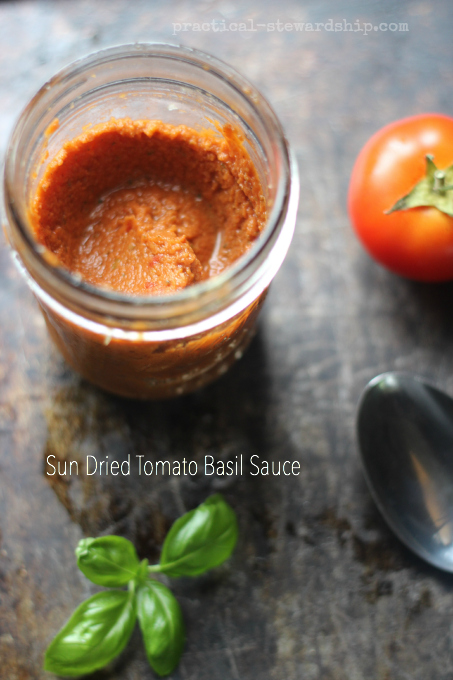 What I love about this sun dried tomato basil sauce is that it is hummus-like, it is so nice and thick. If you don't like it thick, you can add a fresh tomato or two to thin down the sauce (as shown below. The sauce in the spoon is actually the thinned version).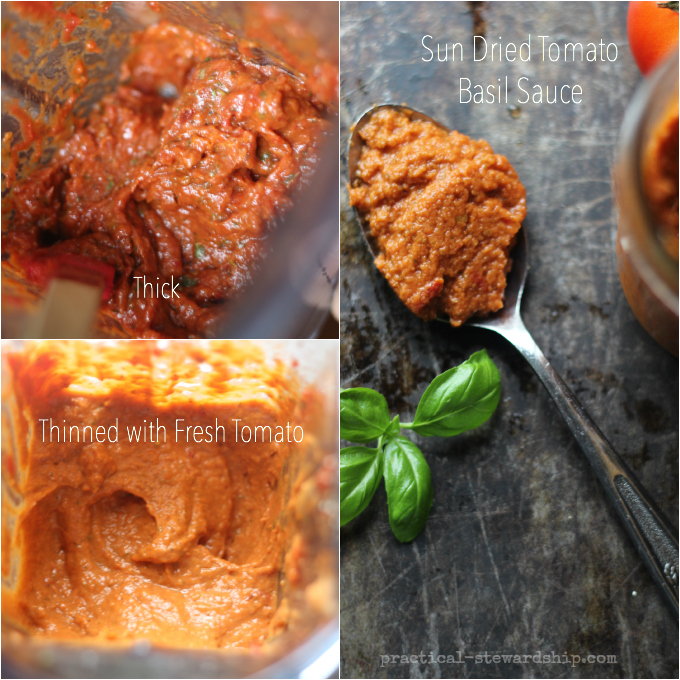 These little grain-free pizza bites make a great appetizer, side, quick lunch or dinner. You can make these dairy-free/vegan with a cheese sauce, as shown above.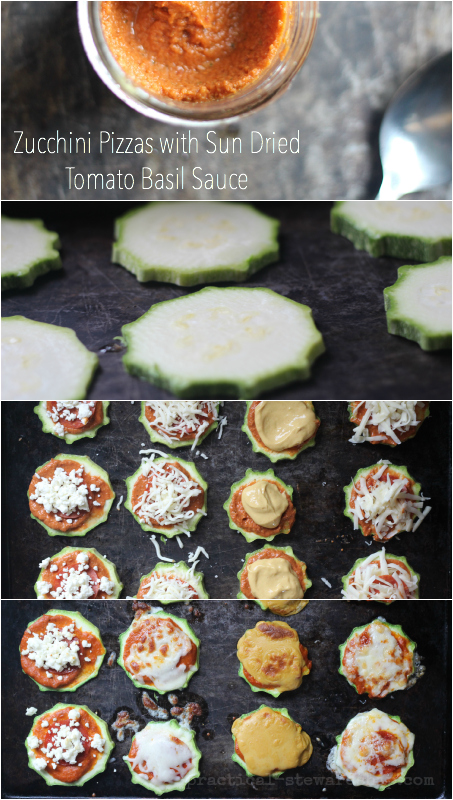 Mini Zucchini Pizzas with Sun Dried Tomato Basil Sauce
Ingredients
For the Sun Dried Tomato Basil Sauce
3 ounces tomato paste
4 slices of sun dried tomatoes
1/4 cup packed fresh basil leaves
1 T olive oil
1 t Italian seasonings
1 garlic clove
salt to taste
optional, 1 fresh tomato to thin consistency
optional, dash of sugar
optional, 2 T minced onion for additional flavor
For the Pizza
2 zucchinis or as many as you want
sun dried tomato basil sauce or sauce of choice
meat or meat substitute of choice
mozzarella, feta, raw milk cheese or non-dairy cheese (I used all of those in these pictures)
Instructions
Grease two baking sheets.
Slice the zucchinis fairly thinly, but thick enough that they won't flop.
Place zucchini slices on the baking sheets.
Top zucchini slices with sauce, meat and cheese.
Broil at 500 degrees for about 4 minutes, or until the cheese is slightly browning.
THIS POST MAY CONTAIN AFFILIATE LINKS THAT COST YOU NO MORE MONEY, BUT SUPPORT OUR BLOGGING EFFORTS. THANK YOU!