Dairy-free Skillet Corn Bread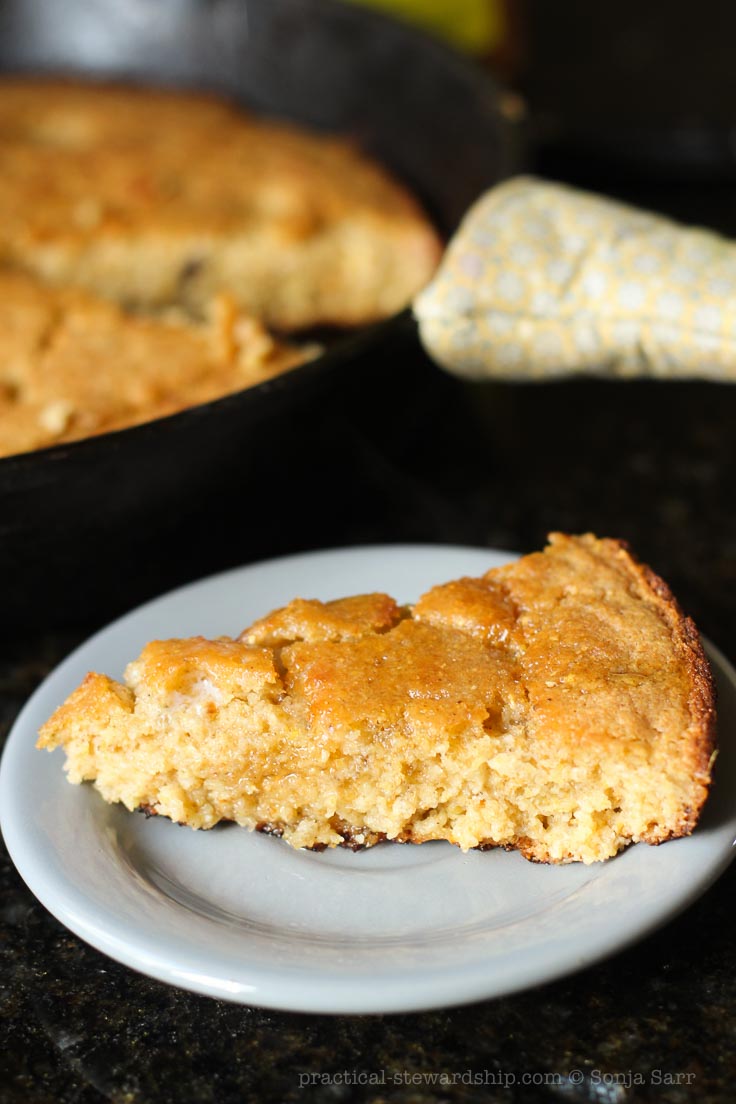 Two Sunday evenings a month our church carves out time in our schedule called family fellowship. It's a great opportunity to have people over to our house and get to know people more, to get beyond the surface. I love that the time is built right into our schedules so it's not like it's one more thing to do. It's by no means a requirement, but it sure is great to fellowship and encourage people in the faith and its all around food.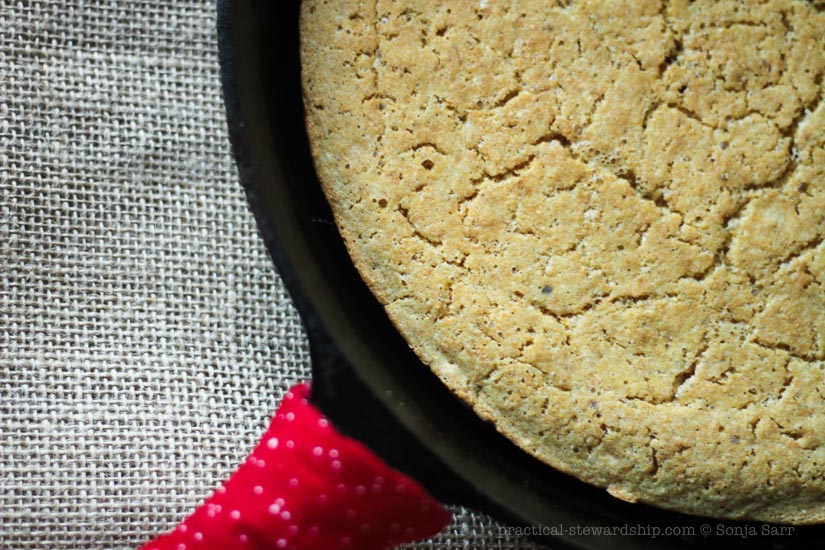 Occasionally we get invited over to someone's house, but typically, we are ready to be the ones to host and open our home to a family, singles, or a group of families. We like to have people over we normally don't get to hang out with. Faith, food, fellowship, family, fun. Not many other things better in life.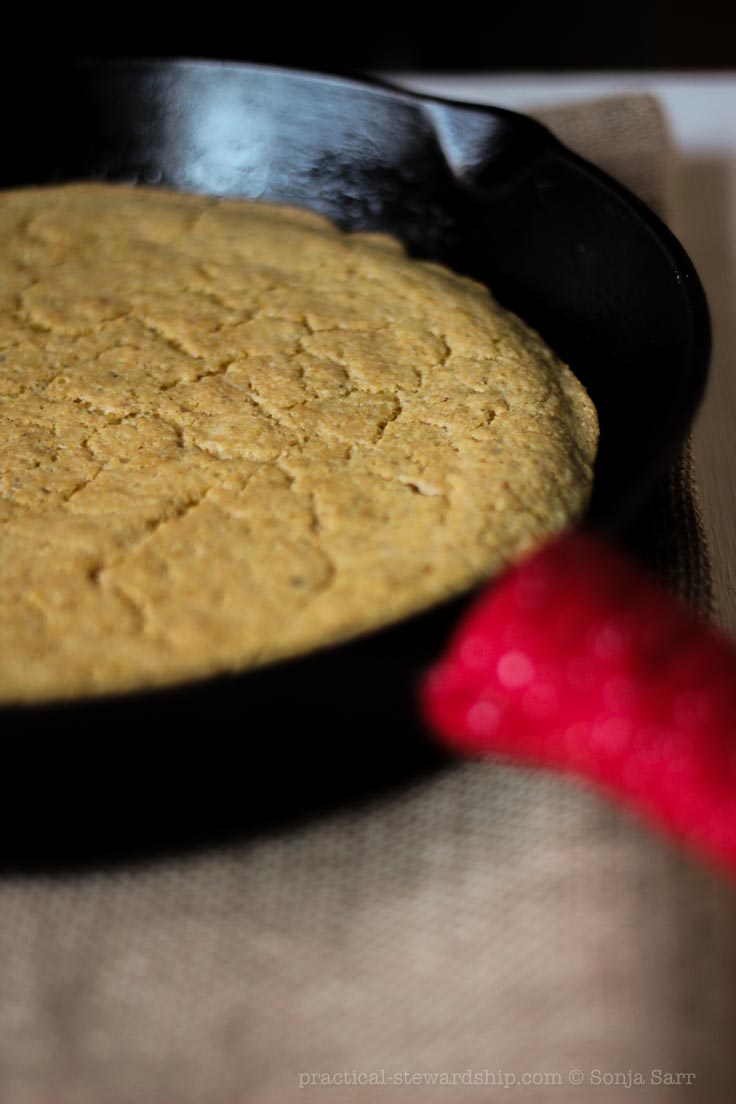 Because I always want to be ready to feed people, I need a faithful go-to. For me, that is chili. And with church in the morning, of course I will turn to my faithful crock-pot
to do the cooking for me. And with chili typically on the fellowship menu (I do venture out on occasion, too:), I'll usually ask someone to bring a side of bread or cornbread. I finally got to thinking that I had never made cornbread up until this winter, so it was high time for me to try to make some.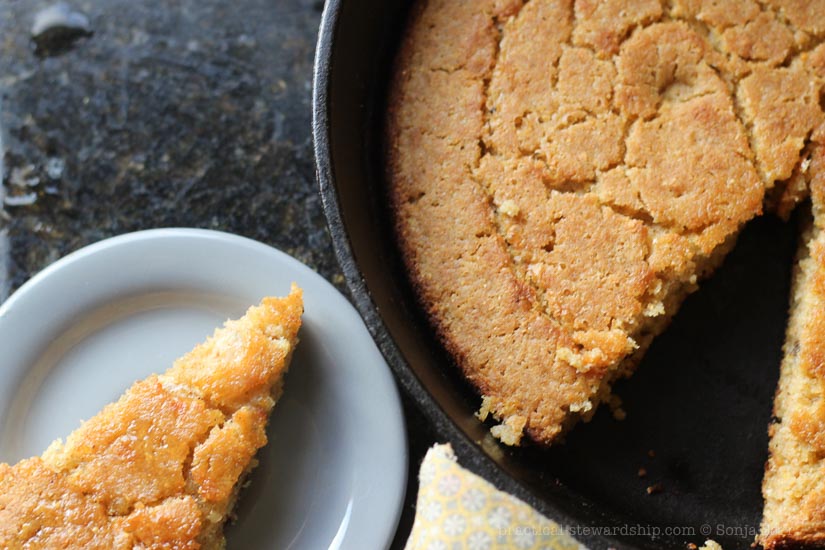 Since I went dairy-free (and egg-free) for a year back in 2012, the dairy intake of our entire family has steadily declined. Now I still bake exclusively with coconut oil and non-dairy milks, but I will have a pat of butter or a sprinkle of raw milk cheese (because it's less processed) on food because I can handle it in small quantities (it just can't dominate my life like before). I want to be able to taste my dairy. Since most people bring dairy-full cornbread (which I heartily enjoy-I just try to be careful to not overdo it), I thought I would try making a dairy-free version and bake it in one of my favorite tools, the cast-iron skillet
.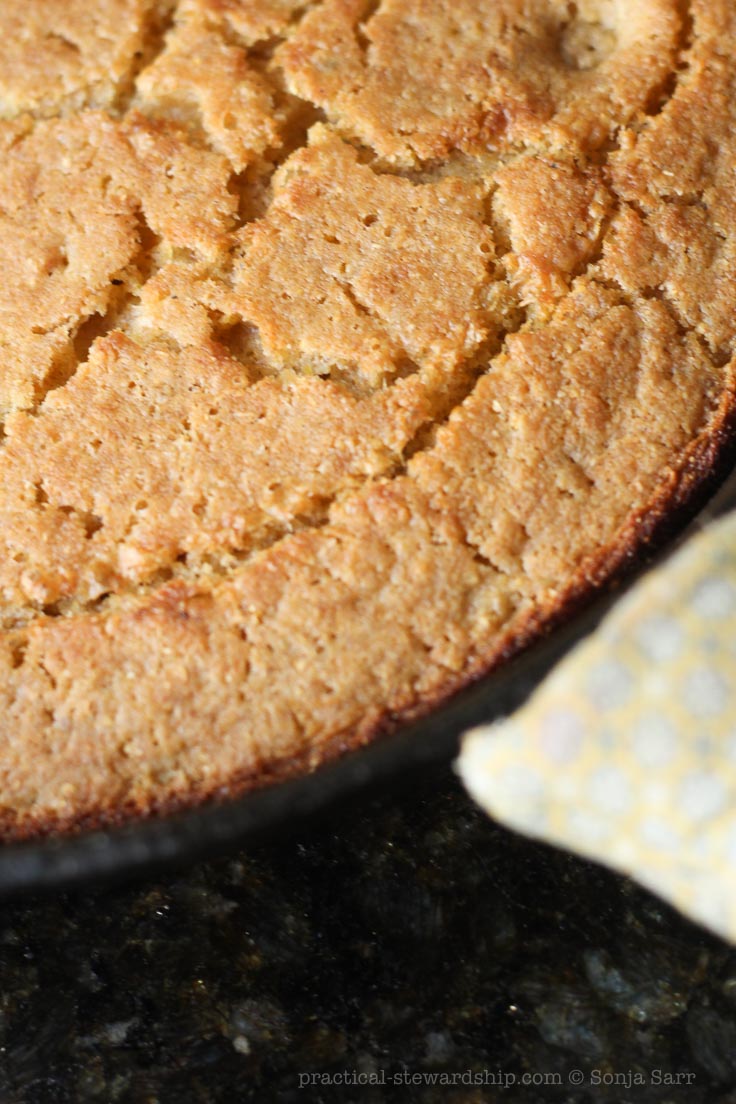 I've used both my 12 inch and my 10 inch skillets, but I prefer my 10 inch since it makes the bread "taller". And who doesn't like a taller cornbread? It just means you've got to work to make sure the center is cooked through. Remember that skillet will keep baking your bread out of the oven as well, so take the cornbread out of the oven when the edges are browning and the center is mostly cooked through. And then let that skillet perform its magic, finishing up the baking for you.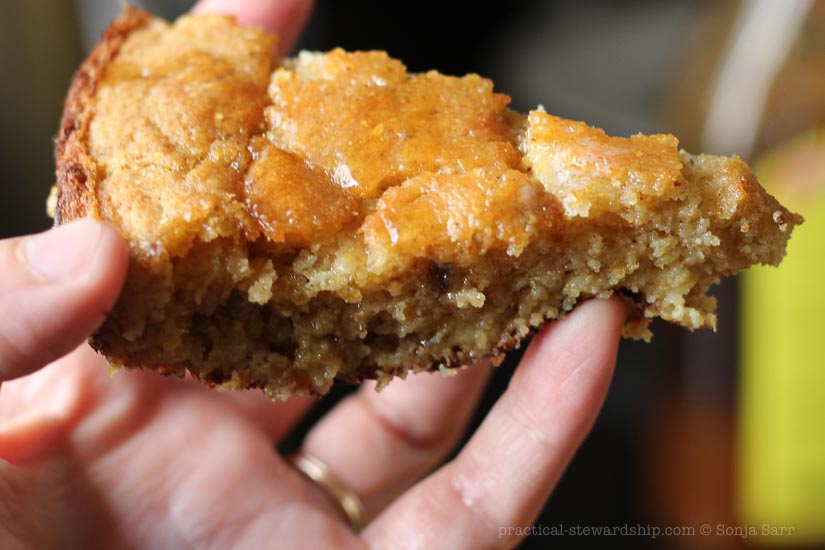 I took the Pioneer Woman's Skillet Cornbread and tossed the dairy out of the recipe, except for the pat of butter on the top of course. I've used refined and non-refined coconut oil, and we prefer the taste of the refined coconut oil better here…well since it has no taste. Fancy that. And I sour the non-dairy milk with a tablespoon of white vinegar-easy! I usually use an egg to make this cornbread, but I still often bake without eggs. So I've also made this with a "chia egg"-just mixing 1 tablespoon of chia seeds with 3 tablespoons of water, and voila! Instant egg-gelling quality which works fabulously. And double voila if you need a vegan cornbread. To enjoy the cornbread goodness if you need to be completely dairy-free, you can give that bread a pat of coconut oil or a vegan spread. Just don't forget a dollop of liquid gold…I mean honey.
This cornbread has got it all, crisp edges on the outside, soft and fluffy on the inside, and vegan if needed without feeling deprived.
Dairy-free Skillet Corn Bread
Ingredients
1 1/2 cups almond, coconut or milk of choice
1 Tbs Vinegar
1 cup Cornmeal
1/2 cup White Whole Wheat Flour
1 Tbs Baking Powder
1 tsp Salt
1/2 tsp Baking Soda
1 Egg or "Chia Egg"-1 Tbs chia seed mixed with 3 Tbs water
1/4 cup Coconut Oil
2 Tbs Avocado or Coconut Oil
Instructions
In a small bowl mix the milk and vinegar, and let sit for a few minutes.
If using a "chia egg" mix 1 Tbs chia seed with 3 Tbs water in a small bowl.
Preheat the oven to 450 degrees F.
As you are putting together other ingredients, heat 2 Tbs of oil in a cast iron skillet on medium heat.
In a large bowl, stir together cornmeal, flour, baking powder, salt and baking soda.
With a fork stir an egg (or egg replacement) into the milk mixture.
Add milk mixture to the flour mixture, and stir with a fork until just combined.
In a small bowl melt 1/4 cup coconut oil (I use a microwave for 60 seconds). Add melted coconut oil to batter slowly stirring until combined.
Pour the batter into warmed skillet, spreading evenly, and cook on the stovetop over medium heat for 1 minute.
Then place skillet in the oven and bake until edges are golden brown and center is mostly baked, about 20 to 25 minutes. The cornbread will continue to bake in the skillet after being removed from the oven.
Cool for 15 minutes, cut, and pat with butter of choice along with a dreamy dollop of honey.
And if you want to learn to make those pot holder skillet handles, we've got a tutorial for you…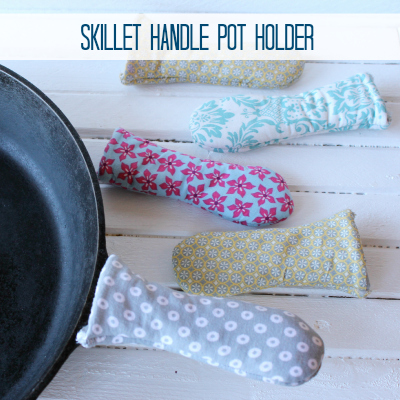 THIS POST MAY CONTAIN AFFILIATE LINKS THAT COST YOU NO MORE MONEY, BUT SUPPORT OUR BLOGGING EFFORTS. THANK YOU!