Baked Sourdough Donuts Recipe

My kids had never ever had donuts for breakfast up until recently.  Since I have started making sourdough donuts (I still like to spell it doughnuts, so I may oscillate spellings, forgive me:), I surprised the kids one day with sourdough donuts for breakfast, and they thought it was the coolest thing since peanut butter.  What a treat!
So this is a healthier baked doughnut for you that should be easier to digest since it's made of sourdough (because of the pre-soaking process).  I was inspired by the Peas & Thank You Secret Sourdough Donuts.  I did tweak the recipe so I wasn't using so much sourdough start because they were so sour, and I don't like using a lot of starter.  We like sour, but I thought if I used a less sourdough start and more whole wheat flour and water, I could come up with something similar.
When we were on our 13th wedding anniversary trip in downtown Seattle, we stop at a Ross, and I picked up this cute Mini Donut Pan
. Since my pan is so small, you may have to bake your doughnuts longer than I need.  I love this little pan though.  I ate five donuts right out of the oven and didn't feel that guilty for eating them since they were so small, sourdough, and baked:).
The Verdict: We love, love, love the sourdough doughnuts and love to share them too!  I like to make the dough and bake a little of it throughout the week, so we can have fresh doughnuts several times in a week.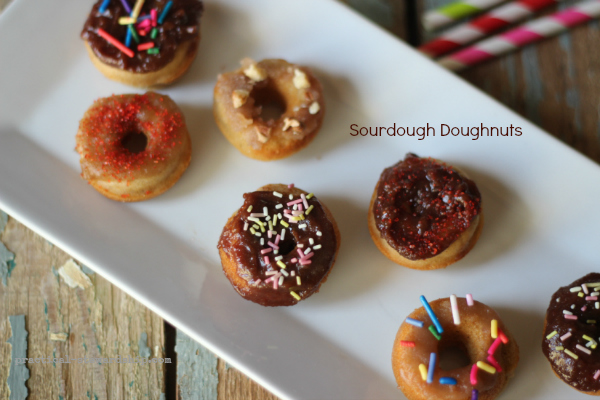 **Update**10/24/12 I just made these with organic coconut oil, and substituted the egg for 1 T ground flax seed mixed with 3 T water.  I am totally using coconut oil again!!  The taste was so much sweeter!  I don't mind using olive oil to bake with, but I am in LOVE with the coconut oil in this recipe.  I don't taste the coconut oil in them.  They are just sweeter to me!  I was afraid the coconut oil would harden up after being mixed in and left on my counter for hours.  I only had one visible small chunk of coconut oil.  I substituted the egg for flax seed because I am egg free for 3 weeks, and may be 3 months.  Post for another time.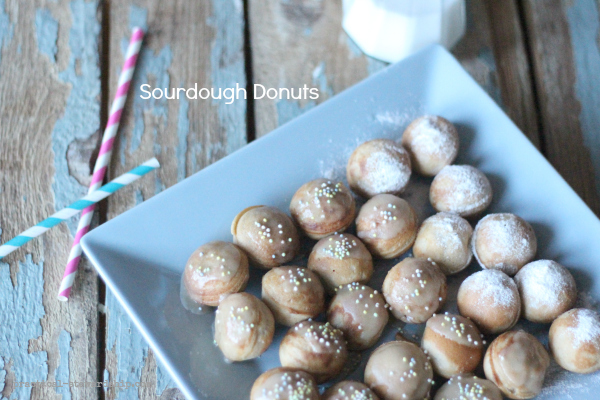 The dough is also great as doughnut holes.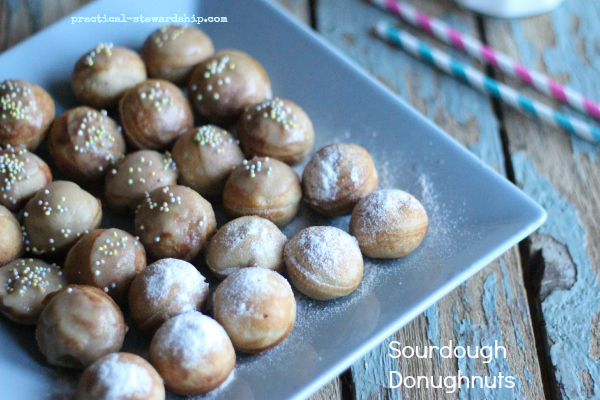 I found some great naturally colored sprinkles called Sprinkelz
that my family all sure likes, if you are interested in using sprinkles without artificial ingredients.
Baked Sourdough Donuts Recipe
Ingredients
Day 1 (the night before):

1/2 cup sourdough starter (go here to learn how to easily make a starter, just 2 ingredients!)
1/3 cup maple syrup (for vegan) or honey
1/3 water
1 1/2 cup white whole wheat flour (I love Trader Joe's Brand)
1 cup non-dairy (for vegan) or dairy milk (I've used almond milk and regular milk before)
1/3 cup extra-virgin olive oil, or melted coconut oil

Day 2 (the day of baking):

1 cage free egg (or 1 T ground flax seed mixed with 3 T water for vegan)
2 t baking powder
1 t vanilla extract
1/2 t salt

3/4 t freshly grated nutmeg, optional

1/2 t cinnamon, optional
Instructions
The night before you bake the donuts, combine starter, maple syrup or honey, water, flour, milk and olive oil in a bowl, mixing well.
Cover with plastic wrap, and leave the batter out at room temperature overnight. You can leave it out up to 24 hours.
Preheat oven to 375 degrees when you are ready bake.
Mix in egg, salt, baking powder, nutmeg, cinnamon and vanilla to the sourdough batter. This works best with an electric mixer.
Spoon batter into a greased donut pan, filling each mold 3/4 of the way. The batter may be a bit stretchy.
Bake for 20-22 minutes in a standard pan or 9 minutes in a mini donut pan.
Donuts are done when they are a golden brown.
Top with your favorite glaze (recipe below), chocolate frosting, roll in cinnamon and organic sugar, or eat them plain. If you want to try making your own sprinkles, see Chocolate Covered Katie's recipe.
http://practical-stewardship.com/2012/10/10/baked-sourdough-donuts-recipe/
Do you need other sourdough start ideas?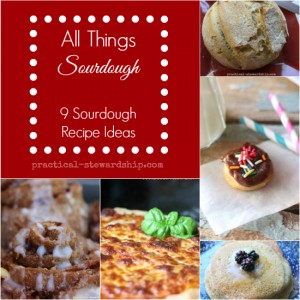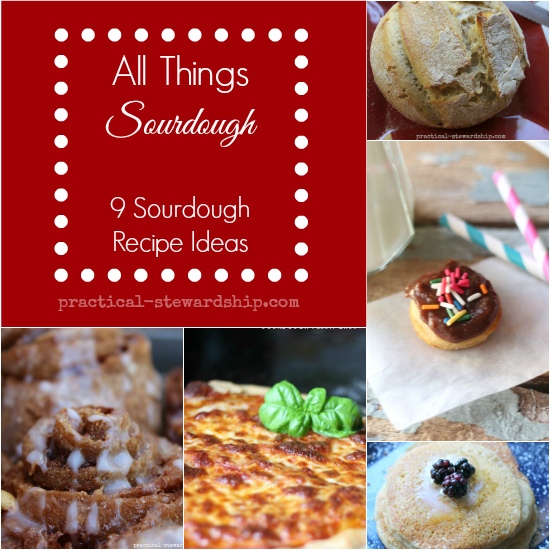 THIS POST MAY CONTAIN AFFILIATE LINKS THAT COST YOU NO MORE MONEY, BUT SUPPORT OUR BLOGGING EFFORTS. THANK YOU!