It's DIY Time , where every week I try to post something you can do yourself rather than buy, which is a money saver, and can be VERY REWARDING.  Some of these posts are crafts, sewing projects, homemade cleaners, homemade health aids, tutorials, and the like.
In honor of the holiday season I will be posting a few more DIY Times this week, because I have so many to share with you and not enough weeks until Christmas.
A few weeks ago my friend T had some friends over after we had our usual weekly walk.  We had great fellowship over soup, bread, and a wreath-making venture.  I had not actually ever made an evergreen wreath before.  I love that this is a craft you can make with some foliage right out of your yard (or out of someone else's yard:).
What you will need:
pruning shears
garden gloves
evergreen clippings, 4-6 inches long; depending on the size of your wreath, gather LOTS of clippings** see note below for some examples of evergreens to use
wreath form (it's nice that you can use the same form year after year, and they are only a couple of bucks)
floral wire, preferably green
wire cutters
Optional: you can accent with ribbon, pine cones, berries, and the like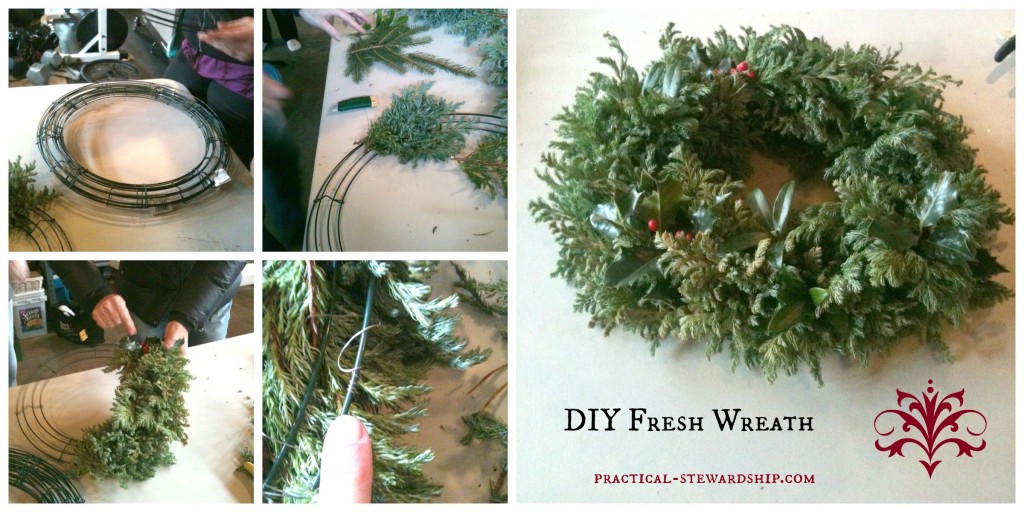 The Instructions:
Put on  your garden gloves, cut many greens with your pruning shears.
You can prearrange your clippings on the wreath form before securing them, or you could be like me, and use one type of green, and not prearrange.
Place about three green clippings in the wreath form.
Wrap the floral wire tightly around the "roots" of the clippings three times.
Place another three green clippings in the wreath from.
Wrap the floral wire tightly around the "roots" of the clippings three times.
Repeat until the wreath is full.
Wrap the floral wire around the wreath form, and twist to secure.
Cut the wire with wire cutters.
Decorate with any berries, bows, etc…and enjoy or gift it to someone!
**Some different types of evergreens you may consider using are:
cedar
juniper
holly (ouch)
Douglas fir
noble fir and other types of firs
arborvitae
boxwood
pines
white and blue spruces and more!
My friend T has this down to a "t".  She was prepared for us.  She gathered gobs of greens and had an old kiddy swimming pool that we could gather the leftovers in.  She was very efficient!
Here is the charming wreath that my friend Erica made.  Isn't it lovely, especially on her beautiful door?  I don't know what I like better, her wreath or her door.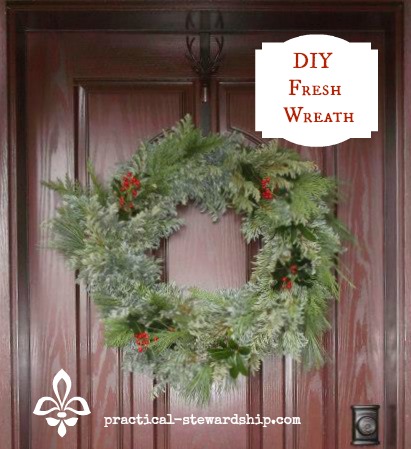 We had a great time making wreaths.  What I loved about T is that she had a heart to get ladies together and pass down her knowledge to us.  Thanks for letting me share, ladies!
Have you tried making hanging ornament clusters?  They really are so easy!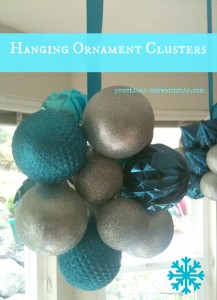 Have you ever glittered pinecones?  It's another easy kid friendly craft!