We're the Sarr family, and we live in the Pacific Northwest.  We are a Christian family devoted to God's glory in all aspects of our lives.  We view the countless blessings that we enjoy as a stewardship from God.  They are not our own; they are entrusted to us, and we want to be good stewards of these things, including our time, money, bodies, material possessions, relationships and more.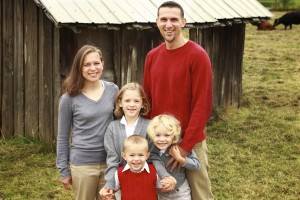 That is the philosophy that drives this blog.  How can we make the best use of what we have?  If I only have ten minutes to exercise, how can I maximize it?  If I only have ten bucks to spend at the grocery store, how can I stretch them farthest?  Are my ten dollars best spent on ten boxes of processed boxed pasta or one package of whole wheat pasta along with some olive oil and spices that won't put me in the hospital ten years from now?  How about a new coffee table?  Should we buy the $99 version that will last five years tops with our three rambunctious kids, or drop the dough on a solid oak table that I can resurface when they're teenagers and never need to replace, but that can soon provide the foundation of a fort for our visiting grandkids?  These are the sorts of questions that good stewards ask.
Sonja is a stay-at-home mom who also teaches piano lessons out of our home.  She is passionate about investing in people, whether in meaningful conversation while walking with her girlfriends, or having young ladies over to learn how to sew a potholder and talk about the Bible.  She loves to experiment with the standard American diet recipes and "healthify" them for the fam.  She rarely sits down, but when she does, it's either to teach a piano lesson, work on the blog, or eat dinner.
Jonathan is a privileged husband and father and a pastor.  He too, is devoted to eternal things.  Time is precious since our days here are limited and, frankly, there's plenty to do.  He would rather be meeting with someone over coffee and a good book than exercising, but he would also like to be able to hold his grandkids someday without being sore for a week, so that makes the decision easy.  So he exercises and eats the healthy morsels his wife sometimes offers him.
We have three amazing, fun children ages seven, five and three.  They prevent our lives from being dull and bring us much amusement and happiness.  They are our greatest stewardship and raising them makes us better, more dependent people.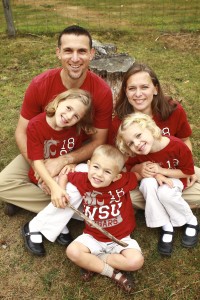 But in all these things, we firmly believe in having fun.  Laugh.  Be happy.  We're hardly silly people, but we are happy.  Consistent, deep-seated happiness in a world as sad and serious as our own is supernatural, a gift from God who gives good things.  We are more effective and productive when we are happy, and more fun to be around (not that we've arrived, but we're trying to get there….).  So whether we're shopping, working out, or hanging out, we have the goal to have fun in the process.
To learn more about Sonja, you can read Confessions from a Selfish Daughter, Cancer, and a Mother's Day Charge.