Costco Natural & Organic Price List Update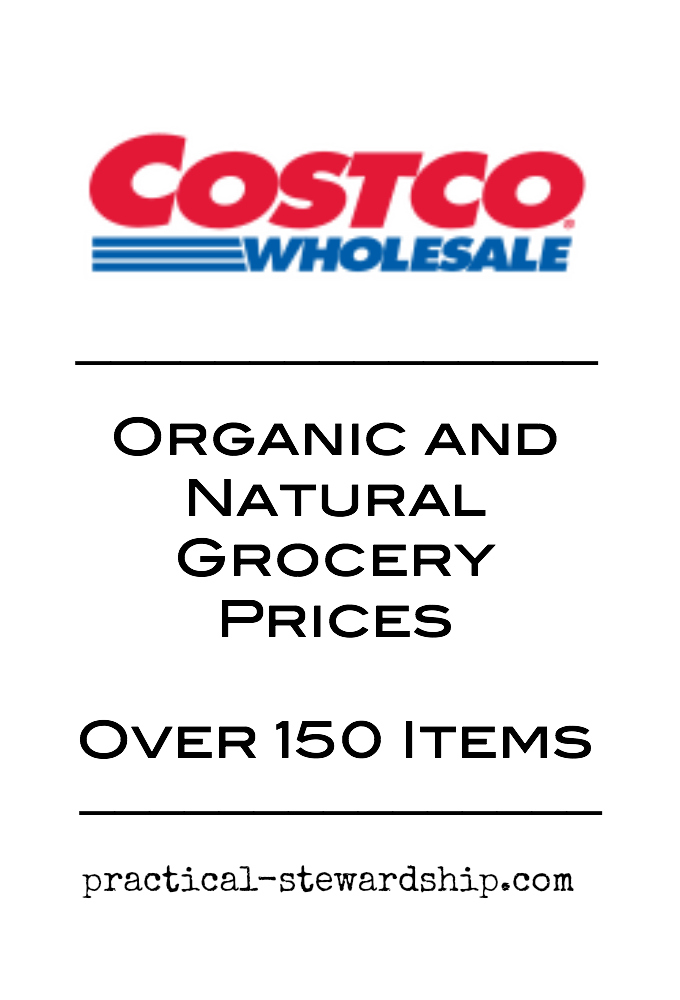 Updated 10/14.
I have researched at our local Costco and listed  150 natural and/or organic grocery items.  Personally, I am excited to have this as a resource to access on my phone when I am shopping at different stores and wishing I could do some quick price comparing.
January 2013 when I first started putting this list together, I had the opportunity to conduct a phone interview with a Costco employee of 29 years.  She informed me of a few interesting facts about Costco, some of which I didn't know.
First, Costco doesn't have sales.  Any deals they offer is because they have worked and gone to bat for its members with the vendors.  The vendors are the ones who offer the discounts, and Costco passes those discounts along to its members.
Secondly, Costco has members.  Because Costco has a HUGE member base, with that buying power they are able to negotiate some outstanding deals.
Thirdly, Costco is not a store, but a warehouse club, so you get warehouse prices.
Here are some other facts:
Costco will FULLY refund your membership should you be dissatisfied for whatever reason.
Costco has an easy return policy.  There is a 90 days to return policy for select electronic products, so go here to read more about their return policy.  I personally have returned many items over the years (a least once a year) from a broken Shark (electronic mop) to bad produce and have had no problems.
Costco has less employee turnover than other companies in their industry, as they pay their employees the best wages.
Costco has a Concierge Service that assists with set up, warranty issues and gives technical support for most electronics.  Their phone number is 1-866-861-0450, available 5am-10pm (PST) 7-days a week.  I had to use them once because we had a faulty video camera and it was beyond the 90 days to return the product to Costco.  A lady at the return desk directed me to the Concierge Service, and they were able to help me get a brand new video camera.  This is a great resource!

I have listed below some selected natural and organic grocery prices.  The organic items are in bold.  For whatever reason Costco doesn't always give a cost breakdown that is easily compared to other stores, so where I thought it would be valuable I have included ounce, pound, and liter cost breakdowns.  I broke up the grocery items into four separate categories:
Pantry Items, which includes baking items, canned goods, and snacks
Fresh Fruits and Veggies
Frozen, which are fruits and veggies, and
Refrigerated Perishables, which includes dairy, eggs, and meat items.
I included a column that says "Price/Quantity You Receive".  That is the price Costco sells the item for with the quantities you get.  To clarify, let's look at a few products like baking soda and organic black beans.  Costco sells a 13.5 pound bag of baking soda for $6.49, which is indicated: $6.49/13.5 lbs.  Costco sells eight cans of black beans that are 15 ounces each packaged together for $6.79 which looks like this in the spreadsheet: $6.79/ 8-15 oz.  So for $6.79 you will get eight cans of black beans, and each of those cans are 15 ounces.  I hope that makes things crystal clear.

Unfortunately these prices are subject to change without notice, so these deals were valid October 2014, at the Marysville, Washington Costco and it will, at least, give you an idea of prices and what products may be in your area.
Remember EVERY time we go to the store we cast our votes.  Stores will stock the shelves with items WE buy.   The more we make better choices, the more we can make a positive change. I hope this list helps you!  You are welcome to "pin it "and share it on Facebook, if you like.

PANTRY ITEMS (BAKING/CANNED GOODS/SNACKS)
Price/Quantity You Purchased
Price Breakdown
More Price Breakdown
Apple Sauce, Organic Tree Top
$11.49/ 36-4 oz. containers
$1.28/lb.
.080/oz.
Almonds, Kirkland Signature
$15.99/3 lbs.
$5.33/lb.
.333/oz.
Almond Butter
$9.89/26 oz.
$6.086/lb.
.380oz.
Almond Flour, Blanched, Super Fine Ground
$19.59/3 lbs.
$6.53/lb.
.408/oz.
Avocado Oil
$9.99/1 Liter Bottle (33.8 Fl Oz.)
$9.99/1 Liter Bottle (33.8 Fl Oz.)
.296/oz.
Baking Powder, Red Star
$9.99/5 lbs.
$1.998/lb.
.125/oz.
Baking Soda, Arm & Hammer
$6.59/13.5 lbs.
$0.488/lb.
.031/oz.
Beans, Black Organic S&W
$6.79/ 8-15 oz.
$0.912/lb.
.057/oz.
Beans, Pinto
$15.99/25 lbs.
$0.640/lb.
Blueberries, Dried
$7.99/20 oz.
$6.400/lb.
.400/oz.
Bread, Dave's Killer Whole Grain
$6.99/2-27 oz. loaves
$3.495/loaf
.218/oz.
Bread, 100% Whole Grain Kirkland Signature
$4.39/2-28 oz. loaves
$2.195/loaf
.090/oz.
Bread, The Big 16 Sprouted Whole Grain Organic
$6.69/2-26 oz. loaves
$3.345/loaf
.129/oz.
Cashews, Kirkland Signature Fancy, Sea Salt/Peanut Oil
$14.89/2.5 lbs.
$5.956/lb.
.372/oz.
Cherries, Dried
$7.99/18 oz.
$7.104/lb.
.444/oz.
Chia Seeds, Nutiva Organic
$9.99/32 oz.
$4.995/lb.
.312/oz.
Chips, Late July Organic Multigrain
$5.99/24 oz. bag
$3.99/lb.
.250/oz.
Chips, Luke's Organic Brown Rice, GF
$6.99/20 oz.
$5.592/lb.
.350/oz.
Chips, Tortilla Kirkland Signature Organic
$4.89/40 oz.
$1.952/lb.
.122/oz.
Chocolate Chips, KS
$9.99/72 oz.
$1.999/lb.
.139/oz.
Coconut Flour, Organic Nutiva
$6.89/4 lbs.
$1.723/lb.
Coconut Oil, Nutiva Organic
$23.99/78 oz.
$4.928/lb.
.308/oz.
Coffee, Organic, San Francisco Bay Rainforest Blend
$14.99/3 lbs.
$4.997/lb.
.312/oz.
Crackers, Animal Kirkland Signature Organic
$8.99/64 oz.
$2.240/lb.
.140/oz.
Craisins, Ocean Spray
$6.69/48 oz.
$2.23/lb.
.139/oz.
Figs, Black Mission Organic
$9.59/32 oz.
$4.795/lb.
.300/oz.
Flaxseed, Premium Gold Cold Milled
$6.69/3 lbs.
$2.23/lb.
.139/oz.
Flour, All Purpose Ancient Grain Gluten-Free: Brown Rice, Golden Flaxseed, Quinoa, Buckwheat, Aramanth
$11.99/5 lb.
$2.398/lb.
.150 oz.
Garlic, Minced Kirkland Signature
$4.29/48 oz.
$1.43/lb.
.89/oz.
Hemp Hearts, Manitoba Harest Food Raw Shelled Hemp Seeds
$14.89/28 oz.
$8.512/lb.
.532/oz.
Honey
$13.89/5 lbs.
$2.998/lb.
.187/oz.
Honey, Raw Local
$10.99/40 oz.
$4.40/lb.
.275/oz.
Juice, Kirkland Signature, Newman's Grape
$6.79/2- 96 oz. bottles
$3.395 oz. bottle
.035/oz.
Juice Boxes, Kirkland Signature & Hansen's Natural, 100% Juice
$9.39/36-6.75 oz. drinks
$0.261/6.75 oz. drink
.039/oz.
Lara Bar Variety Pack
$15.79/18 Bars (N/A 10/14)
$0.877/bar
Lemon Juice, Real Lemon
$5.79/2-48 oz. bottles
$0.965/16 oz.
.060/oz.
Macaroni & Cheese, Back to Nature
$12.39/12-6 oz.boxes
$1.032/6 oz. box
.172/oz.
Mango, Dried
$12.49/30 oz.
$6.656/lb.
.416/oz.
Maple Syrup, Organic
$13.391/L
$6.336/lb.
.396/oz.
Milk, Almond Breeze
$9.79/6-32 oz. boxes
$1.631/32 oz. box
.051/oz.
Milk, Coconut Organic, So Delicious
$10.99/6-32 oz. boxes
$1.832/32 oz. box
.057/oz.
 
Milk, Rice Organic, Kirkland
$13.99/12-32 oz. boxes
$1.166/32 oz. box
.036/oz.
Milk, Soy Organic, Kirkland
$14.59/12-32 oz. boxes
$1.216/32 oz. box
.038/oz.
Mrs. Mays Natural Trio Bar Variety Pack
$15.59/20 ct.
$0.78 each
Nuts, Mixed with Macadamia
$15.69/2.5 lbs.
$6.276/lb.
.392/oz.
Nuts, Unsalted Mixed
$15.49/2.5 lbs.
$6.196/lb.
.387/oz.
Olive Oil, Organic Extra Virgin
$13.99/2 liters
$6.995/liter
Olive Oil, Extra Virgin
$12.99/2 liters
$6.495/liter
Olives, Black Pearl X LG Pitted
$7.79/8-6 oz. cans
$0.974/6 oz. can
.162 oz.
Pasta, G-F Brown Rice Penne Pasta, non GMO
$7.59/4-16 o.z packages
$1.898/lb.
.119/oz.
Pasta, Organic Garofalo
$8.99/6.6 lbs.
$1.362/lb.
Peanut Butter, Adam's Natural
$8.99/80 oz.
$2.922/lb.
.112/oz.
Peanut Butter, KS Natural
$10.99/2-40 oz.
$2.192/lb.
.137/oz.
Peanut Butter, KS Natural Organic
$11.49/2-28 oz.
$3.328/lb.
.208/oz.
Pecans, Kirkland Signature Halves
$12.99/2 lbs.
$6.495/lb.
.406/oz.
Peppercorn, Whole Tellicherry
$6.69/14.1 oz.
$7.584/lb.
.474/oz.
Pine Nuts
$24.39/24 oz.
$16.26/lb.
Pistachios
$18.79/3 lbs.
$6.263/lb.
Quinoa, Organic
$17.99/4 lbs.
$4.498/lb.
.281/oz.
Raisins, Organic Sun Maid
$8.49/2-2 lb. packages
$2.128/lb.
.133/oz.
Rice, Lundberg Organic Short Grain Brown
$13.99/12 lbs.
$1.166/lb.
.073/oz.
Salsa, Kirkland Signature Organic
$7.99/2-38 oz. containers
$1.68/16 oz.
.105/oz.
Salt, Himalayan Pink w/grinder
$3.99/13 oz.
$4.911/lb.
.307/oz.
Salt, Sea, Fine/Pure
$2.79/30 oz.
$1.488/lb.
.093/oz.
Salt, Sea w/grinder, Medium
$3.49/13 oz.
$4.29/lb.
.268/oz.
Seasoning, Organic No-Salt, KS
$7.99/14.5 oz.
$8.816/lb.
.551/oz
Snacks, Annie's Homegrown Bunny Snacks Variety
$11.69/36-1 oz. packages
$0.33/pack
.325/oz.
Soup, Amy's Kitchen Organic Lentil/Minestrone Soup
$11.99/8-14.5 oz.
$1.50/can
.103/oz.
Stock, KS Organic Chicken
$11.99/6-32 oz. cartons
$0.999/lb.
.062/oz.
Strawberry Spread, Organic
$6.89/42 oz.
$2.62/lb.
.164/oz.
 
Sugar, Organic Evaporated Cane
$9.99/10 lbs.
$0.999/lb.
.062/oz.
Tomatoes, Organic Diced or Stewed, Kirkland
$5.99/8-14.5 oz. cans
$0.745/14.5 oz. can
.051/oz.
Tomato Paste, Organic Kirkland
$6.69/12-6 oz. cans
.558/6 oz. can
.093/oz.
Tomato Sauce, Organic, Kirkland
$7.99/12 pck-15 oz. each
$0.666/15 oz. can
.042/oz.
Tuna, Chicken of the Sea Chunk Light in Water
$13.9912-7 oz.
$1.166/7 oz. can
.073/oz.
Vinegar, Balsamic Kirkland Signature
$10.99/1 Liter
$5.20/16 oz.
.325/oz.
Vinegar, Distilled White Four Monks
$4.19/2-1 Gallon
$2.095/gallon
.016/oz.
Walnuts, KS
$18.99/3 lbs.
$6.33/lb.
.396/oz.
Yeast, Red Star Active
$4.19/32 oz.
$2.095/16 oz.
.13 oz.
FRUITS & VEGGIES
 
Apples, Fuji Organic
$8.79/5.5 lbs.
$1.598/lb.
Asparagus, Organic Spears
$9.99/3 lbs.
$3.33/lb.
Avocados, Large Hass
$5.49/5 ct.
$1.098 each
Bananas
$1.39/3 lbs.
$0.463/lb.
Bananas, Organic
$1.99/3 lbs.
$0.663/lb.
Broccolettes, Organic Earthbound Farms (N/A 10/14)
$5.49/2 lb. bag
$2.74/lb.
Carrots, Organic, Baby
$4.99/lb.
$0.998/lb.
Carrots, Organic
$5.99/10 lbs.
$0.599/lb.
Garlic, Fresh Cloves
$5.99/3 lb.
$1.997/lb.
Greens, Organic Power
$4.99/1.5 lbs.
$3.32/lb.
Kale, Organic Baby
$4.79/1.5 lbs.
$3.193/lb.
Lettuce, Romaine Hearts
$3.29/6 ct.
$0.548 each
Lemons
$6.49/5 lbs.
$1.298/lb.
Limes
$8.99/5 lbs.
$1.798/lb.
Onions, Red Sweet
$5.49/8 lbs.
$0.686/lb.
Onions, Yellow
$3.49/10 lbs.
$0.349/lb.
Oranges
$10.99/8 lbs.
$1.374/lb.
Pineapple
$2.99 each
Potatoes, Baking Ex Lg
$7.49/20 lbs.
$0.375/lb.
Potatoes, Sweet Organic
$6.99/6.5 lbs.
$1.075/lb.
Spinach, Organic
$3.99/16 oz.
$3.99/lb.
.249/oz.
Spring Greens, Organic
$3.99/16 oz.
$3.99/lb.
.249/oz.
FROZEN
Beans, Green Bybee Foods Organic
$6.19/5 lbs.
$1.238/lb.
Berries, 3-Black/Blue/Ra
$11.59/4 lbs.
$2.898/lb.
.181/oz.
Berries, Organic-Triple Berry Blend
$9.99/3 lbs.
$3.33/lb.
.208/oz.
Blueberries, Kirkland Signature
$8.89/5 lbs.
$1.778/lb.
.111/oz.
Blueberries, Organic
$10.79/3 lbs.
$3.597/lb.
.225oz.
Broccoli, Organic Florets
$7.59/4 1 lb. steamable bags
$1.898/lb.
Cherries, Organic Dark
$9.89/3 lbs.
$3.297/lb.
Corn, Bybee Foods Organic
$5.79/5 lbs.
$1.158/lb.
Edamame, Organic
$10.99/12-9 oz.
$1.628/lb.
Fruit, Festival of Variety
$9.99/6 lbs.
$1.665/lb.
.104/oz.
Peas, Organic
$5.99/5 lbs.
$1.198/lb.
Pineapple Chunks
$6.99/4lbs.
$1.748/lb.
Strawberries
$9.99/6 lbs.
$1.665/lb.
.104/oz.
Vegetables, Kirkland Signature Normandy-Broc/Caul/Carrots+
$6.49/5.5 lbs.
$1.18/lb.
.074/oz.
PERISHABLE MEAT, DAIRY, EGGS, REFRIGERATED SECTION
Beef, Ground Patties, 88% Lean
$3.29/lb.
Beef, Ground, Organic, Kirkland Signature
$19.99/4 lbs.
$4.998/lb.
Butter
$11.96/4 lbs.
$2.990/lb.
Butter, Organic
$7.69/2-1 lb. portions
$3.845/lb.
Cheese, Medium Cheddar Tilamook
$17.89/5 lb. block
$3.578/lb.
Cheese, Medium Cheddar Bandon
$7.99/2.5 lb. block
$3.196/lb.
Cheese, Cheddar Tillamook Shredded
$16.89/5 lbs.
$3.378/lb.
Cheese, Feta
$7.29/24 oz.
$4.860/lb.
.304/oz.
Cheese, Sliced Colby & Montery Jack
$8.99/2 lbs.
$4.495/lb.
.280/oz.
Cheese, Pepper Jack, Tillamook
$9.59/2.5 lbs.
$3.836/lb.
Cheese, Frigo String
$11.99/60 ct.- 1 oz.
$3.20/lb.
.200/oz.
Cheese, Kirkland Signature Mozarella, Shredded
$15.39/5 lbs.
$3.078/lb.
Chicken Breast, Fresh Kirkland Signature/Foster Farms
$3.19/lb.
Chicken Breast, Organic, Coleman
$5.99/lb.
Chicken, Legs Organic
$1.99/lb.
Chicken Thighs, Coleman Organic
$4.79/lb.
Chicken, Wings Organic
$2.99/lb.
Chicken, Whole
$1.19/lb.
Chicken, Whole Organic
$2.49/lb.
Eggs, Wilcox
$3.57/2 dozen
$1.785/dozen
Eggs
$7.99/5 dozen
$1.598/dozen
Eggs, Organic
$6.79/2 dozen
$3.395/dozen
Garlic, Peeled
$6.39/3 lbs.
$2.13/lb.
Ham, Black Forest, Fletcher's
$3.79/lb.
Ham, KS Spiral Sliced
$2.49/lb.
Juice, Odwalla
$5.79/2-32 oz. containers
$1.44/16 oz.
.090/oz.
Milk, Whole
$5.99/2-1 Gallon Jugs
$2.995/gallon
Milk, Organic 1%
$10.99/3-half gallons
$7.296/gallon
.057/oz.
Sausage, Chicken and Apple Smoked Pork Casing
$13.99/3 lbs.
$4.663/lb.
Sausage, Organic Sweet Italian Chicken
$14.99/2.2 lbs.
$6.662/lb.
Turkey, Ground, 93% Lean
$2.79/lb.
Yogurt, Kirkland Signature, Greek, Non-fat
$6.99/2-32 oz.
$1.744/16 oz.
.109/oz.
Visit our WinCo Bulk Food Price Update List here.

We would love to hear from you!  Get free e-mail updates by subscribing here.  Follow us on Pinterest, Facebook and Twitter. "Moreover, it is required of stewards that they be found faithful" (1 Corinthians 4:2 ESV). Thanks for visiting!
Sonja