How to Make Pumpkin Purée in the Crock-pot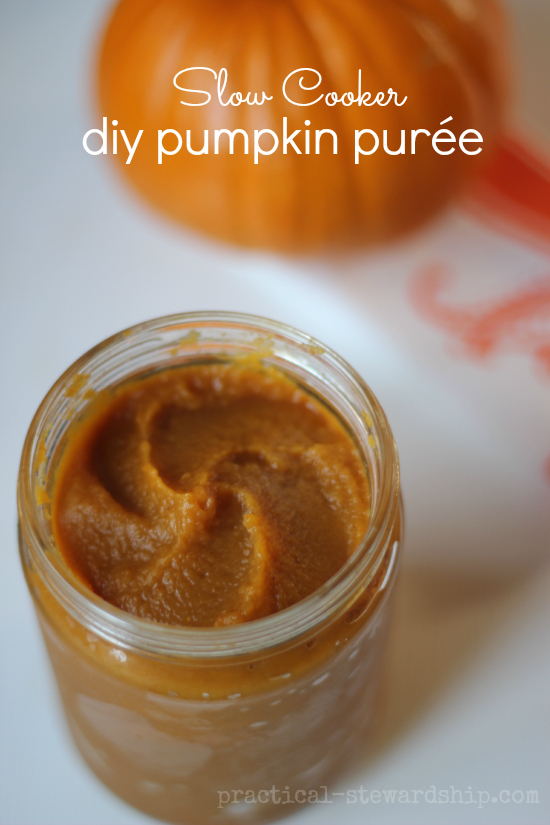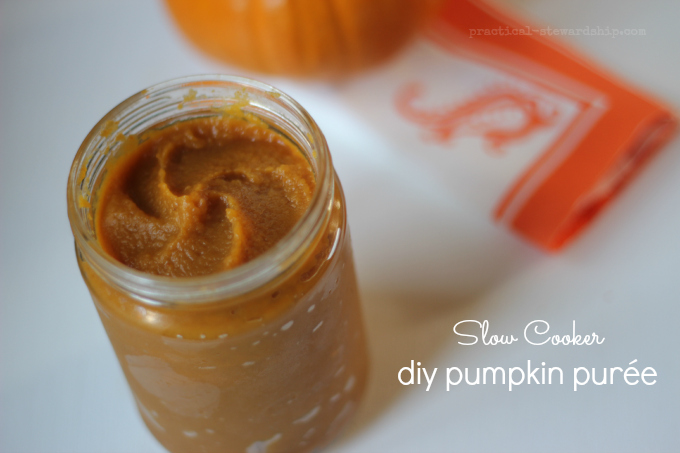 Anyone who knows me knows that I LOVE to use my slow cooker.  I love that I can fix something in the morning or lunch time and ignore it until dinner time.  I like trying a variety of recipes.

I thought I'd start my "Slow Cooker Saturday" series with something that fits the season: cooked pumpkin purée.  I freeze it and use it throughout the year in pumpkin bread, pie, and my latest, pumpkin waffles.  Last year I cooked it on the stove top, and it was a bit difficult, okay, more than a bit difficult.  It was a burden.  What made it hard was the peeling of the pumpkin before cooking it.  This week I tried in the slow cooker.  'Why not?', I thought.  And it made it sooo much easier!!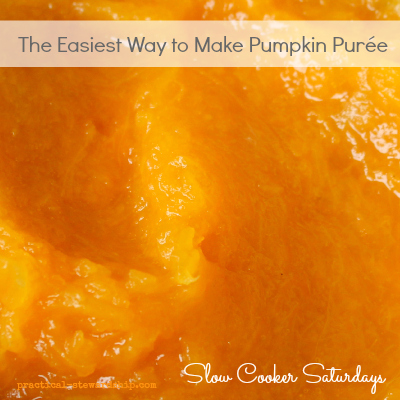 *Update 10/12/12 Cooking your pumpkin is such a money saver since the pumpkin can be purchased for so cheap.  Right now we can get pumpkin for $0.17/lb.  $0.17 verses what they sell a 29 ounce can of pumpkin for at $2.99 (current Safeway price), making the pumpkin $1.65/lb.  That's all most ten times the savings.  If we include the cost of using the crock-pot it goes down a bit, but not much.  If you have grown your own pumpkin you are out the cost of your seeds.  Cooking your own pumpkin saves an amazing amount of money!!
The Verdict: I didn't even need to put it in the food processor to puree.  To me this method saves a lot of time and steps.  I don't have to slave over a stove top, no peeling, no pureeing, so less to clean.  I love it!!  If your pumpkin isn't as smooth as you want it, by all means, cool it, and puree it in a food processor, blender or immersion blender.
**Update 11/13: every pumpkin is different, and almost everyone one I cook in the crock-pot doesn't need blending, but I had a pumpkin last weekend that definitely needed a little blender action.  Also, the bigger the pumpkin, the more water it may contain, so you may need to squeeze the water out of the pumpkin purée.
**Pictures/post updated 11/14. Recently I saw my friend take her cooked pumpkin with skins on and just blend the whole pumpkin together~skins and all. I did that the last time I crock-potted my pumpkin. I still had to squeeze the water out of the pumpkin before blending. I like that it's a time saver, and gives the purée a richer orange color (you can see in the top 3 updated pictures) without affecting the taste. I'm planning to continue blending the skins into the pumpkin in the future.
How to Cook Pumpkin in the Crock-Pot
Ingredients
1 pumpkin
a little water (**11/13 update-I don't use water anymore as the pumpkin has enough of its own that cooks out)
Instructions
Take your pumpkin, rinse, and cut it up into manageable-sized pieces. Oh! And be careful! **Update 11/13: if the entire pumpkin actually fits in your crock-pot, you could just put it straight in the crock-pot, and cook until tender.
Scoop out the guts (I keep the seeds to roast).
Put enough water in the slow cooker to fill the bottom, and place the pieces of pumpkin inside.
Turn the cooker on low, and cook for 5-8 hours. (I couldn't get to it right away so it might have been 12 hours, and it was still fine. Ah, the glories of the slow cooker.)
Take it out and let cool for about 10 minutes.
Scoop out the pumpkin pulp from the peel.
If the pumpkin is watery, try to squeeze as much water out as possible.
Discard the peel (if desired, see The Verdict section).
Purée with blender or food processor if needed.
Refrigerate or freeze, and use as desired.
For more crock-pot ideas visit our Cookin' with the Crock-pot Pinterest Board.
Have you tried…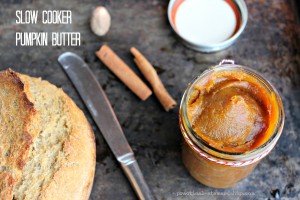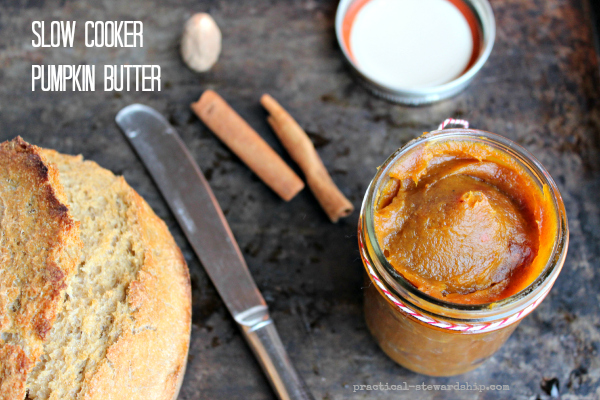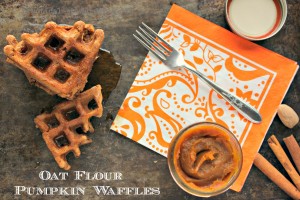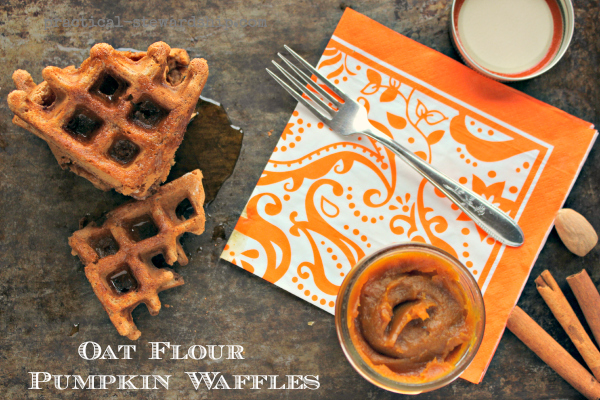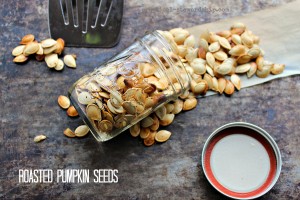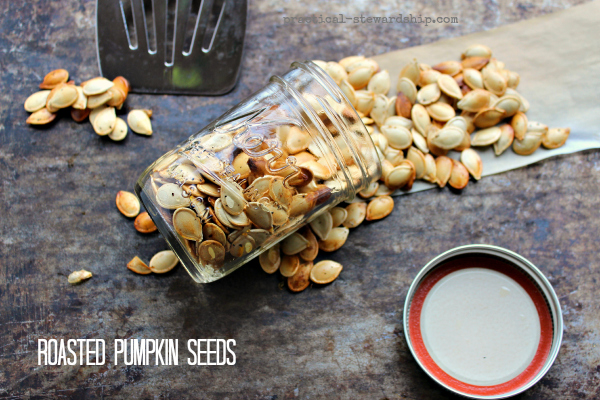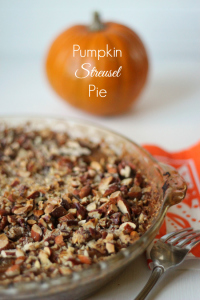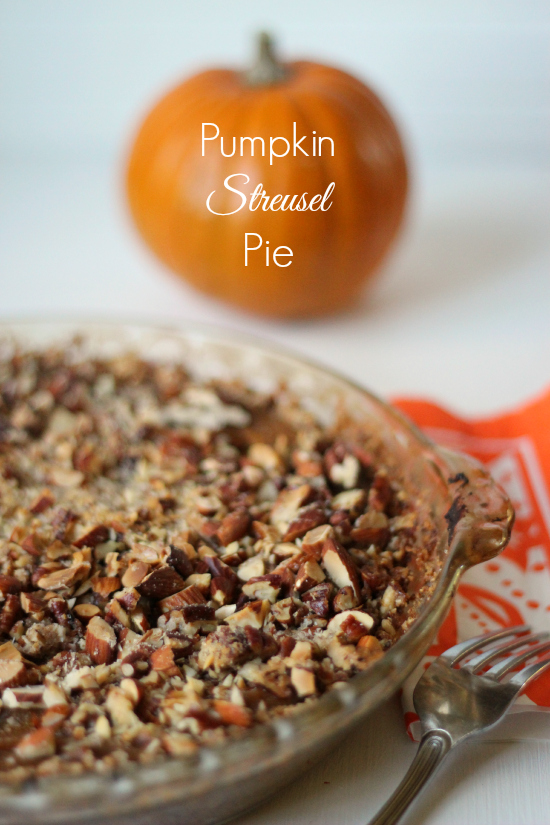 THIS POST MAY CONTAIN AFFILIATE LINKS THAT COST YOU NO MORE MONEY, BUT SUPPORT OUR BLOGGING EFFORTS. THANK YOU!