In the fall (or anytime of year) there is nothing like having a little pumpkin bread to greet you inside after coming in from a blustery day.  And making pumpkin bread in the crock-pot is super easy!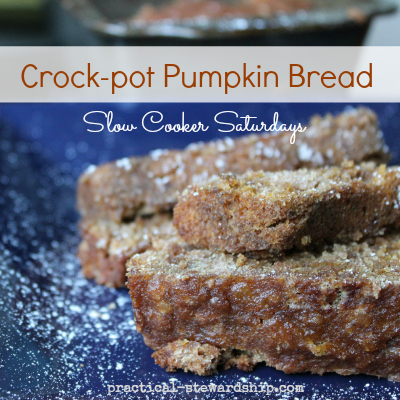 This recipe was highly modified from the Banana Nut Bread recipe in Mrs. Field's Cookie Book.  In fact, it really doesn't look like the recipe anymore, but it provided a good base from which to start.  I've made her banana bread recipe for years, and after I started making my own pumpkin, I just modified the recipe to healthify it and make it more seasonal.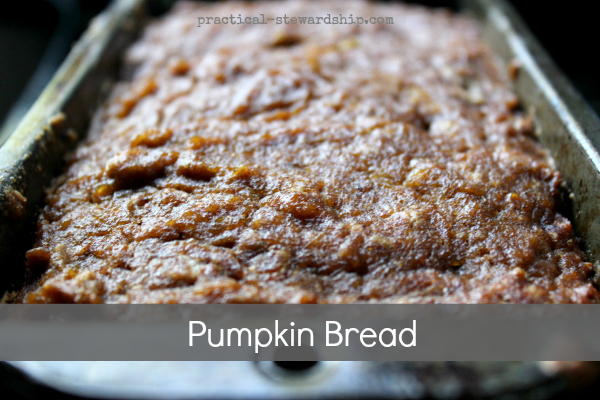 I have made this one in the crock-pot before in the loaf pan.  You just put the loaf pan in the crock-pot and turn it to low over night.  I've made it with a little water on the bottom and with no water on the bottom while the batter is in the pan.
I prefer it with no water on the bottom and with a paper towel on top of the dough to absorb some of the moisture.  I've also just greased the crock-pot, poured the batter in and cooked it in there, and it works, but the bread is in the shape of the crock-pot, and I don't want to store it in there or with that shape.  I will admit, my favorite way to prepare it, is actually standard, in the oven.  Yes, there are a few things I actually like making in the oven better than the slow cooker, but if I know I can make something in the slow cooker, I like to give it a shot.  I share this with you, though, to help you think out of the box.  You can use the crock-pot if your oven goes out, your kitchen is under construction, if you don't have a kitchen, or for a cheaper, healthier vacation.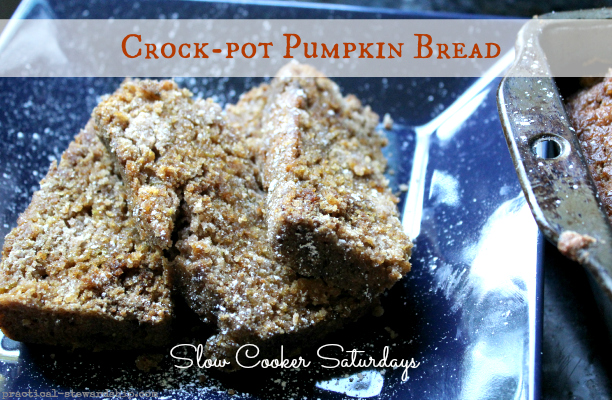 ***Updated Pics 9/25/13: Now that I have been making regular loaf bread in the crock-pot, when I went back to make this I actually liked it better than making it in the oven.  It's so nice and moist!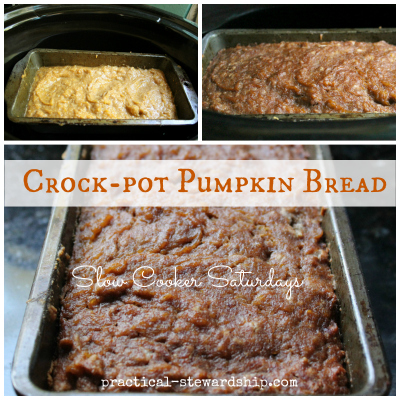 We'll have this bread for breakfast, dessert, or snacks in between.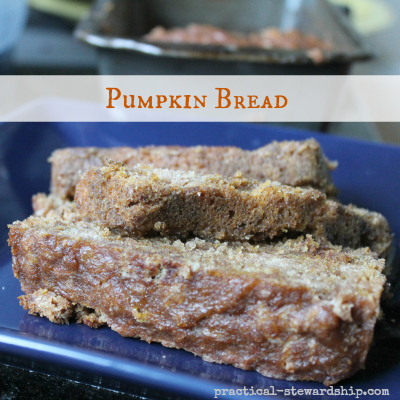 Pumpkin Bread Recipe in the Crock-Pot or Not
Yield 2 Loaves
Ingredients
2 1/2 cups of whole wheat flour (or a blend of whole wheat and white if you are transitioning to healthier living)
1 1/2 t baking soda
1/2 t salt
3/4 cup salted butter, softened
1 1/2 cups organic brown sugar, packed (I use less sometimes-and I have also used organic evaporated cane juice)
2 eggs
3 cups pumpkin
1 t vanilla extract
1 t cinnamon
1/2 t nutmeg
1/2 t cloves
1 cup walnuts, chopped
Instructions
(Preheat oven to 325 degrees if using the oven)
Grease 2-9x5 in loaf pans.
Mix dry ingredients.
Mix wet ingredients.
Combine all ingredients.
Pour into prepared loaf pans.
Set in the crock-pot (with no water) on low overnight or all day, about 8 hours, or cook on high for approximately 2 1/2 hours. (Or Bake for 60-70 minutes, or until done in the center [check with a toothpick]). If you are making one bread in the crock-pot, you can refrigerate the dough to "bake" it at a later time or use a waffle iron to make waffles out of the dough.
Have you tried…?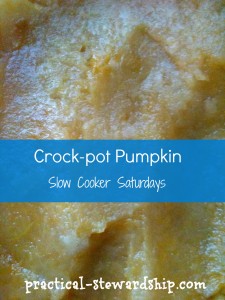 Have you ever done crock-pot freezer cooking? Here are 10 meals for $5.64 each.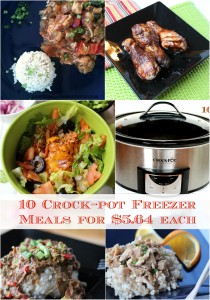 Follow our Cookin' with the Crock-pot Board on Pinterest by clicking here.
THIS POST MAY CONTAIN AFFILIATE LINKS THAT COST YOU NO MORE MONEY, BUT SUPPORT OUR BLOGGING EFFORTS. THANK YOU!