So many crock-pot recipes are just so easy to make, and slow cooker pumpkin butter is no exception!  Just toss in the ingredients, cook it for awhile, spice it up, cook it for an hour more and enjoy!  It's really so, so easy!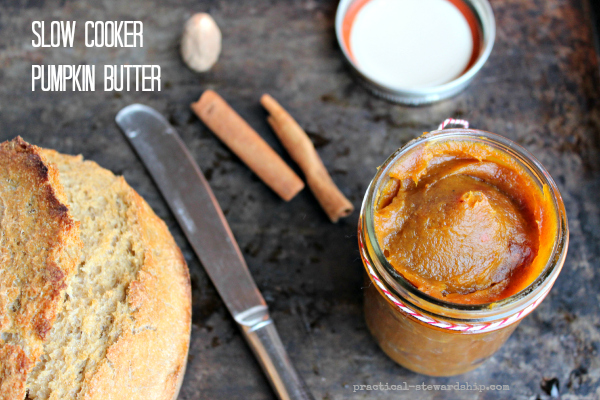 Unlike all of the recipes I've seen so far on crock-pot pumpkin butter, I add my spices toward the end of cooking, and other recipes add the spices before cooking.  I learned this a few years ago when I would put cinnamon in my steel cut oats at night, and let it the oats cook overnight.  I made tens upon tens of batches of steel cut oats cooking the cinnamon, and I could never taste the cinnamon the next morning.  For whatever reason, the flavor of dry spices gets lost and forgotten in the slow cooking process, so I believe for optimal flavor, place the spices in the slow cooker in the last hour of cooking.  One time I made the pumpkin butter and accidentally spiced it up before cooking, the flavors got lost, and I re-spiced it at the very end of cooking without cooking for the additional hour, and the pumpkin butter still turned out great.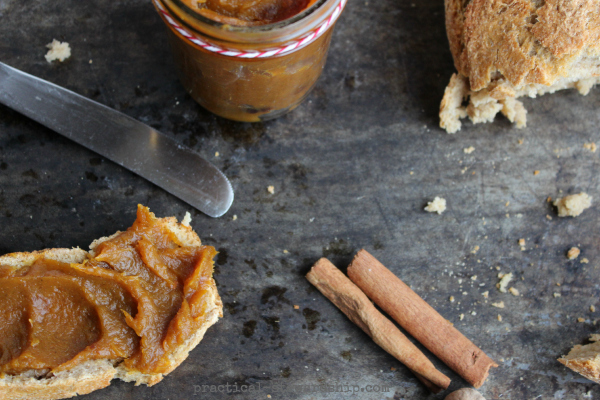 I was thinking the pumpkin butter would be such a fun homemade, special gift to give this holiday season, and not to mention, frugal!  So I am thinking about making some pumpkin butter and giving it as gifts this year.  The flavors and scents scream, "HOLIDAYS!"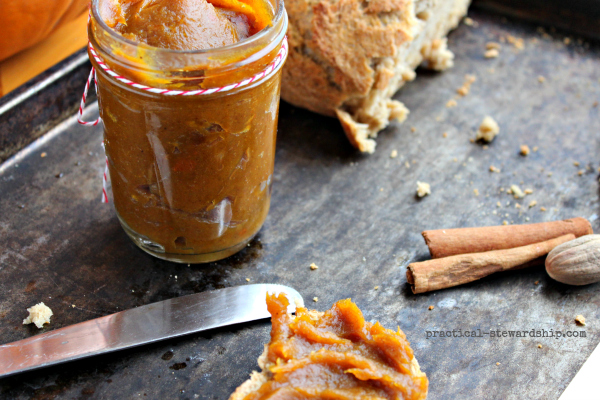 I went to my canning expert friend Erica about canning pumpkin butter.  She consulted her canning books, and in a nutshell she suggested to put the pumpkin butter in the back of the fridge on the bottom where it will keep colder.  She suggests not to can it as it is not recommended in contemporary sources.  She says it may keep for up to 3 months refrigerated!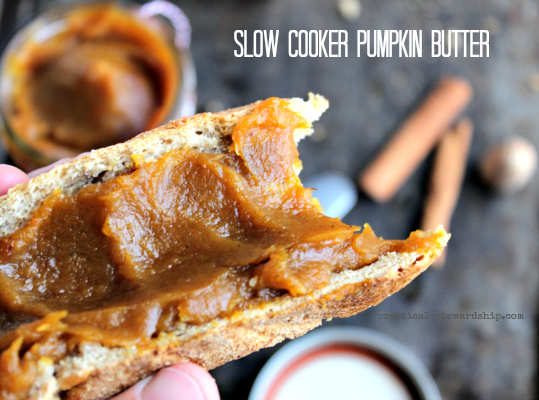 I have sweetened batches of the pumpkin butter (all at separate times) with maple syrup, honey, and organic sugar (evaporated cane juice).  All worked well, but my favorite is maple syrup.  It is the most of expensive of the options, though, but it does make it vegan and free of refined sugar that way.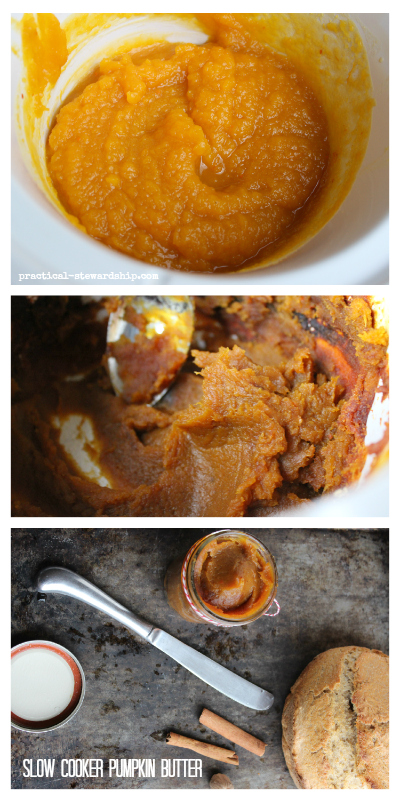 We've enjoyed the pumpkin butter in yogurt, on sourdough bread, and in cinnamon rolls as a replacement for butter!  Next I am trying it as a dip for apples!
This recipe was inspired by Recipe Diaries.
Crock-pot Pumpkin Butter
Ingredients
4 cups of pumpkin (approximately 2 15 ounce cans, or use your own pumpkin purée)
1 1/4 cup maple syrup or honey (sugar works, too, but we are reducing our sugar intake)
2 t cinnamon
1 t ground ginger
1/2 t nutmeg
1 t vanilla extract, optional
Instructions
Mix together pumpkin purée, maple syrup (or other sweetener), and vanilla (if you are using it) in the crock-pot.
Cover, and cook on high for 4 hours or overnight on low for 8 hours.
In the last hour of cooking, add the cinnamon, ginger, and nutmeg, and crack the lid to let moisture out if you want a thicker consistency.
Cool and store in jars at the bottom of your fridge.
Have you ever made your own pumpkin purée?  It's so easy in the crock-pot, too!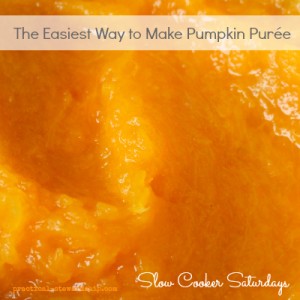 How about roasting your own pumpkin seeds?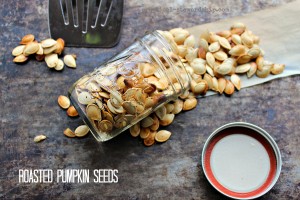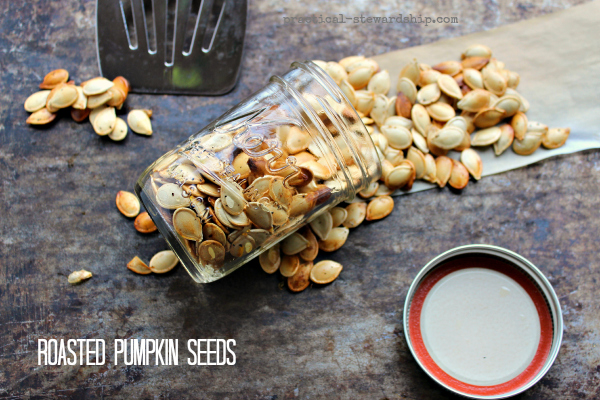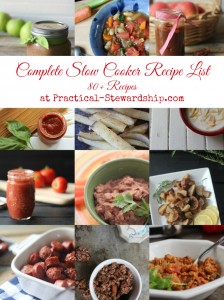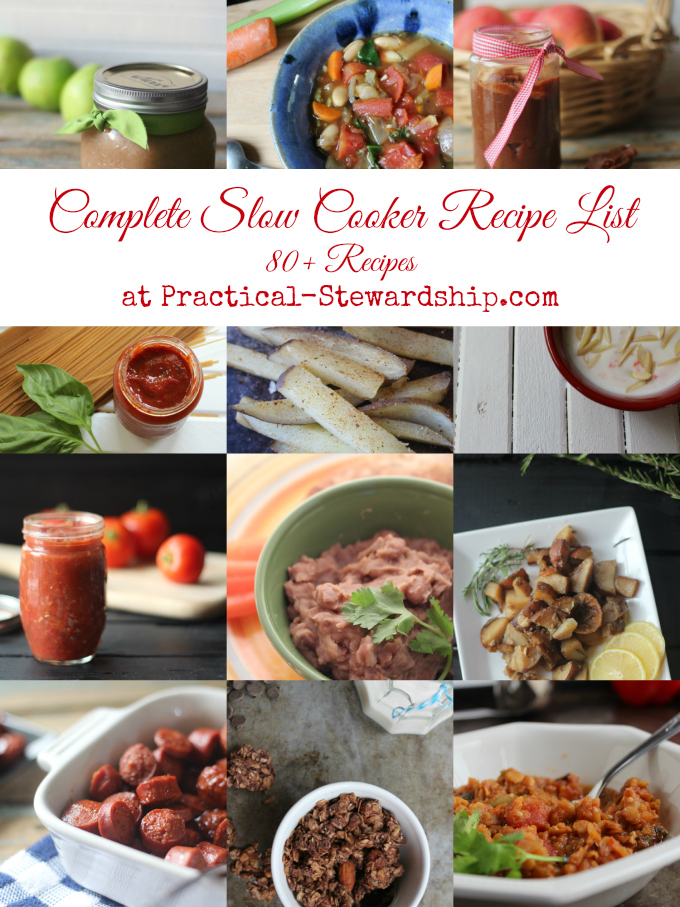 THIS POST MAY CONTAIN AFFILIATE LINKS THAT COST YOU NO MORE MONEY, BUT SUPPORT OUR BLOGGING EFFORTS.
THANK YOU! 

SHARING AT  SOME OF THESE 

GREAT LINK PARTIES

.