Roasting vegetables is a great way to increase your intake of vegetables since the veggies take on a different flavor and texture.  Roasting them gives them a kick you need to invigorate them.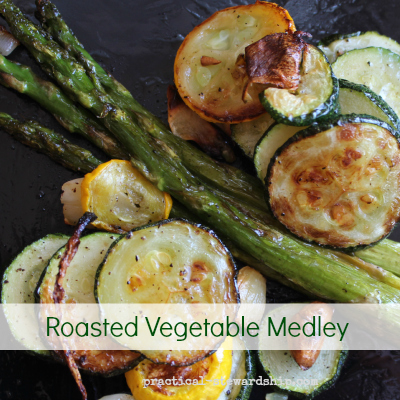 It's best if the vegetables have their own area of the pan and aren't stacked on top of each other for maximum browning and flavoring. In the picture of the raw vegetables below,  they need more surface contact with the baking pan.
When our local grocery store, Fred Meyer, had zucchini and yellow squash for $0.88/lb., and asparagus for $2.48/lb., I couldn't resist.  I've never bought yellow squash before, and I thought this would make a great combination of roasted veggies.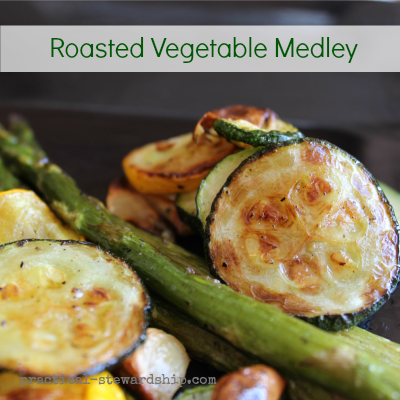 **8/26/13 update-we have gone through a couple summers now enjoying roasting the yellow squash and zucchini and loving the flavors that the golden brown brings out in the vegetables.  Besides enjoying them as a side, roasted vegetables are great on pizza, salad, and a variety of other foods.
Roasted Vegetable Medley
Ingredients
1 bunch of asparagus, ends cut off
1 zucchini, sliced
1 yellow squash, sliced
1/2 onion, sliced
5 whole garlic cloves or garlic powder
a drizzle of olive oil
a drizzle of pepper
Instructions
Preheat the oven to 450 degrees.
Place the vegetables and garlic cloves on a lipped baking sheet.
Drizzle olive oil over the vegetables.
Give a couple of shakes of pepper (and garlic powder) over the vegetables, and stir.
Bake for 16 minutes or until slightly browned, stirring every 8 minutes.
Enjoy! (Updated 8/27/13)
Go here for more zucchini recipe ideas.

THIS POST MAY CONTAIN AFFILIATE LINKS THAT COST YOU NO MORE MONEY, BUT SUPPORT OUR BLOGGING EFFORTS. THANK YOU!
Featured @ Wellness Weekend.