My sister and her fam came over last night, visiting from Idaho, and I wanted to make them something fun, special and quick, knowing they would have a movie date afterward and needed a fast meal.  Well, the slow cooker isn't quick, but if you plan ahead, it takes away so much last minute stress, and it feels quick.  I think that is important.  I love it!!
I was inspired by my friend Keri's small little blurb about making shredded chicken tacos on Tuesday.  This recipe is a variation on my crock-pot chicken recipe.  One different ingredient (I know salsa is made of many ingredients, but it feels like one, especially if you buy it), spins chicken into a whole new world of flavors.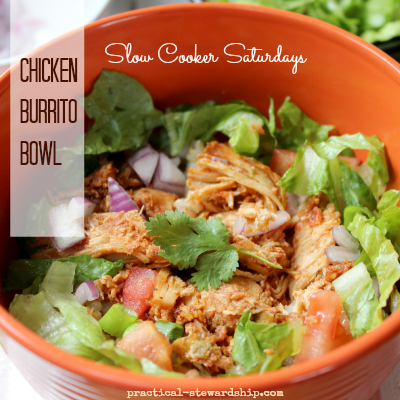 I added some vegetables, onions, and garlic wrapped in foil during the last hour of cooking to have some "steamed vegetables" to top the salad with.
You could easily make these into chicken burritos, or chicken burrito bowls with rice.  You could easily put together a taco bar, too.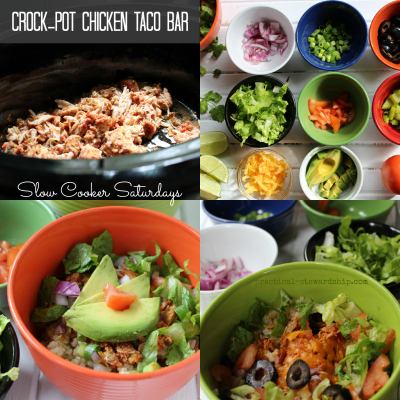 Some taco bar ideas are:
lettuce
tomatoes
cheese
avocados
green onions
red or white onions
bell pepper
olives
black beans
corn
cilantro
lime wedges
lemon wedges
salsa
chips
rice
tortilla
taco shells
Can you add to this list?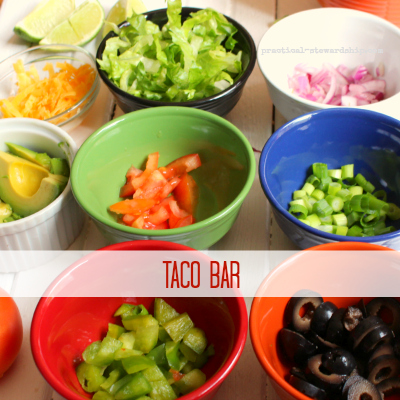 Crock-Pot Chicken Taco Salad
Ingredients
1 whole chicken (giblets, excess fat removed), or chicken breasts, or chicken tenders (shredded chicken or turkey would work, and it wouldn't need to cook as long: only until warmed throughout)
just enough water to cover the bottom of a crock pot
1 cup of your favorite salsa
optional, 1/4 cup olive oil
optional, 2 T minced garlic
optional dash Cayenne pepper
optional, 2 T Italian seasonings, or seasonings of your choice
optional, tortilla chips, crushed
salad greens and your favorite vegetables
cheese: omit for dairy-free (we used feta, although medium cheddar or a Mexican blend would be fabulous)
optional, salad dressing (1/2 cup olive oil, 1/8 cup balsamic vinegar, & a pinch of salt) or salsa to top
Instructions
Place your chicken in the slow cooker, legs up for the whole chicken. I never rinse mine, as the bacteria is killed upon cooking.
Combine salsa with olive oil, garlic and seasoning in a small bowl if you are using the additional ingredients.
Rub or spoon on salsa mixture.
Cook on low 6-8 hours, or on high for 4-5 hours or until the leg bones rotate with ease and the juices run clearly.
Shred chicken.
Top salad greens with chicken, vegetables, cheese, chips, or whatever healthy toppings you enjoy!
The Verdict: The chicken is so tasty and moist!  I loved the salad.  We are trying to have just salads more for lunches and dinners.  I am excited to use the leftover chicken as an addition to my Cilantro Lime Black Bean Burritos for lunch today!
**Recipe & pictures updated 10/2/13.
Visit my Cookin' with the Crock-pot Pinterest Board for more slow cookin' ideas.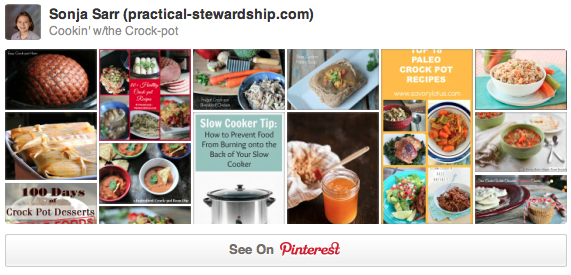 Go here for the complete list of recipes. 
This post may contain affiliate links that cost you no more money, but support our blogging efforts. Thank you!