Chewy granola bars are a family favorite snack. After I posted the 4 Ingredient Chewy Peanut Butter Granola Bar Recipe, I had a few friends talking about trying the recipe with almond butter.  I knew I had to try it, and my family and I have been digging them ever since.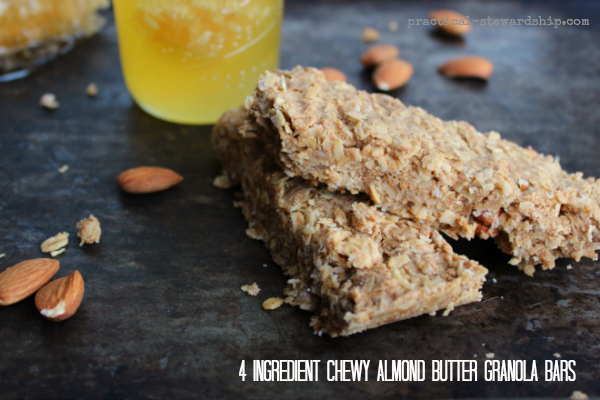 My friend Jolie and I were also talking about how these almond butter granola bars could actually turn into a three ingredient recipe if you take out the nuts. I can't bring myself to do it though, because I am nuts for nuts, and I love the crunch!!
I keep these granola bars around ALL of the TIME. I think I only had about two days in the last few months where we had no homemade almond butter granola bars in the house, and I had to quickly correct that!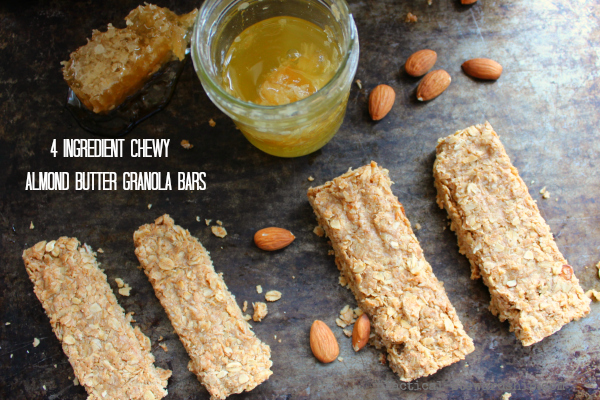 The Verdict:  These are my favorite granola bars ever!  My whole family loves them!!!  If you want to reduce the sweetness, flip flop the amount of honey and nut butter you use.  These days I've been using 3/4 cup honey and 1 cup of almond butter.
**Update 12/13 It's been a year and a half since I posted this recipe, and these Almond Butter Granola Bars are still my favorite snack!!
4 Ingredient Chewy Almond Butter Granola Bar

Ingredients

-4 cups old fashioned oats (Gluten-Free if needed)
-1 cup natural almond butter (or nut butter of choice)
-3/4 cup honey (use agave for vegan)
-1/2 cup almonds (chopped if desired)
-optional, 3 T TriMix (1 T Wheat Germ, 1 T Wheat Bran, 1 T Oat Bran) omit for G-F
-optional, 1 T ground flax seed

Instructions

Grease the bottom and sides 9x13 pan well.
Preheat oven to 320 degrees.
Combine all ingredients VERY well in a bowl. Use an electric mixer if possible like a Kitchen Aid Mixer.
Mash the granola bars into the pan well. This is the most important step!! If you don't mash it, they won't hold together well. We use a potato masher to really get the granola bars to stick together.
Bake for 18 minutes or until the edges barely start browning.
Cool for 10 minutes, and cut into bars while they are still pliable but not to hard.
Store in a cool dry place for up to a month.
Do you need other healthier snack ideas?