These 4 Ingredient Chewy Peanut Butter Granola Bars are my favorite snacks, hands down. I think it's the chewy combined with the crunchy nuts. I think it's the salty mixed with the honey sweetness. I think it's the carbs. Oh, it's all of that. That's why it's my most made recipe ever in my entire life.
(the drizzle is for my son:)
Did any of you grow up with those packaged chewy granola bars? I don't recall a day going without them once I got hooked. Then one day early in our marriage I was reading, Miserly Moms: Living on One Income in a Two-Income Economy, about how she made her own granola bars. Woh. No way. 'Granola bars were only something you could buy', I thought. But I thought wrong. I was quite intrigued but didn't try to make any granola bars just yet. It wasn't my time. I wasn't ready for such a big jump, going from all processed and prepackaged food to homemade. Not just yet…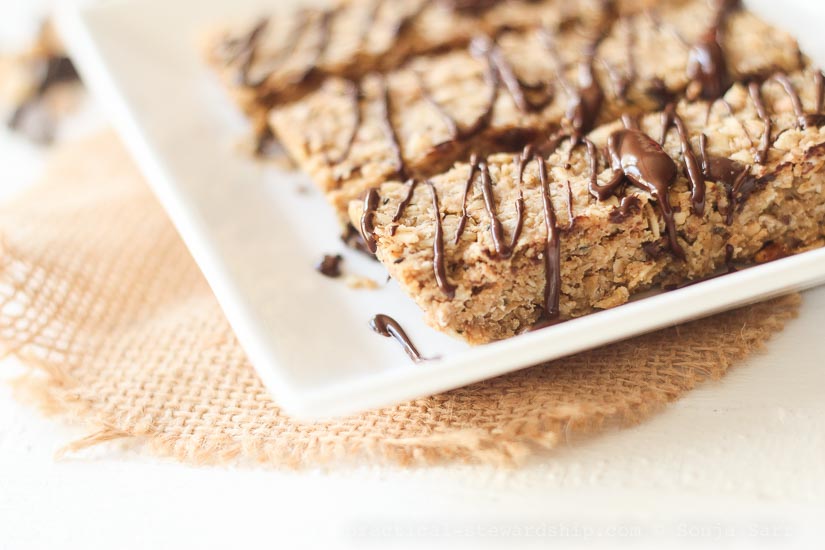 Well, for a many years I thought I was eating healthy when I was eating those prepackaged granola bars. Then I started learning a little about real, whole foods. Boy was my thinking wrong with all of those artificial sweeteners, preservatives, and ingredients developed in a science lab than you can't even pronounce.
 I finally took the dive and haven't looked back since. For years I made a granola bar recipe from All Recipes.com (which I can't find now) that had several ingredients. The recipe was great, but after several years I decided it was high time to start experimenting. I wanted a healthier version. I also wanted a recipe with as few ingredients as possible. I tweaked and tweaked. The original recipe had honey. Why did it need brown sugar, too. Baking soda? The bars were just fine without, thank you very much. And butter? Well with peanut butter, there was no need (although we do like butter, don't get me wrong).  I finally came up with this recipe: the 4 Ingredient Peanut Butter Granola Bars Recipe, and we've been making it for years. Chewy, moist, real wholesome goodness. Honey sweetened. What's not to love?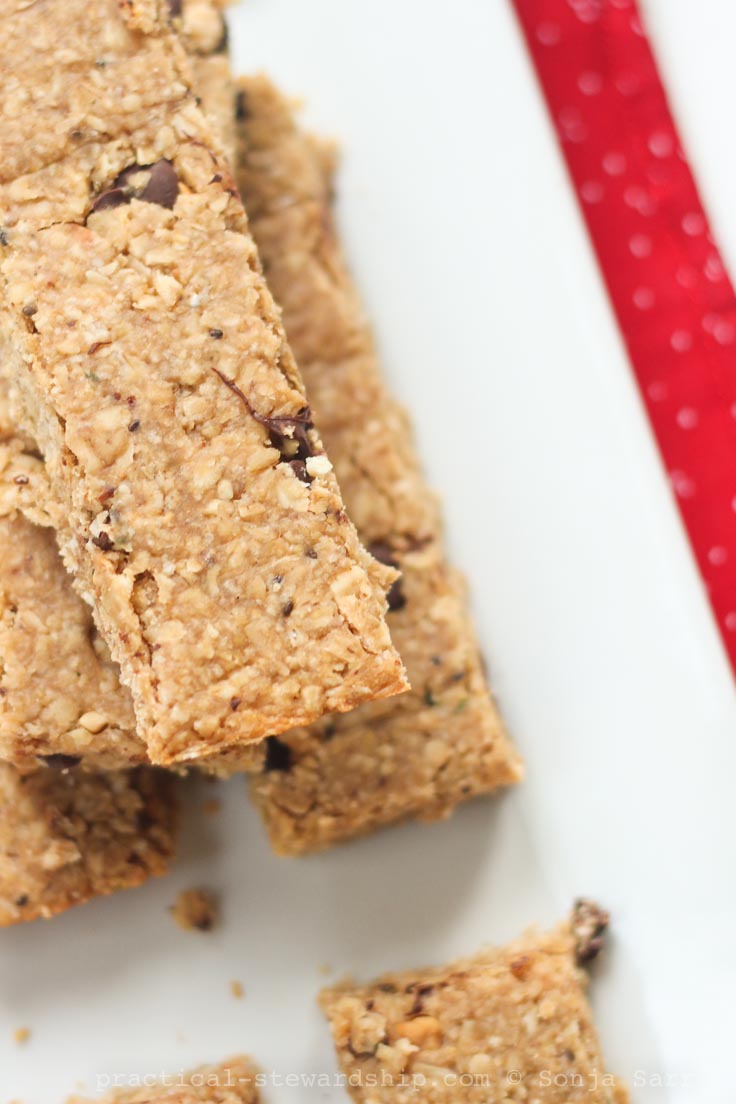 I think in the last 2 to 3 years we've only ran out of our peanut butter granola bars once.  I keep these stocked all of the time. And I usually make them in tandem with my 4 ingredient almond butter granola bars.
We love these granola bars so much, we love sharing them as gifts too. Many people are hard to buy gifts for and most don't need more stuff. Many years ago, I figured everyone needs to eat and just started giving people these granola bars for gifts.
**Pics updated 1/16.
4 Ingredient Peanut Butter Granola Bars
Ingredients
4 cups old fashioned oats (gluten-free if needed)
1 cup honey (use agave for vegan)
3/4 cup natural peanut butter
1/2 cup peanuts
optional, 3 T TriMix (1 T Wheat Germ, 1 T Wheat Bran, 1 T Oat Bran) omit for g-f
optional, 1 T each of ground flax seed, hemp seeds, chia seeds
optional, 1/4 cup peanut butter chips or chocolate chips
Instructions
Grease the bottom and sides 9x13 pan well.
Preheat oven to 350 degrees.
Combine all ingredients VERY well in a bowl. Use an electric mixer if possible like a Kitchen Aid Mixer.
Mash the granola bars into the pan well. This is the most important step!! If you don't mash it, they won't hold together well. We use a potato masher to solidify this peanut butter goodness.
Bake for 18 minutes or until the edges barely start browning.
Cool for 10 minutes, and cut into bars.
Store in a cool dry place for up to a month.
Have you tried Chocolate Chip Oatmeal Cookie Granola Bars?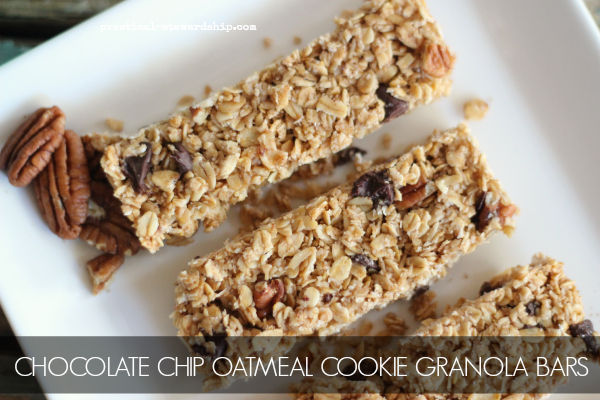 And then here is a version of this No Bake Chocolate PB Granola Bar that was the best culinary mistake I've ever made.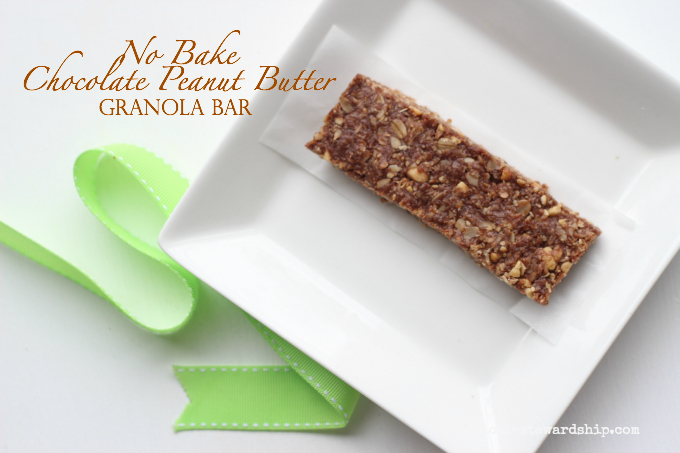 Do you need other healthier snack ideas?
THIS POST MAY CONTAIN AFFILIATE LINKS THAT COST YOU NO MORE MONEY, BUT SUPPORT OUR BLOGGING EFFORTS. THANK YOU!