I thought it would be fun to have a theme to bring us into the new year.  The next few weeks I will be doing smoothies inspired by different pie flavors.  This week we are going for pumpkin pie!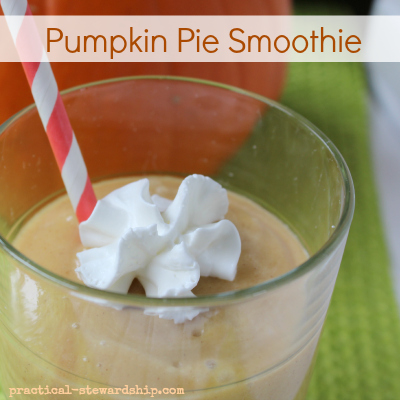 Are you in the mood for a little pumpkin?  Looking for something a little bit different to do with pumpkin?  Have you ever tried a pumpkin pie smoothie? Well, if you are a pumpkin lover, you may want to try this.
Did you know that pumpkin has calcium, fiber, protein, beta-carotene and more!  Go here to Live Strong to read more about the valuable nutrients of pumpkin.  A smoothie is a great, fast, and easy way to get those valuable nutrients!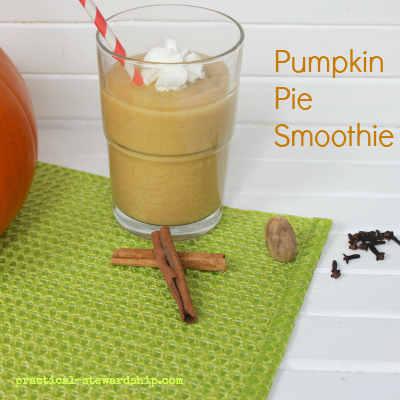 Pumpkin Pie Smoothie Recipe
Yield 2 smoothies
Ingredients
Scant 2 cups of pumpkin or 1 can (15 oz.) Pumpkin, chilled (learn how to cook your pumpkin in the crock-pot here) If your pumpkin was frozen, drain well.
1-1 1/2 cups milk, chilled (I use almond or coconut milk for vegan and dairy-free)
1/2 cup crushed ice if needed
1/2 cup oatmeal, raw or cooked, optional to thicken and add whole grains into your diet
1/4 cup, or to taste, organic granulated sugar, maple syrup (for vegan) or honey
1/4 teaspoon pumpkin pie spice
Instructions
Blend and serve immediately!
You can garnish with granola or crushed graham crackers (make gluten free if needed) and real whipped cream or vegan whipping cream.
Nutrition Facts
Serving Size 16 ounces

Amount Per Serving

% Daily Value

* Percent Daily Values are based on a 2,000 calorie diet. Your daily values may be higher or lower depending on your calorie needs.
The Verdict: This is a really thick smoothie that can be diluted with more milk if you'd like.  Or just omit the oats.  If you want it sweeter, add honey or organic sugar.  I am not a huge pumpkin pie fan, but if you are, I bet you'll like this.  I liked mine better without the oats.  My Abbie girl loved this almost as much as she liked the Strawberry Shortcake Smoothie, and that's saying something!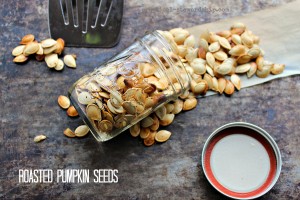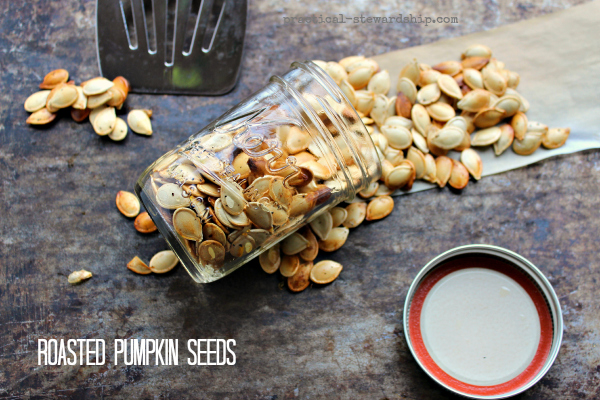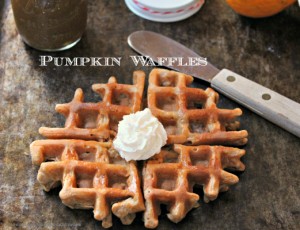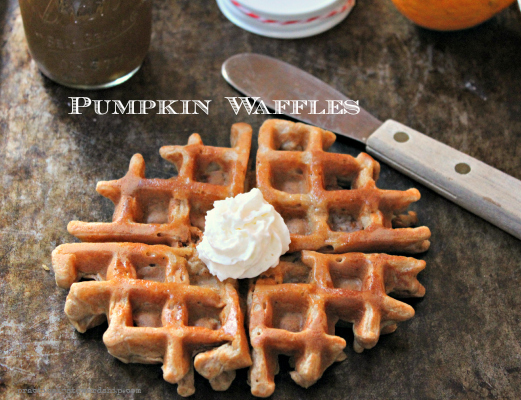 Pumpkin Streusel Pie, GF
Want a code for a free shipping on a Vitamix?  Go here. Contains an affiliate link.
THIS POST MAY CONTAIN AFFILIATE LINKS THAT COST YOU NO MORE MONEY, BUT SUPPORT OUR BLOGGING EFFORTS. THANK YOU!