I grew up in the microwave popcorn generation.  In my early, early years, I have fuzzy memories revolving around a popcorn popper, but as soon as we got our first microwave when I was in elementary school, it was microwave popcorn for our family.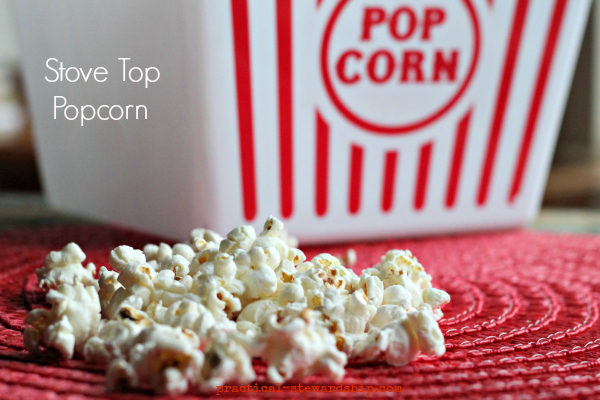 If you think that microwave popcorn is cheap, the actual kernels themselves are, in reality, very frugal.  Plus, organic popcorn kernels can be more frugal than microwave popcorn, too, or at least comparable, since you get lots of bang or pops, in this case, for your buck.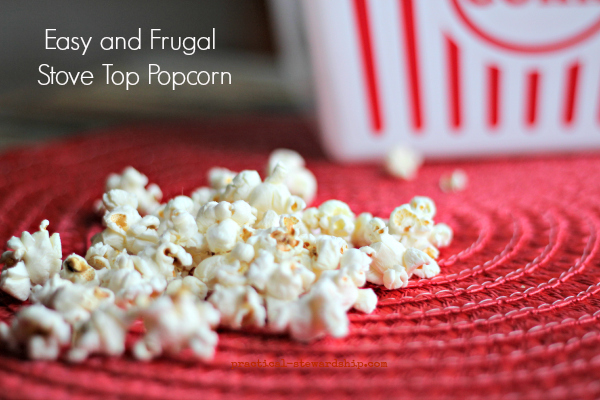 As an aside you may also want to contemplate the potential dangers of the microwave as they change the molecular structure of food.  You can read more about it here at Mercola.com.  I am starting to believe it more and more and am reheating more meals in the oven if the oven is already in use.  I do have to admit that I still use the microwave quite frequently, just not like before.  I just don't linger to close while using it anymore. 
Regardless of what you may think of the microwave, stove top popcorn beats microwave popcorn in taste, and health-wise.  It also doesn't take much longer to prepare than microwave popcorn at all.
We have a bit of a funky schedule a few Sundays a month which causes us to eat dinner either really early or really late.  I like to prepare a small quick portable to-go meal, (usually in a tortilla) that we eat kind of early.  Since my husband leads worship, he rehearses before our night church, and I don't like to have two different cars there.  I like to take the family and wait for Jonathan while he rehearses and have this small meal.  Well, when we get home, we are all pretty hungry.  Popcorn is my Sunday night go-to as a healthy, fast, and frugal way to have something that is not too heavy, but yet satisfies.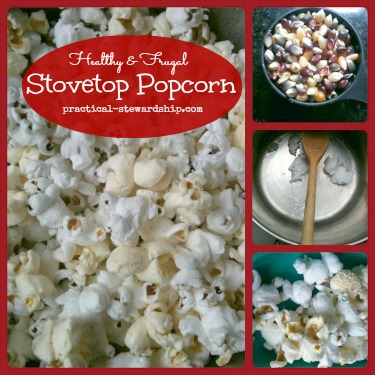 This is what I paid for my 1/3 cup of popcorn (I wish I would have brought my measuring cup when I bought the popcorn since I didn't get perfect measurements, but at least this gives you a bit of an idea of how much it costs).  This would also be cheaper if I would have used grape seed or olive oil, which I do on occasion.
2 tablespoons of organic coconut oil equals 1 fluid ounce.
It costs $0.282/ounce for the oil at Costco.
In the Whole Foods bulk foods section I spent $0.24 for a shy 1/3 cup of organic popcorn kernels (.12 lbs. @ $1.99/lb.).
In the Winco bulk foods section I spent $0.19 for 1/3 cup of popcorn kernels-probably has GMOs since it's not organic (.18 lbs. @ $1.05/lb.)-it's better to use conventional kernels than microwave popcorn since you can control what goes in it, so if you are thinking about moving your family to whole foods, this is a stepping stone.
So for less than $0.60 you can have about 7-9 cups of cooked organic popcorn.
Frugal & Easy Stove Top Popcorn with a Cost Breakdown
Ingredients
1/3 cup organic popcorn kernels
2 T organic coconut oil (can use grape seed oil or olive oil)
your favorite toppings (I use Himalayan salt, coconut oil, and nutritional yeast; the family likes butter, & Parmesan cheese)
Instructions
Place coconut oil in your pot on high heat.
As soon as coconut oil is melted, place kernels in the pot and cover with a lid.
Shake constantly until the kernels pop.
When the popping starts to dwindle, take the popcorn off the high heat.
Add your favorite toppings.
The Verdict: For years I have been throwing in the popcorn kernels as soon as the oil starts to melt, not when the oil is thoroughly heated.  I know some people wait until the oil it thoroughly heated, but I think more kernels pop when they are heated for a bit longer.  What do you find?
What are your favorite popcorn toppings?  Sometimes we'll sprinkle a little cinnamon and organic sugar for a sweet treat.
Go here for a complete list of recipes. Pictures updated 2/14.
Would you like some other snack ideas?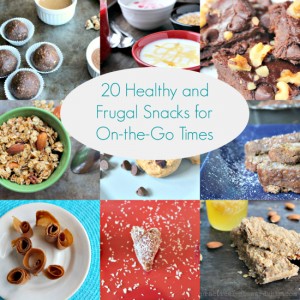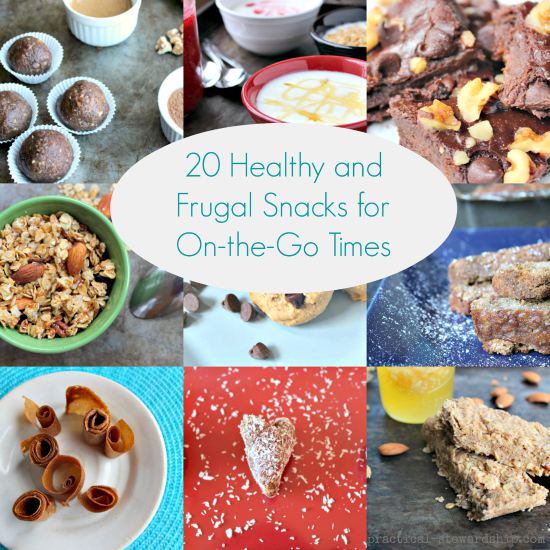 Have you tried homemade KIND-inspired Bars?

THIS POST MAY CONTAIN AFFILIATE LINKS THAT COST YOU NO MORE MONEY, BUT SUPPORT OUR BLOGGING EFFORTS. THANK YOU!