Raw Lemon Cream Pie, Gluten-Free, Dairy-Free, Egg-Free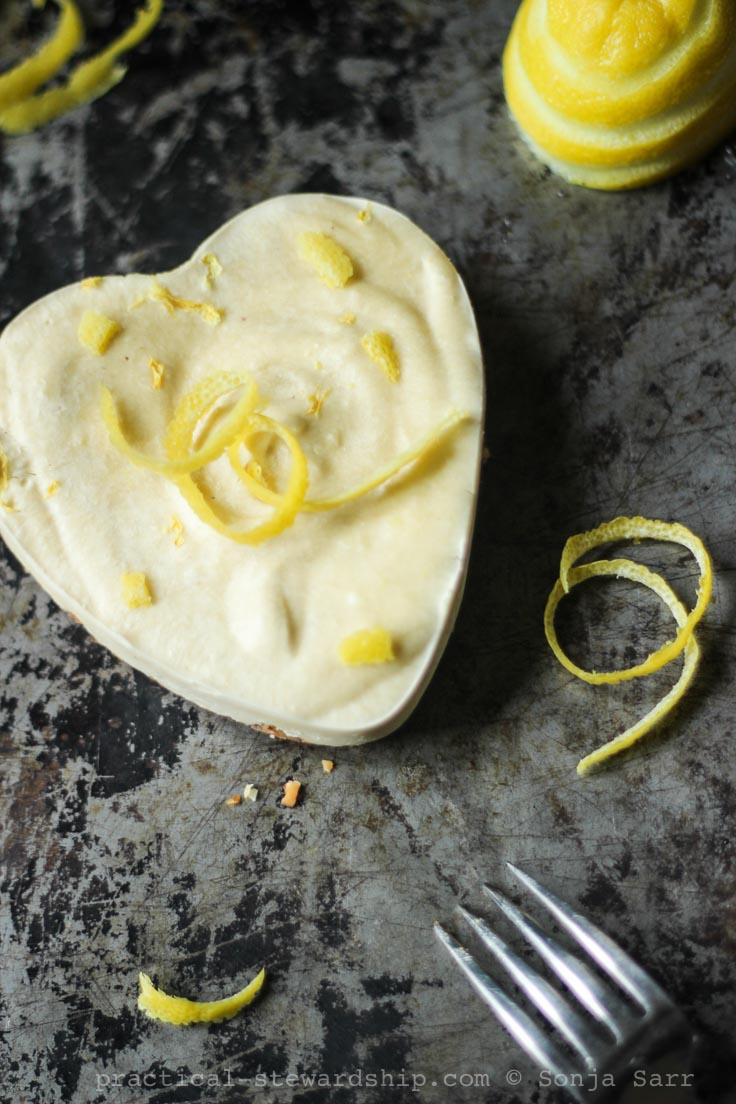 Here is a no bake lemon cream pie that is naturally gluten-free, egg-free, and dairy-free that will make you pucker.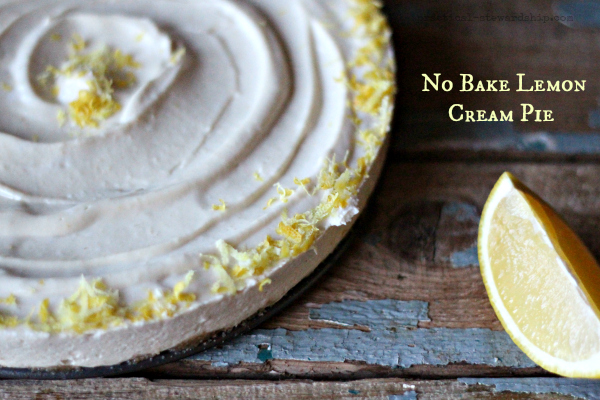 This past Easter I wanted make a dessert to bring to a gathering that I could actually eat since I am dairy and egg-free. If you have any kind of allergy, you know that it can be very challenging going to gathering and finding something you can actually eat. So the best way to ensure that you will have something to eat is to bring it yourself.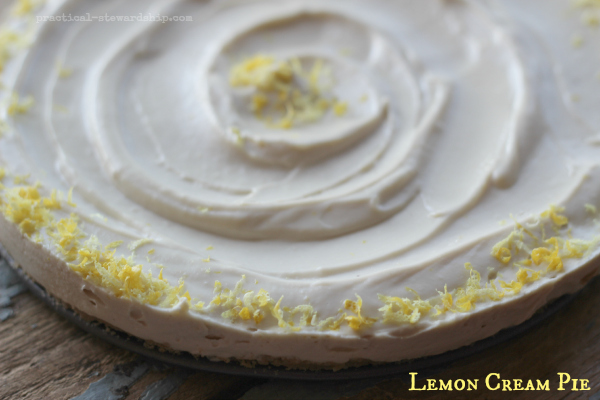 My Ellie-girl is in love with sour, so I thought I should adapt the Berry Cheesecake into something nice and tart since her birthday was also on Easter this past year.  And of course I had to experiment a few times making this before presenting it at a gathering and for her birthday!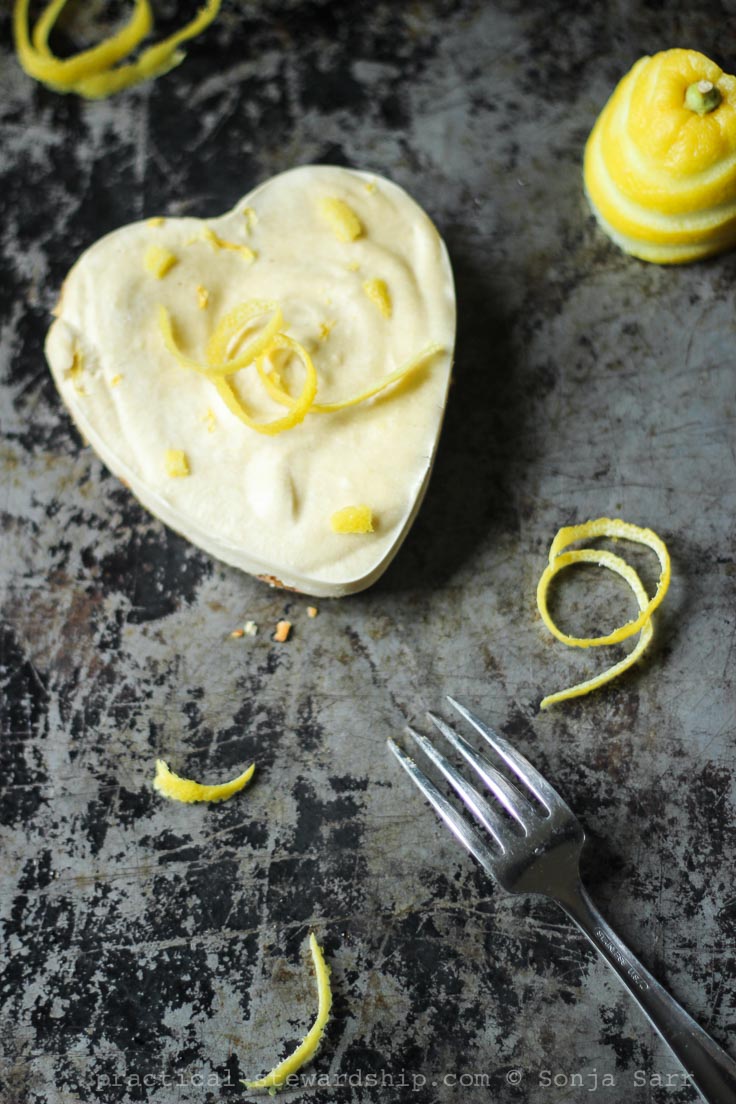 I got some heart-shaped spring form pans to make cute little mini cream pies too. It's amazing how changing the shape of something and nothing else adds a special dimension to the pie.
The Verdict: This pie has an awesome zing!  I love the tartness of the lemons paired with the sweetness of the crust.  Of all of the raw dairy-free and gluten-free crusts I have made, this one is my absolute favorite!  I love the sweetness of the maple syrup with the pecans and oats.  Yum!!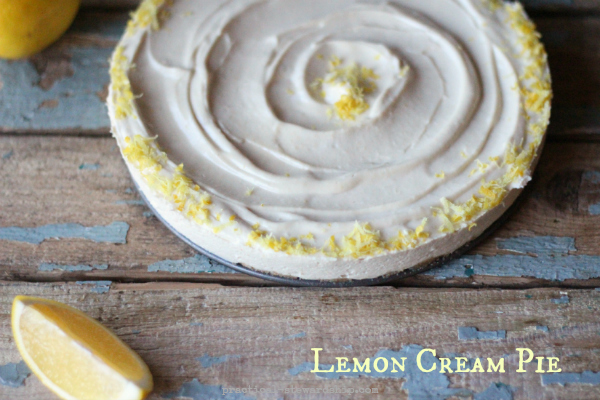 Raw Lemon Creamy Pie, Gluten-Free, Dairy-Free, Egg-Free
Yield 1 pie
Ingredients
The Crust Ingredients:
1 cup oats (use gluten-free if needed)
1/2 cup pecans
1/4 cup maple syrup
The Filling Ingredients:
2 1/2 cups raw cashews, optional soaked for about 2 hours-but not necessary with a high powered blender
2/3 cup lemon juice (organic & fresh is best) (optional + an entire peeled lemon for extra zing)
1 t vanilla extract
1/3 cup coconut oil, melted
1/3 cup honey (maple syrup for vegan)
the zest of 1 lemon, divided
Instructions
Process the crust ingredients in a food processor. The longer they process, the finer the crust, so it's up to you. Add more maple syrup if the crust doesn't stick together.
Press your crust into a pie plate. You can use a bottom of a glass to smash the crust into the pie plate.
Put all filling ingredients except the whole peeled lemon and zest in a high powered blender in the order listed, and blend until smooth and creamy. If the filling is too thick, add a little water tablespoon by tablespoon to thin if desired.
Add 1/2 of the lemon zest, and blend.
Taste and add the whole peeled lemon if desired.
Pour filling mixture on top of the pie crust.
Smooth out the filling with a spatula.
Garnish with the remaining lemon zest.
Freeze to solidify, take out of the freezer about 15 minutes before serving, and enjoy!
Keep refrigerated 3-4 days or in the freezer for up to a month.
Pictures updated 7/15.
Check out our other dairy-free, gluten-free, vegan option pies and cheesecakes here.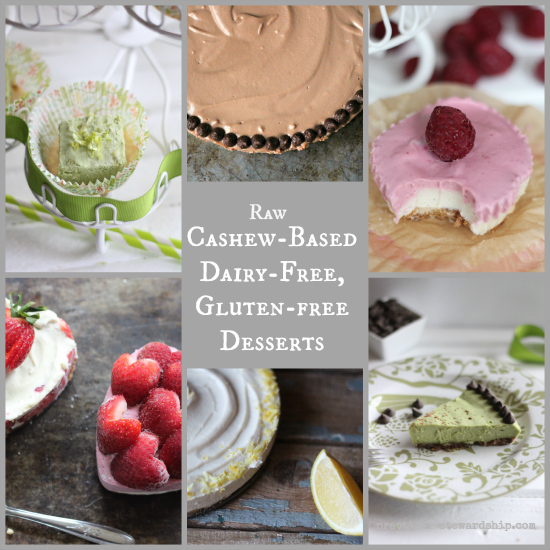 Have you tried a Pumpkin Cheesecake, Dairy-Free, Gluten-Free?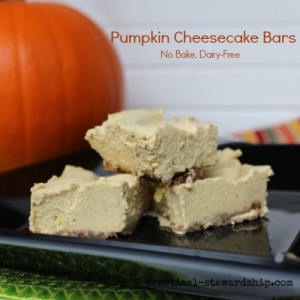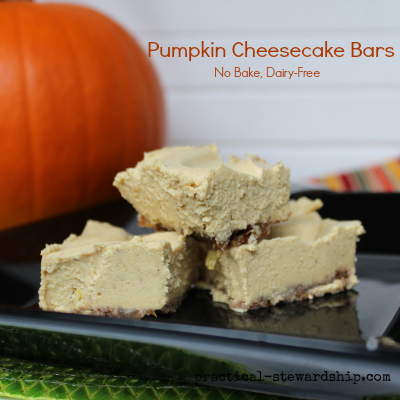 This post may contain affiliate links that cost you no more money, but support our blogging efforts.