Fettuccine Alfredo, Dairy-Free, Egg-Free, G-F option, Vegan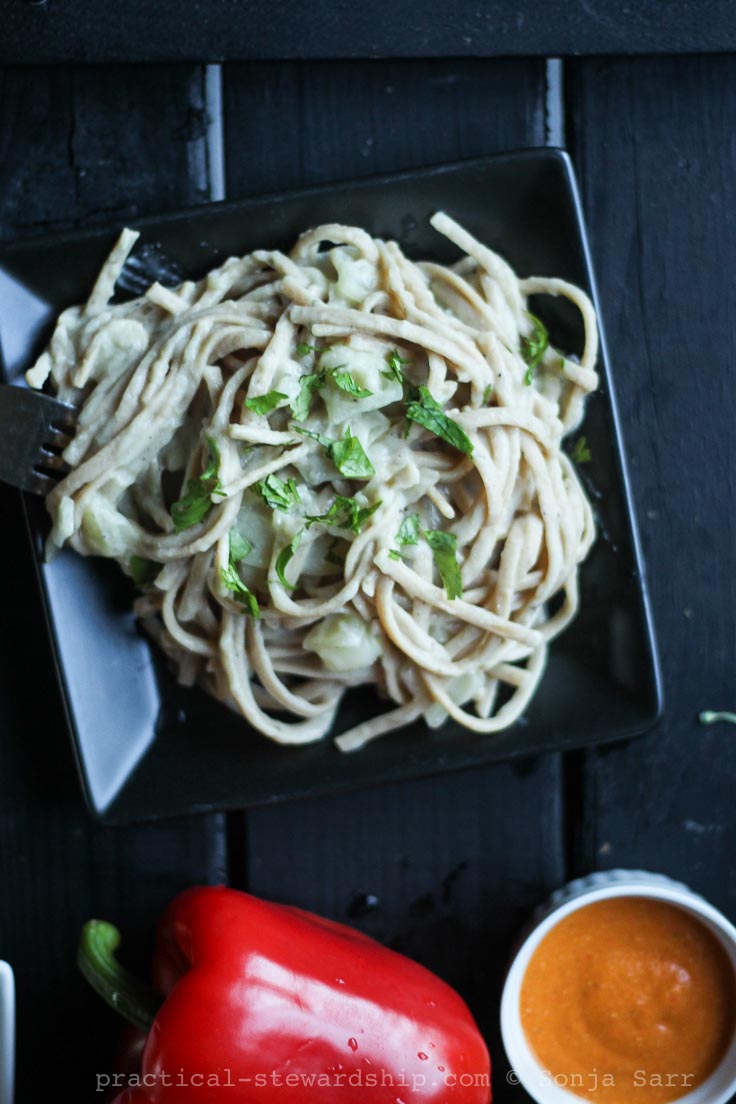 I was watching The Chew a few weeks ago, and co-host Daphne Oz shared her lighter version of Fettuccine Alfredo.  The "cream" of her recipe was not dairy-based, but the recipe had other dairy products.  I thought with a few substitutions this could be a fabulous completely dairy-free version of the typical calorie dense and heavy Fettuccine Alfredo dish.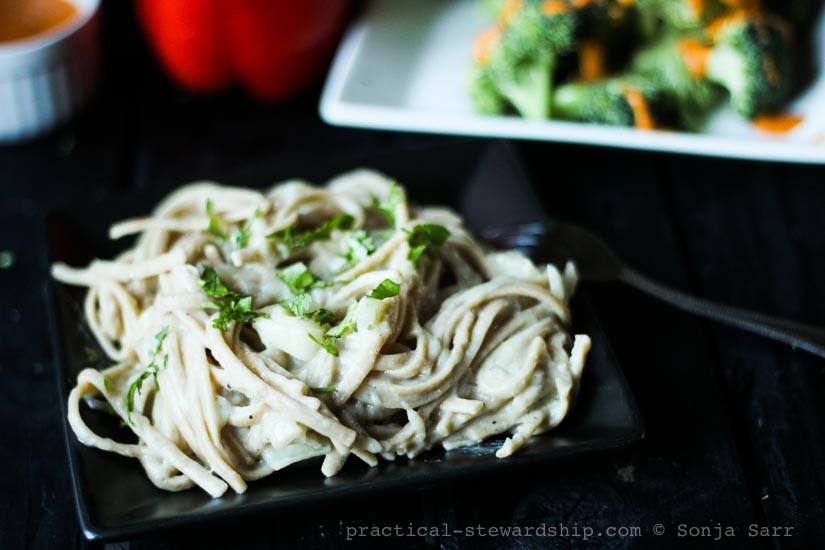 What I love most about this recipe is that a vegetable is featured as the core but you can't tell.  Do you have any guesses?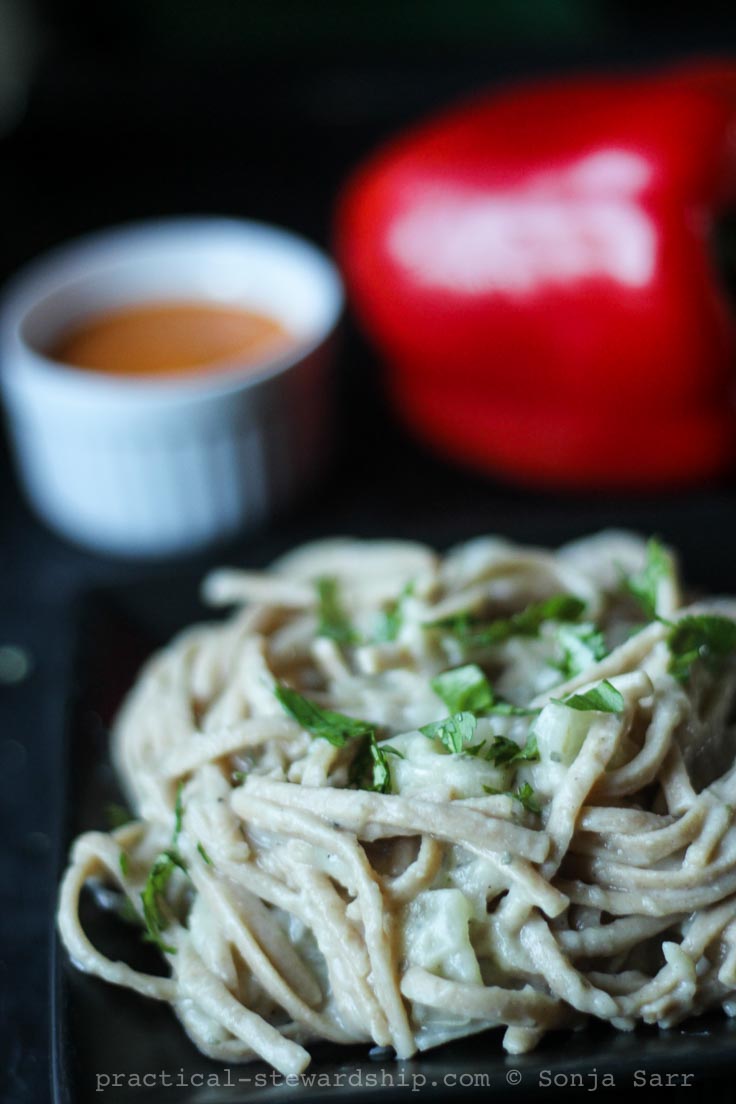 Well, can you believe if you boil and blend some cauliflower with some dairy-free milk and a little olive oil you can make a white sauce that is thick, creamy and doesn't resemble cauliflower in taste or texture?  You won't even miss the dairy in this recipe.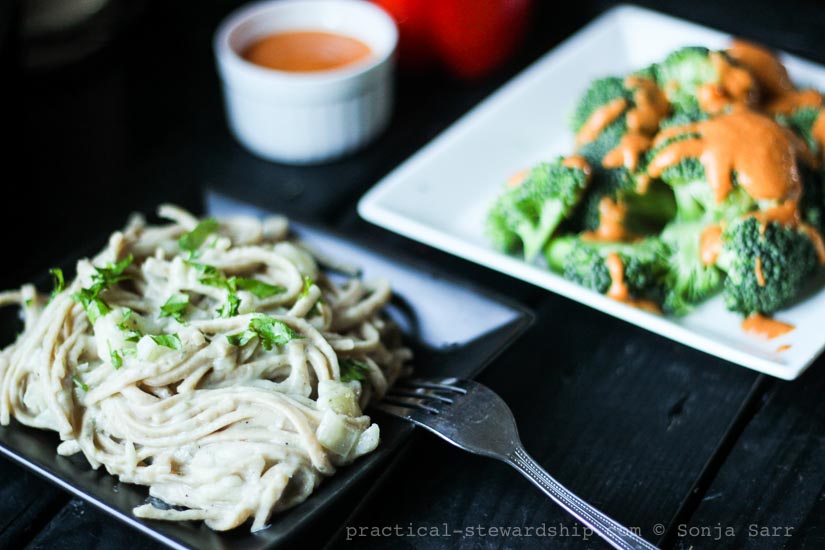 I have made it at least four times in the last 2 weeks.  Yes, I am obsessed and have found a new love. This recipe is adapted from The Chew. Pictures updated 2/16.
The Verdict:  I tried coconut oil in place of the olive oil and preferred the olive oil.  I also, tried sweetened coconut milk first because I was too cheap to open a new unsweetened non-dairy milk and wished I would have used the unsweetened.  When I finally got all of the combinations correct, I felt like I hit the jackpot!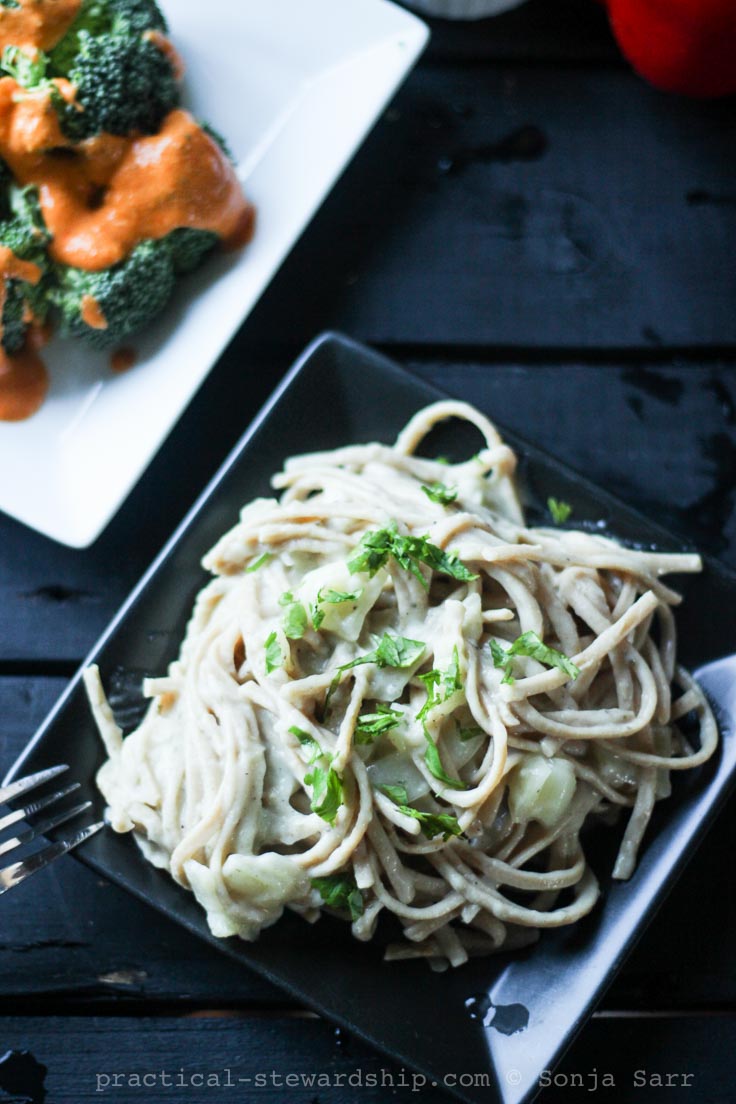 To make this dish even more amazing, I sauté some kale and garlic cloves in grape seed oil or olive oil and mixed it in or leave it on the side.  The flavor combination is simply amazing!  The above picture shows some sautéed asparagus with olive oil and lemon zest.
If you aren't vegan and are a seafood lover you may enjoy shrimp in the dish as my family did.  My husband said this dish is begging for chicken, so next time I have chicken I will add it to the dish.
My friend enjoyed using this sauce to top her salad as a gluten-free alternative.
Fettuccine Alfredo, Dairy-Free, Egg-Free, G-F option, Vegan
Ingredients
1 pound of whole wheat fettuccine (use gluten-free if needed or serve on vegetables)
4 cups cauliflower, chopped
1 cup almond or coconut milk
2 T organic olive oil
1 shallot, finely minced (can sub onion)
1/2 cup white wine (can sub water or chicken broth-but the wine is better)
1/4 cup nutritional yeast
1/4 t nutmeg, freshly grated is best
1/3 cup fresh parsley, chopped
organic olive oil
Himalayan salt
pepper
Instructions
Boil the milk and cauliflower in a large pot. Season with salt and pepper.
Once it has come to a boil, immediately reduce the heat, cover with a lid, and simmer until the cauliflower is tender, approximately 8-10 minutes.
Carefully place cauliflower and milk mixture with the olive oil in a blender, and blend until smooth. You could also use an immersion blender.
Boil a large pot of water, and cook the pasta until it is al dente, approximately one minute less than indicated on the packaged instructions.
As the pasta cooks, heat over medium heat 1-2 T olive oil in a sauting pan like a large cast iron skillet.
Add shallots and salt to the skillet, and cook until the shallots are slightly tender, approximately 2-3 minutes.
Add the wine to the skillet to deglaze.
Let some of the wine cook off, reducing the amount by half, approximately 1-2 minutes.
Reduce heat to low.
Add the cauliflower mixture to the skillet along with 1/3 cup of the pasta water, stirring to combine.
Strain the water from the cooked pasta, and add the pasta, nutritional yeast, and parsley to the skillet.
Stir to coat the pasta with the sauce.
Garnish with freshly grated nutmeg.
Have you tried a raw Alfredo sauce using a different non-dairy base??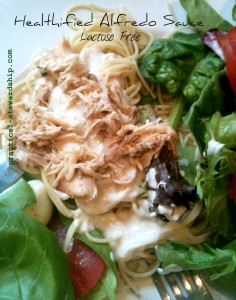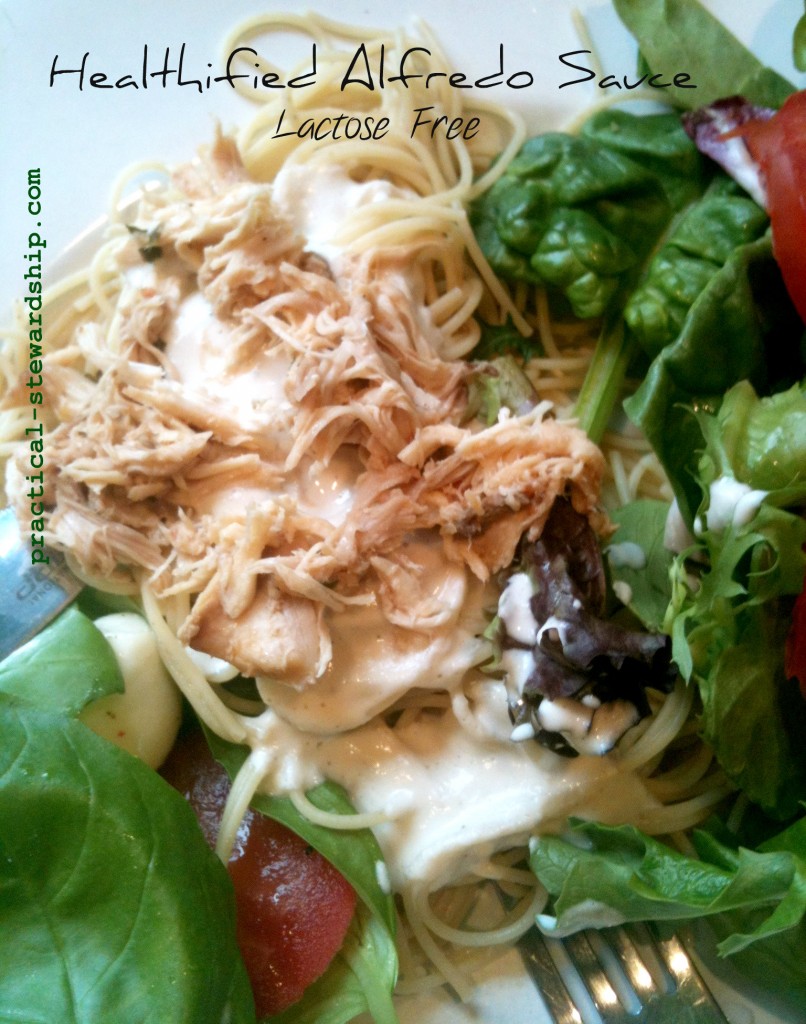 Go here for the complete list of recipes
. 
This post may contain affiliate links that cost you no more money, but support our blogging efforts. Thank you!