Raspberry Coconut Crumble Bars. Crumbly. Coconut-ty. Raspberry. Sweet. Buttery goodness (without the butter).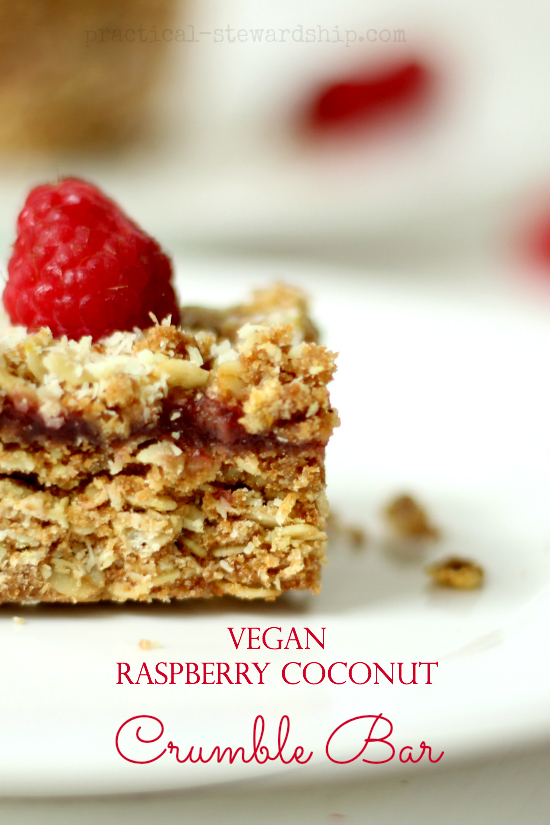 Raspberry coconut love…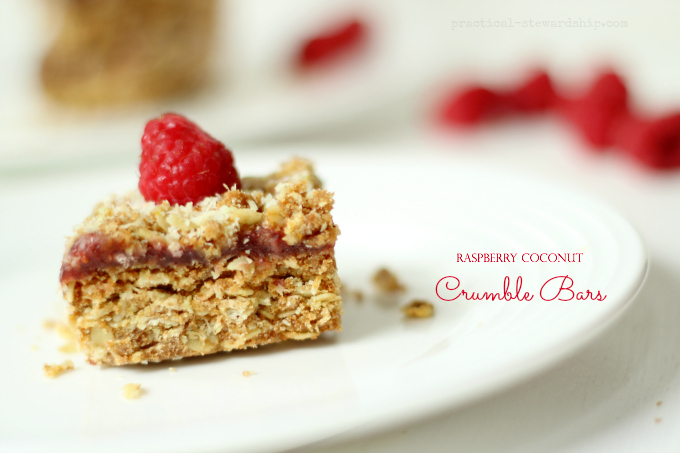 Raspberry season might be on its way out, but if you came into some raspberries and were able to make some jam, here is a recipe for you. I used this fast, no-cook, no-pectin blender jam recipe. And if you didn't get to make jam or have never made jam, it's so readily available at any grocery store, so the jam is easy to get.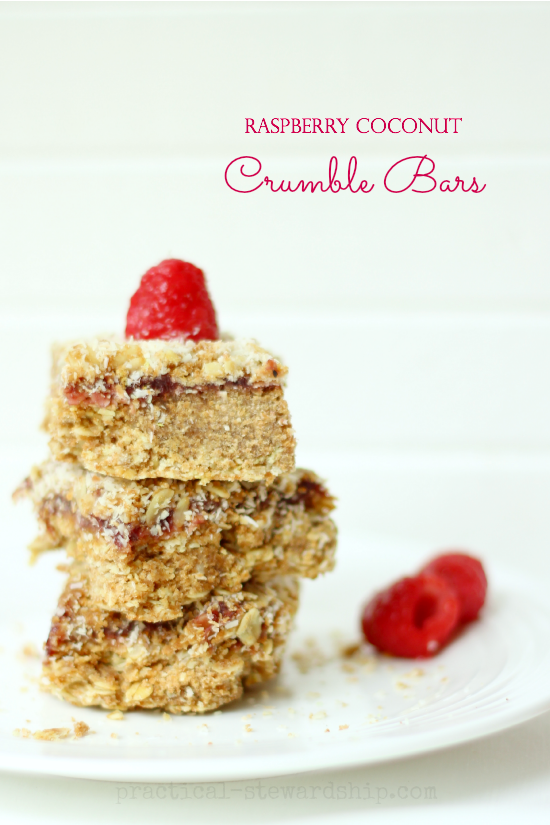 Those who know me in the kitchen know I like recipes that are fast to put together and are healthified without compromising the flavor. This Raspberry Coconut Crumble Bar Recipe fits the bill!  The recipe is even naturally vegan, to boot.  These Raspberry Coconut Crumble Bars come out as crumbly as they look.  We save the crumbles, refrigerate them, and add them to our homemade yogurt.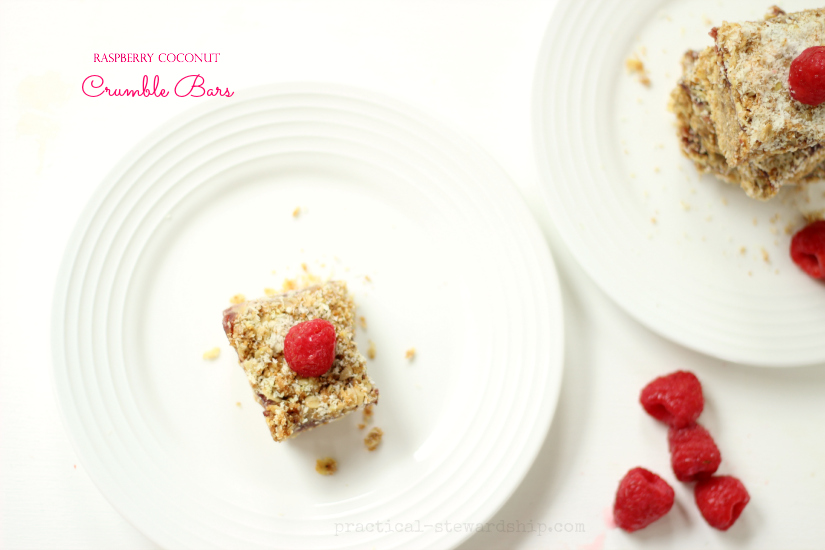 This recipe is adapted from epicurious.com. I change the recipe to make it dairy-free, and reduced the amount of sugar because depending on the sugar content in the jam, these bars can be super sweet. I also have used oat flour (just blending oats in the Vitamix) in place of the all-purpose flour, and also whole wheat flour to make it whole grain.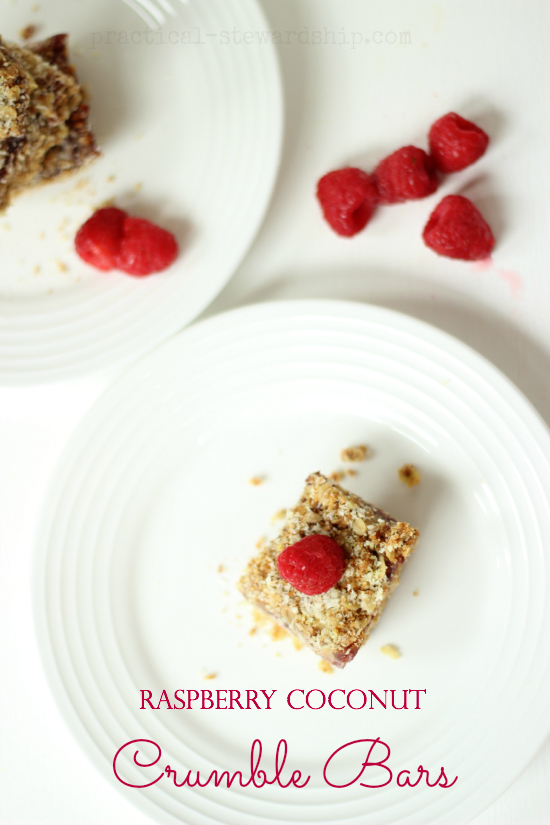 So here is a new family favorite recipe that deviates from our normal chocolate obsession. *Pics updated 3/15.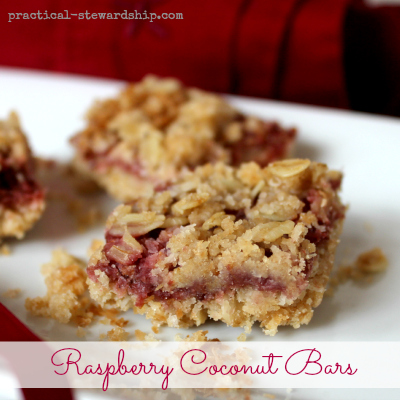 Raspberry Coconut Crumble Bars
Yield 24 bars
Ingredients
1 1/2 cups unsweetened flaked coconut, divided
1 1/4 cups whole wheat flour (can use blended gluten-free oats for a g-f option)
3/4 cup organic sugar (I use evaporated cane juice)
1/2 t sea salt
3/4 cup coconut oil
1 1/2 cups old-fashioned oats (use gluten-free if needed)
1 1/4 cup or more of raspberry jam, enough to fully cover the pan, and stirred thoroughly to loosen
Instructions
Preheat oven to 375°F.
Optional, toast 3/4 cup coconut in the oven on a baking sheet. Stir every 2 minutes until golden brown, approximately 4-8 minutes depending on the size of the coconut flakes.
Place flour, sugar, and salt in a food processor, and process until combined.
Add coconut oil, and process to form a dough.
Place coconut oil dough in a bowl, adding oats and toasted coconut.
Knead until combined well.
Reserve 3/4 cup dough.
Press the remainder of the dough into a 13 x 9 inch pan. I've also used an 8 x 8 pan~if you opt for a smaller pan, you may need to bake it a bit longer.
Spread jam evenly over dough.
Break up the reserved dough, and evenly sprinkle over jam layer.
Sprinkle the remaining 3/4 cup un-toasted coconut over the pan.
Bake approximately 20-25 minutes, or until the oats and coconut are golden brown.
Cool, cut, and enjoy.
Go here for the complete list of recipes.
This post may contain affiliate links that cost you no more money, but support our blogging efforts. Thank you! Sharing at Weekend Potluck and some of these great link parties.