Strawberries scream summer, and this Easy 3 Ingredient No Cook Strawberry Blender Jam is sure to wow a crowd.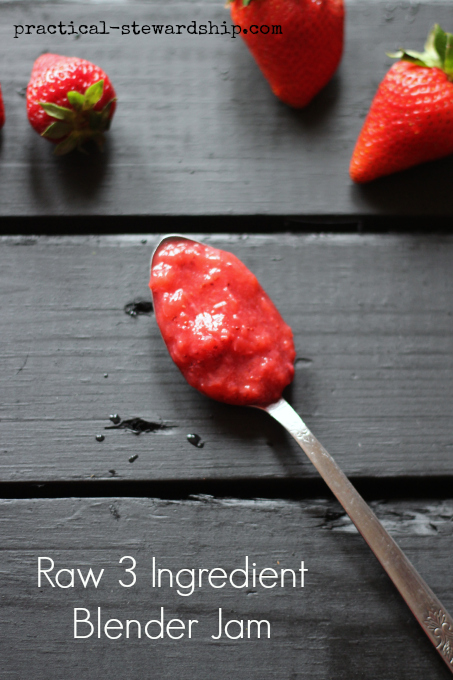 This might be the fastest Strawberry Jam recipe that you come across because there is absolutely no cooking involved.  You don't even need refined sugar or store-bought pectin for this recipe.  This Strawberry Jam is made with only 3 ingredients, just strawberries, honey (or organic cane juice-sugar), and chia seeds.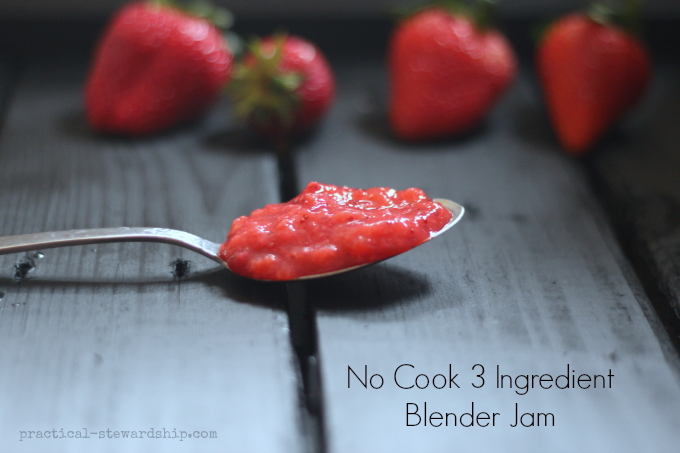 And making this recipe without the store bought pectin allows you to control the exact amount of sweetener you use.  I don't like to add a lot of sweetener to start, but you feel free to add sweetener as desired.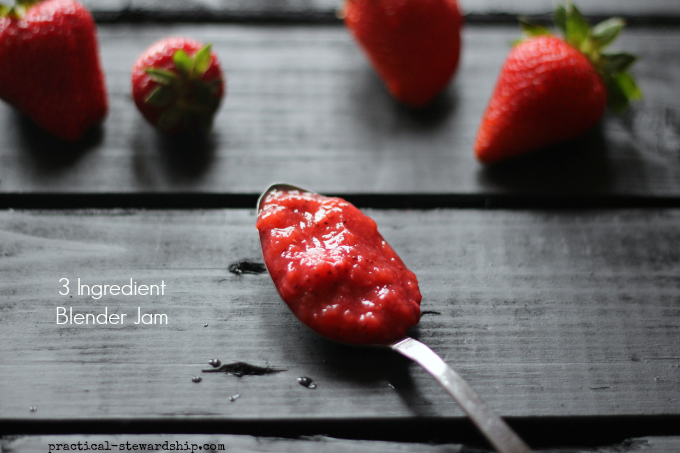 I was inspired by this berry jam recipe which uses flax seeds.  I have been using both flax seeds and chia seeds for close to a year as an egg replacement (1 T of seed-flax needs to be ground-with 3 T of water), so I was already familiar with how well they can make a gel and make foods thicker.  I think that chia seeds gel better, but if you prefer to have the jam less seedy, use ground flax seed.  We didn't think the chia seed jam was overly seedy, but chia seed is more expensive than flax seed, so you can decide what you would prefer to use.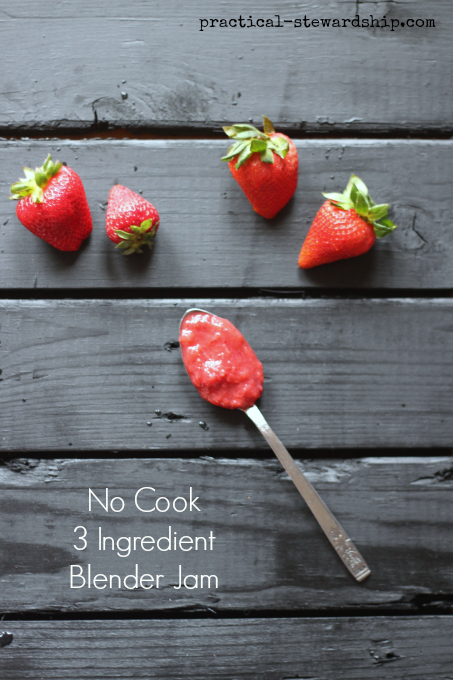 The Verdict:
Over the years I have preferred jam on waffles rather than syrup, and I have been enjoying my friend Jolie's homemade freezer strawberry jam for months.  So it was time to make our own jam for our sourdough waffles.
I am sure this would work with other berries, but I have not tried it yet.
If you have a high powered blender, you need to be careful not to let the strawberries blend too long or else you will end up with a strawberry purée like I made the first time as pictured below.  I do have to say the purée worked FABULOUSLY in the smoothies I made subsequent to that.  They tasted like strawberry shortcake.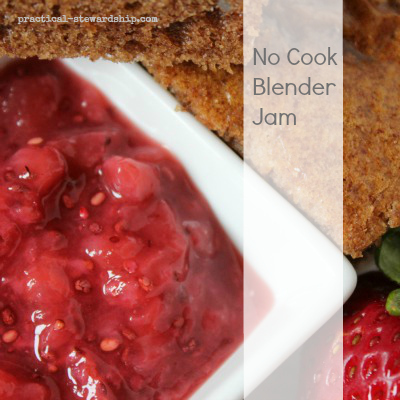 Easy 3 Ingredient No Cook Strawberry Blender Jam
Ingredients
3 1/2 cups fresh strawberries, washed and hulled (approximately 1 lb.)
1 T chia seeds
1 T-1/4 cup or more of organic cane sugar (for vegan), or honey to taste (could try other sweeteners)
Instructions
Blend or process all ingredients on lowest setting watching carefully as to not over blend. You can pulse for ultimate control.
Place in clean jars.
You can freeze in mason jars leaving one inch at the top, or refrigerate for approximately a week.
Have you ever made a Strawberry Shortcake Smoothie?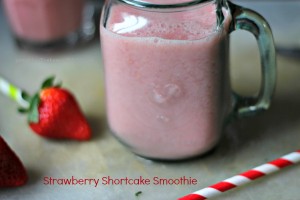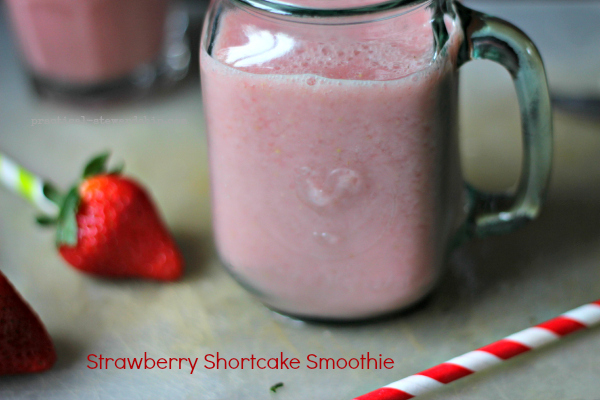 Or a Strawberry Spinach Chia Seed Salad?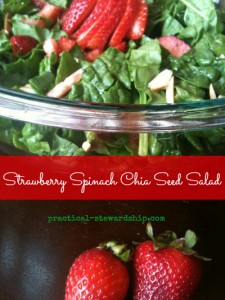 This post may contain affiliate links that cost you no more money, but support our blogging efforts. Thank you!