Making crock-pot yogurt is about one of the easiest things you can make in the crock-pot.  I know it seems crazy, but it's true!
It took me a couple of years to become brave enough to make yogurt.  I had heard it was so easy, yet, thinking about leaving the yogurt overnight to culture just seemed strange.  I was afraid to give my kids the yogurt the first time I made it.  Now my kids are growing up thinking it's totally normal.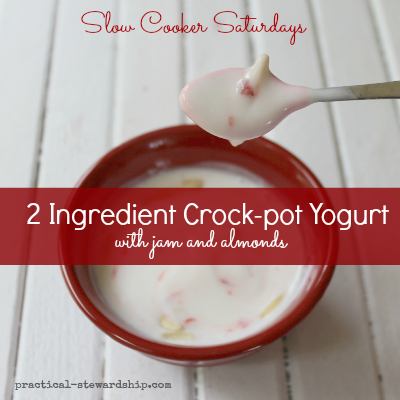 The part of our grocery bill that can be slashed the most is yogurt.  I have bought the individual-sized yogurts for years and that racks up the grocery bill.  Making yogurt in half gallon batches is a total money saver because it basically costs you the price of a half gallon of milk and maybe a small yogurt container (if you need a start)! So in our area for about $1.25-1.50 you could have a half gallon of yogurt, and if you prefer organic, it's about $3 for the half gallon. You can not beat that price for that quantity!!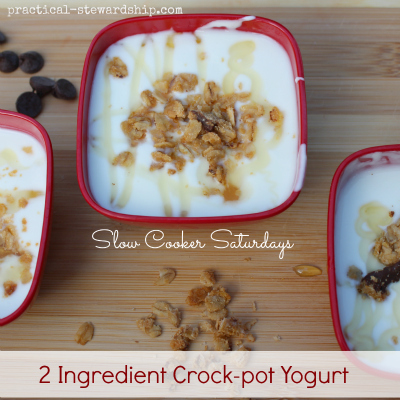 Those who know me, know that I LOVE using my slow cooker.  I was sooo excited when I heard you can make yogurt in the crock-pot from A Year of Slow Cooking.   My recipe is just a little different, adding an optional way to thicken the yogurt and using the oven.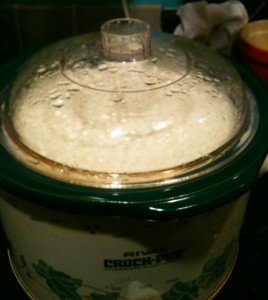 Homemade Crock-Pot Yogurt Recipe
Ingredients
-1/2 gallon whole milk
-1/2 cup plain yogurt made with live and active cultures (I have made this with flavored yogurt before and it worked but the yogurt had the faint flavor throughout, so it should be plain or vanilla yogurt)
-optional 1-2 cups of dried milk for thickening (I used 1 cup and it was thick)*Update 10/7/12 The first time you make this, try it without the dried milk and see if you need to add it. I don't add it anymore, and we get a great thickness.
Instructions
Pour the 1/2 gallon of milk into the slow cooker (I have used what I think is a 3 quart slow cooker, and there wasn't much wiggle room, but it worked. I've also used a 5 quart).
Cook on low for 2 1/2 hours to 180 degrees (I never worry about the temperature, but in case you want to know).
Turn off the slow cooker, and let the warm milk sit for another 3 hours, keeping the lid on the slow cooker (cooling to 110-115 degrees).
Take 2 cups of the milk out and mix it with the yogurt.
If you are thickening your yogurt with dried milk, you can add it at this time to the yogurt mixture.
Combine the yogurt mixture with the milk in the slow cooker and whisk until smooth.
Turn on the light in your oven.
Insert slow cooker into the oven with the lid on. DO NOT turn on your oven. The oven light will provide warmth for your yogurt cultures.
Leave in the oven for 8-12 hours.
Add your favorite toppings.
Store in the fridge for up to two weeks.
The Verdict: The first time we made this, we were so amazed that the yogurt actually worked!  Update 6/14/13 We have been making this almost weekly for well over a year, and the longer you leave the yogurt in the oven, the more it seems to thicken.  I bought a 4.5 quart crock-pot that ran on the low end, so food didn't warm up as fast.  We would leave our yogurt in the oven up to fifteen hours to finally achieve the desired thickness.  Experiment!  It's really fun!
To top we've used honey, jams, granola, fruit, walnuts, almonds, and pumpkin butter (but not all at the same time)!  Update 5/20/12  We always keep this on hand.  I like to start it around 3pm so I have enough time for the few quick steps.  It's really so easy; there's almost no reason not to give it a shot at least once!
Other recipes you may enjoy:


For more crock-pot inspiration, visit our Cookin' with the Crock-pot Pinterest Board.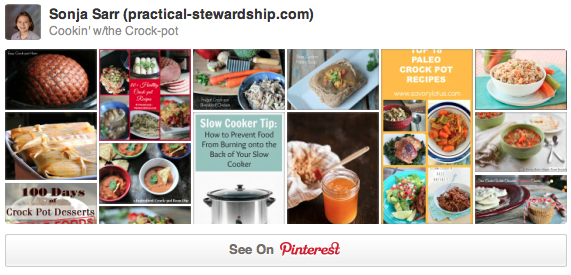 THIS POST MAY CONTAIN AFFILIATE LINKS THAT COST YOU NO MORE MONEY, BUT SUPPORT OUR BLOGGING EFFORTS. THANK YOU! 
Featured @