Chocolate Chip Coconut Zucchini Breakfast Cookies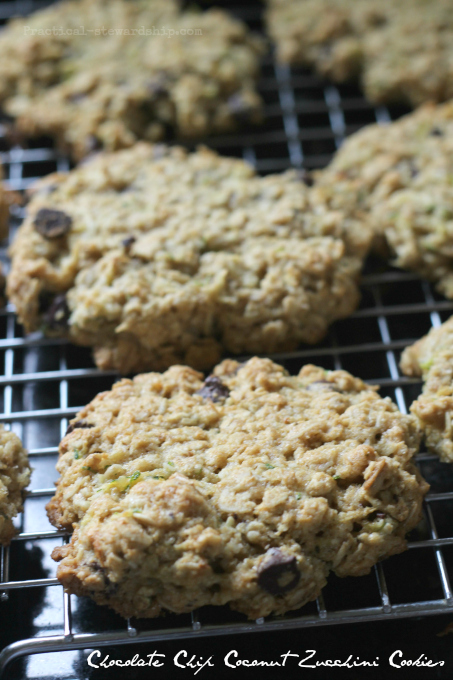 Here is a chocolate chip cookie that I would actually give my kids for breakfast.  I am breaking my no chocolate before 2:00pm rule here.  Okay, maybe I didn't set this rule in stone, but there is something a little weird about having chocolate in the morning for me.  I feel completely fine breaking my own self-imposed rule for these chocolate chip zucchini coconut cookies, though.  These cookies just aren't heavy on the system, yet are very filling.  They are a great balance!  To boot they use something that we usually have an abundance of at the end of the summer, zucchini.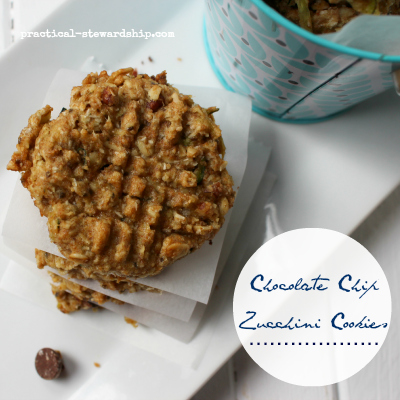 I have been trying to invigorate my morning meals and mix it up so we aren't eating homemade granola everyday, as great as it is.  These chocolate chip zucchini cookies are a great addition to the breakfast routine.  It's just nice to have a few different ideas in the arsenal.  So now through September I will be featuring some different breakfast ideas.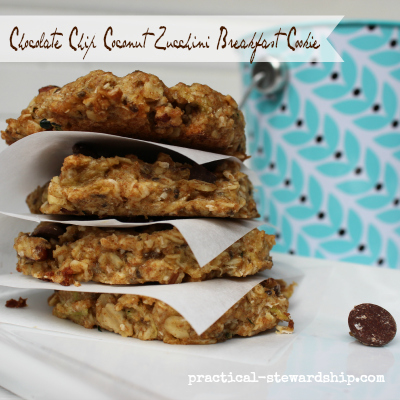 These chocolate chip coconut breakfast cookies are so nice and portable, too.  The kids think they are a fun on-the-go treat and are wowed that mom would actually let them have cookies for breakfast.  These cookies are a great nutritious boost for those mornings that you've gotta get up and go, go, go.  Or they work great for a snack.  Or they work great as a dessert.  Or all three.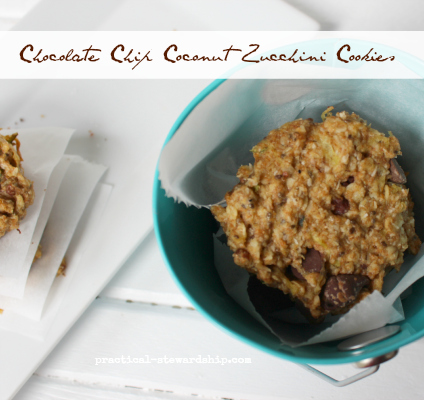 These chocolate chip cookies aren't overwhelmingly super sweet.  Just the right amount for the morning.  Feel free to reduce the sugar amount even more, although I can't vouch for the results.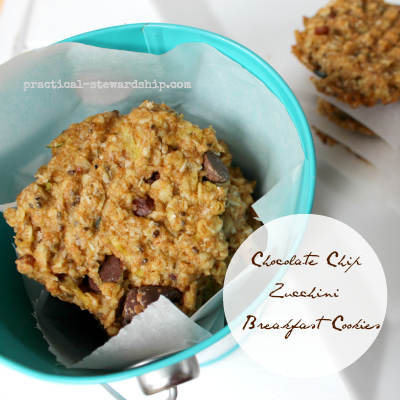 This recipe is adapted from Two Peas and Their Pod.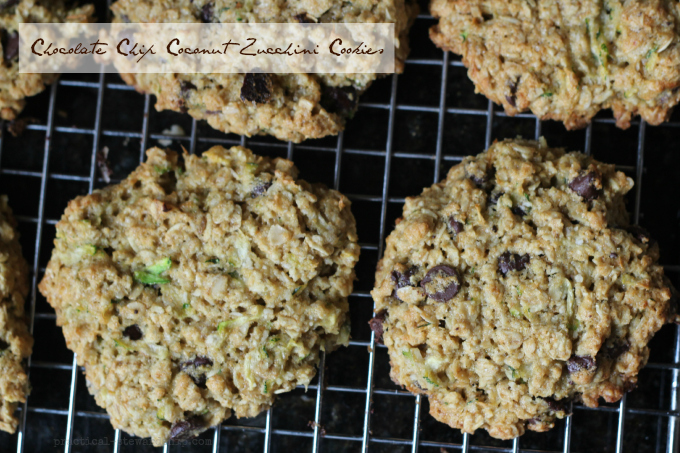 Chocolate Chip Coconut Zucchini Breakfast Cookies
Yield 28 cookies
Ingredients
1 cup whole wheat flour (we use the white whole wheat from Trader Joe's)
1 t baking soda
1/2 t salt
1/4 cup coconut oil, slightly melted
3/4 cup granulated sugar (we use the organic evaporated cane juice from Costco)
1 egg or 1 chia "egg" (3 T water mixed with 1 T chia seeds to form a gel)
1 t vanilla extract
1 cup shredded zucchini
2 cups old fashioned oats
1/2 cup unsweetened coconut flakes
1/4 cup pecans, chopped, optional
1 cup semisweet or dark chocolate chips
Instructions
If you are using a chia "egg" instead of an egg, combine the 1 T chia seed with 3 T water now to sit for a few minutes to gel.
Preheat oven to 350 degrees.
Combine flour, baking soda, and salt in a medium bowl.
Mix together coconut oil and sugar until combined in a large bowl. Then add "egg", vanilla, and stir. Next add zucchini, and stir until combined.
Add flour mixture, and stir until just combined. Then add oats, coconut, and chocolate chips.
Shape cookie dough into balls, using 2 T of dough for each cookie. The cookies don't flatten out, so if you want a flatter cookie, take a fork and impress each cookie with a criss-cross.
Place cookies 2 inches apart on a baking sheet.
Bake for 10-12 minutes or until edges are golden brown.
Cool on a wire rack, store in a cool dry container, and enjoy!
Go here for more zucchini recipe ideas.

THIS POST MAY CONTAIN AFFILIATE LINKS THAT COST YOU NO MORE MONEY, BUT SUPPORT OUR BLOGGING EFFORTS. THANK YOU!