For the past year I have been consistently using the crock-pot to make my granola.  I have found that making crock-pot granola saves me time since I don't have to clean as many dishes (I mix the granola ingredients right in the crock-pot and don't have to use a baking sheet), I make huge batches so I make the granola about once every 3 weeks, and it saves me money since store-bought granola costs A LOT of money!  Plus I get to control the ingredients.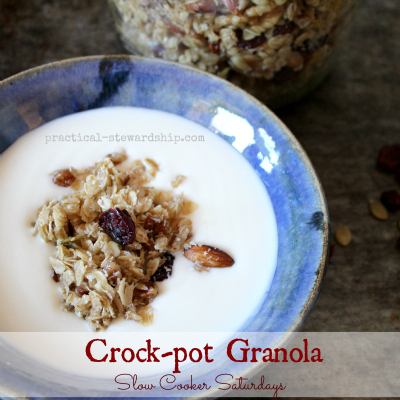 The original granola recipe I use is here which I have adapted for the crock-pot.  In most of my menu plans I talk about making a quadruple batch of granola using two different crock-pots at the same time.  So I thought it's time to explain exactly what I do.
I always use a 6 quart crock-pot to cook the granola, and then I use either a 7 quart or a 4.5 quart crock-pot, depending which crock-pot I have out and/or available.  I think the 6 quart works best for making granola because it gives enough room to stir, yet it's a little less to clean then the 7 quart.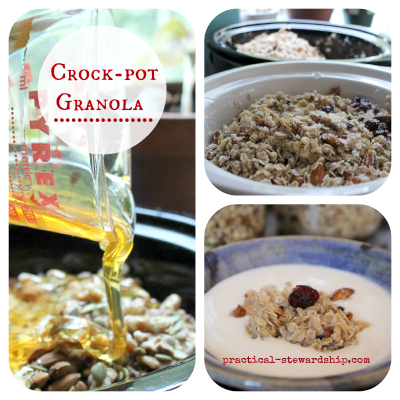 I am sharing the recipe I cook in one big crock-pot (4.5 quart or larger), so feel free to double it if you are going to use 2 big crock-pots, or halve it if you are using a 2-4 quart crock-pot.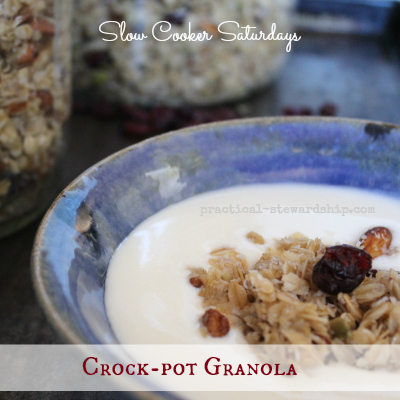 Crock-pot Granola
Ingredients
8 cups organic rolled oats
3 cups chopped walnuts, almonds or pecans (I use 1 cup of each)
1/3 cup pumpkin seeds
1 cup coconut oil
1 cup honey (maple syrup for vegan)
1-2 cups unsweetened large flake coconut
1-2 cups dried cranberries (or dried fruit of choice)
optional 3 T TriMix (1 T Wheat Germ, 1 T Wheat Bran, 1 T Oat Bran)
Instructions
Grease bottom and side of crock-pot with coconut oil.
Place oats and nuts in the crock-pot, and stir.
Heat coconut oil until melted (about 1 minute in the microwave).
Pour coconut oil and honey over the oat mixture, and stir.
Cover and cook on high with the lid slightly cracked (I use a popsicle stick).
Stir every 15 minutes well, making sure you stir the granola off the bottom of the crock-pot well.
Cook until desired (I usually cook it for 45 minutes to 1 hour, but you could go longer to get a more dried, golden brown look, about 2-2 1/2 hours).
Stir in coconut flakes and dried fruit.
Cool, and store in airtight containers for up to a month. **12/13 update: If you want an even crunchier granola, after cooking the granola, cool for about 3 hours in the crock-pot in the "off" position, stirring every hour or so before placing it in an airtight container.
Have you made an Oatless, Low Carb Peanut Butter Granola?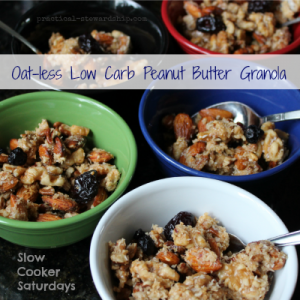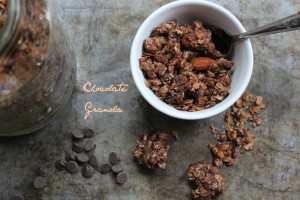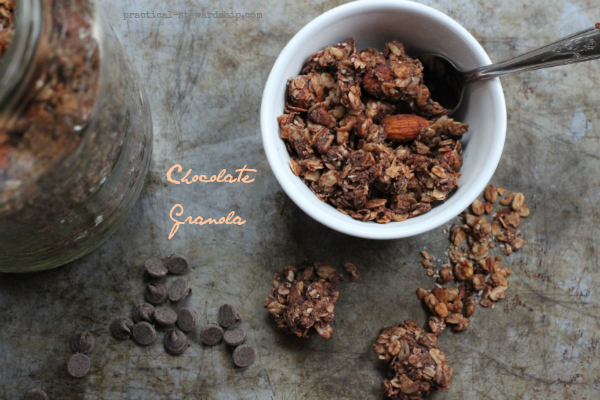 Have you made some crazy crock-pot recipes?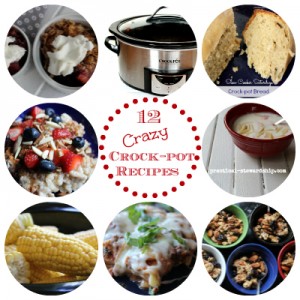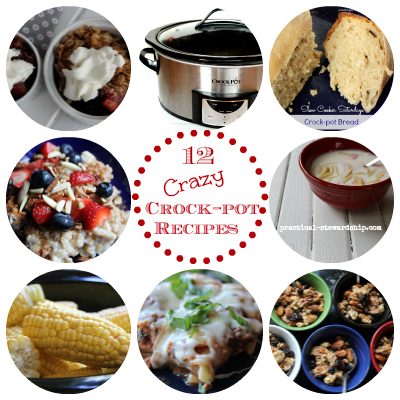 Looking for more slow cooker inspiration? Follow our Cookin' with the Crock-pot Board on Pinterest by clicking below: Follow Sonja Sarr (practical-stewardship.com)'s board Cookin' w/the Crock-pot on Pinterest.