Those who have known me since college know that I have been a fairly faithful couponer over the years.  Never extreme.  But faithful.  I never subscribed to 5 newspapers a day, but for about five or six years my dad would give me his two sets of coupons each week.  I would maybe take a few of his coupons, but usually I just passed those coupon sets onto my friends.  I couponed almost 2 decades faithfully.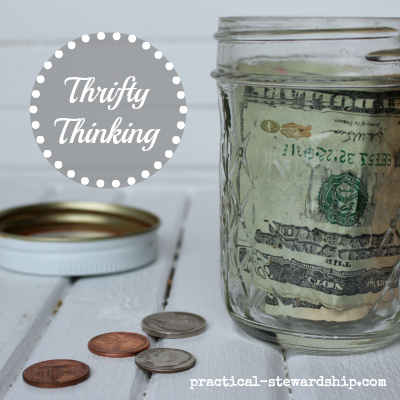 Thrifty Thinking
Spring a year and a half ago I wrote about Couponing and Extreme Couponing or Not and then How I Organize My Coupons , but even as I wrote about Extreme Couponing, I was acknowledging then that we were changing our food purchasing habits as a family.  We started buying a lot more produce and dried bulk foods and way less boxed items. 
As life continued and we had more kids and more responsibilities, couponing started to become extremely stressful to me, and one more thing on my to-do list that would literally weigh me down since I would often carry the un-viewed coupons in my purse.  They became a burden.  To clip coupons for a whole bunch of things that I might buy, and stop and take the time to organize these little bits of paper that might fly away or might be grabbed by a little hand became quite stressful, especially as a mom with young kids.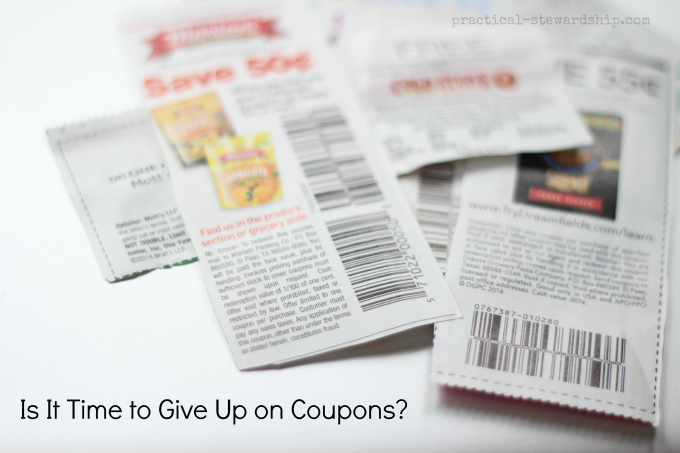 And I tried to get into Internet coupons, but it took a lot of time researching coupons, and then trying to print out coupons on my not so printer-friendly printer for coupons I ultimately ended up throwing in the recycle.
WASTE. OF. TIME.
I can't afford to waste time.  It's not good stewardship of my time.  Time is a gift.  There are too many things in life that I want to do.  My list is long.  L-O-N-G.  So slowly over time (I usually don't make changes quickly), I started clipping less and less coupons.  I am constantly asking myself  'am I (or a family member) really going to use this?'
So have I given up on coupons completely?  No.  I still look at the coupons that come in the ads every week, but I do it very quickly, like in one minute.  There will be the occasion organic coupon or toilet paper coupon I'll use, so I'll give coupons a minute of my time these days.  If you look at my Grocery List and Prices to Meet or Beat, you'll see that I don't buy much prepackaged food that might have a coupon.  So now it's to the point that I may not clip one single coupon from the paper, and I don't pick up my dad's extra coupons anymore.  Yes, there are some weeks where I may clip a few, but I just don't coupon like I did. And I try to organize the coupons away right away.  I have moved from two skinny coupon holders that stay in my purse to one.  Sometimes it will be a couple of months between times where I purge my unused coupons.  It's not so stressful now because there are hardly any coupons in the organizer.
I still aim to be a good steward of our money, consistently being aware of grocery prices and looking for good deals, but coupons aren't consuming me anymore.  As we prepare more good whole foods at home like refried beans and bread, we use prepackaged items less.  And homemade foods are more frugal (and more nourishing) then buying them in the packages anyway.  On the occasion we go out to eat, we'll seek out a coupon, but those times are so few and far between.  My husband does that now, and I think he secretly enjoys finding a good deal on the Internet.
Anyway, here's to reducing stress and being a good steward of time and money!
Have you read…?
THIS POST MAY CONTAIN AFFILIATE LINKS THAT COST YOU NO MORE MONEY, BUT SUPPORT OUR BLOGGING EFFORTS. THANK YOU!