Here is my version of the traditional basil pesto.  I call it poor man's pesto because pine nuts are so expensive!  The pine nuts can be around $16+ a pound?!?  Yikes!  So I usually use walnuts in place of the pine nuts.  Some day I may try substituting the walnuts for pecans or almonds for a different spin on an Italian classic.  I've also omitted the nuts at times.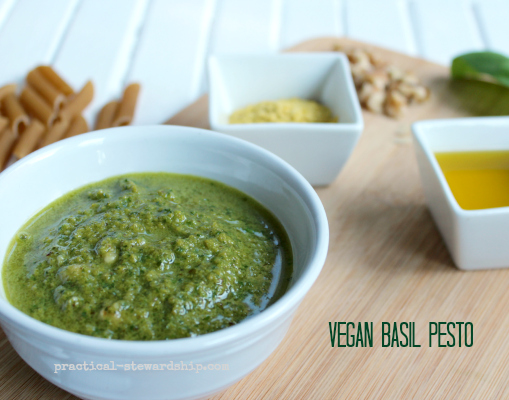 And this is a vegan pesto because I use nutritional yeast instead of the traditional Parmesan cheese.  So if you aren't dairy-free or vegan you don't need to use the nutritional yeast.  My family had no idea this was dairy-free.  Bonus!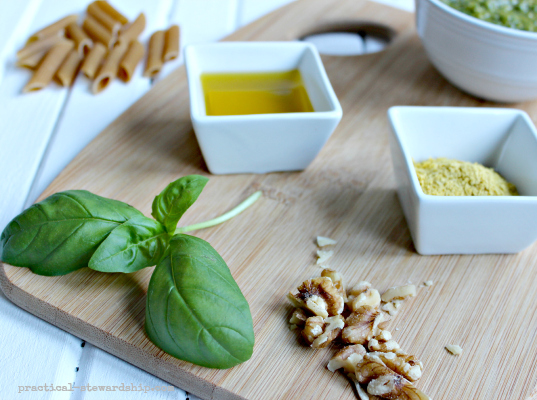 I can't stress enough that knowing how to make your own sauces opens you up to an infinite amount of possibilities in the culinary world, where every meal you present can have it's own unique variations.  Not only can you use pesto on pasta, but you can use it on pizza, calzones, corn, potatoes or sweet potatoes, on bread as a sandwich spread or like a butter, as a raw vegetable dip (with a little salt), and more.  I usually use 2 parts olive oil to 3 parts pesto sauce.  Use as liberally as desired, though.  You can start with 4 cups of cooked pasta to 6 tablespoons of pesto mixed with 4 additional tablespoons of olive oil.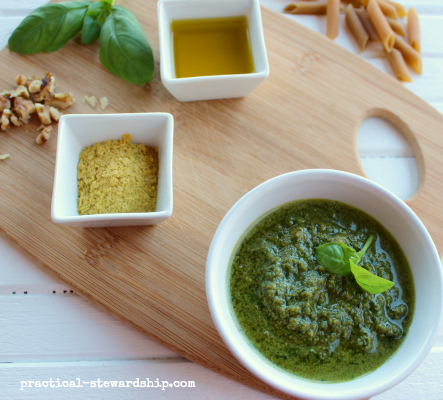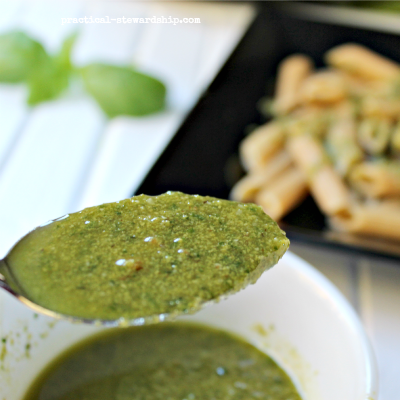 Do you know the origins of pesto?  Well, pesto originally came from Northern Italy and means to pound or crush.  Traditionally made with a pestle and mortar, pesto is now typically made with a blender or food processor (source).
Poor Man's Vegan Basil Pesto
Yield 1 cup
Ingredients
2 cups of loose fresh basil leaves, rinsed
1/2 cup organic olive oil
1/3 cup walnuts
1/4 cup nutritional yeast
2 T minced garlic
Instructions
Place all ingredients in a blender or food processor, and process until you achieve the desired consistency. I pulse my blender to get a chunkier pesto.
Taste, and add more garlic if desired.
Top pasta or desired food with pesto.
Store in the refrigerator for up to a week or freeze with a layer of olive oil on top for up to 6 months.
Have you ever made a cilantro lime pesto?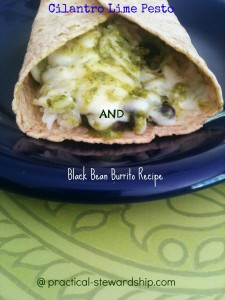 Go here for the complete list of recipes.
Featured @ Wellness Weekend!