What are you doing for Superbowl Sunday?  I have to admit, I don't even know who is playing in the Superbowl, but we are planning to have some friends over to watch the game.  The menu includes baked potatoes from the crock-pot topped with Greek yogurt (to substitute for sour cream), cheddar cheese, maybe some onions, and crock-pot chili.  We'll serve a green salad, and some snacks like nacho chips and guacamole.  For dessert I am planning on making no-bake brownie bites, and peanut butter cups.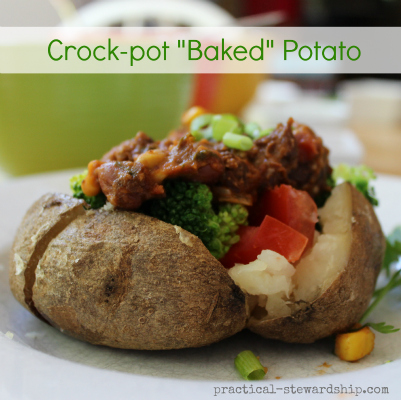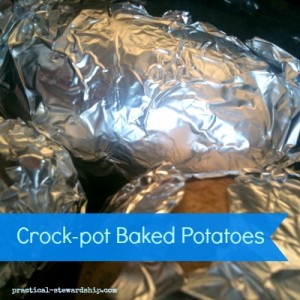 The nice thing about serving baked potatoes to a crowd is that you can make a potato bar (see optional toppings below), and people can choose their own toppings easily making the meal vegetarian, or vegan if needed.  Update 7/1/13** For those who are concerned with using foil in baking, I no longer use the foil, saving, yet another step.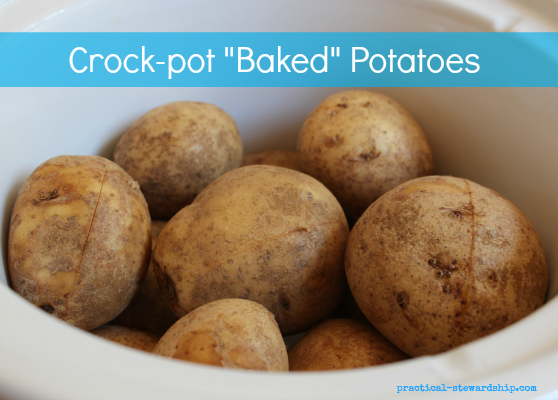 Possible Toppings (with vegan options):
green onions
diced onions of choice (red, white, yellow) or use crock-pot caramelized onions!
tomatoes
broccoli
cilantro
grass-fed butter or coconut oil for non-dairy
Greek yogurt (to substitute for sour cream)
bacon
cheddar cheese or non-dairy nacho cheese for non-dairy
sea salt
pepper
Did I miss any toppings??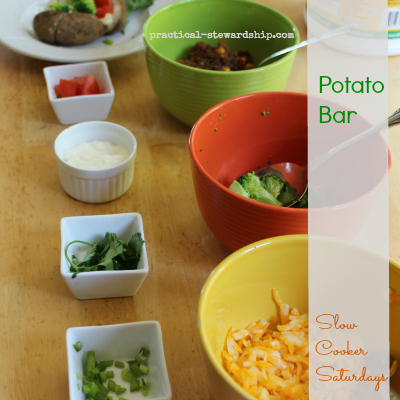 The Verdict: This is a great fix-it and forget-it meal, especially since baked potatoes can take a long time to bake in the oven if you are just waiting for them.   Just start the potatoes before the day gets going, and when you need them, they are there for you like a faithful friend.  For those particularly busy mornings/days, you can prepare the potatoes the night before.  It's so nice because you can just leave the prepared potatoes on your counter over night
.
"Baked" Potatoes in the Crock-Pot
Ingredients
as many potatoes as you want (no water needed)-**update 2/14 add enough water to cover the bottom of your crock to prevent cracking your crock
Instructions
Scrub those potatoes well.
Let or pat dry.
Cut a 1/2 inch deep slit into each potato, or poke the potato all around each of them with a knife.
Optional, coat your potato with olive oil.
Optional, wrap each potato individually with aluminum foil.
Place the potatoes in the slow cooker. It is fine to stack potatoes on top of each other.
Cover and cook on high for 4-5 hours or low 6-9 hours.
Remove carefully and let cool.
Top with your favorite toppings as suggested below and enjoy!
Have you ever cooked corn on the cob in the crock-pot?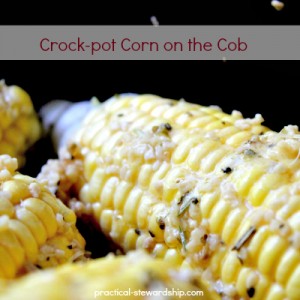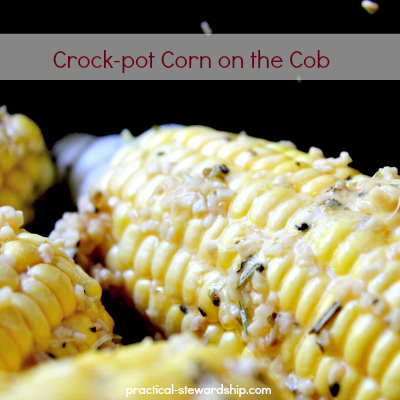 Have you tried a caramelizing onions in the crock-pot?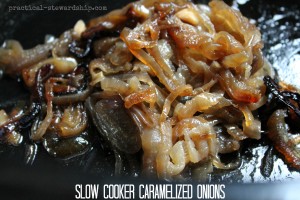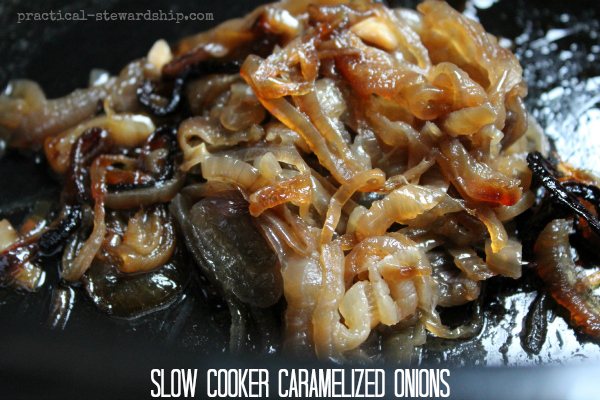 For more slow cooker inspiration visit my Cookin' with the Crock-pot Board on Pinterest. Follow Sonja Sarr (practical-stewardship.com)'s board Cookin' w/the Crock-pot on Pinterest.
Featured at: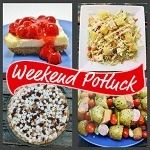 & Healthy Vegan Friday.