I receive no compensation from WinCo. All opinions are mine.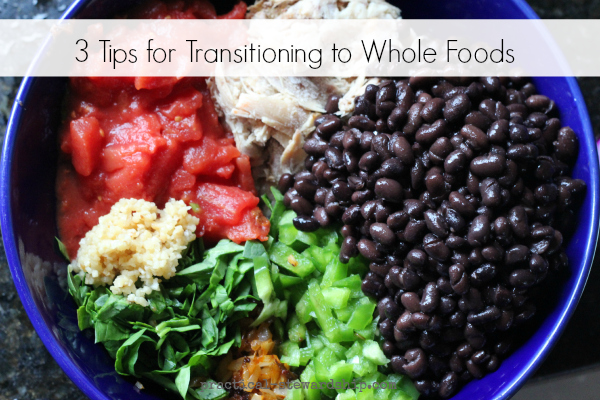 Do you eat mostly whole foods? Are you transitioning to eating whole foods-foods with just one ingredient or making recipes using these 1 ingredient foods? If you want to improve your quality of life, health, and desire to increase your whole foods intake,
1. I would suggestion you start with one or two new foods a week. Most likely you will have more staying power if you don't go all out, and throw away all the junk in your cupboards right away, as you're more likely to fall on your face and less likely to get up again. You want to build success.
2. As you add new foods into your lifestyle, start reducing the ones you know you shouldn't turn to, like sugary sodas and candy bars.
At the beginning of our marriage my husband drank multiple Cokes a day. I remember it was a big deal when he went to just one Coke a day. He drank soda for many years and then started to drink soda with less frequency. Then one day (about 8 years into our marriage) he decided not to have a soda until his birthday, which was about 6 months away at the time. Well that 6 months has turned into 5 years and counting. He will drink a sparkling water or cider now and then but no more soda.
Real change is gradual. Give yourself time, forgive yourself, and move on if you mess up here and there. So if you drink 3 sodas a day, reduce it to two a day for a few weeks and then drink one a day. You get the picture. Slow gradual change is lasting change.
3. Don't stress about organic food either. First be concerned about changing your pallet, and then add organic foods as your budget allows.
The most important thing is that you are eating whole foods first. As you take out salty, sugary foods and drinks, your taste buds change. Fruit will taste sweeter to you. Candy bars will become too sugary sweet to you. Real whole foods will taste better. 90% give or take of our food and meals is made from whole foods. When we are at potlucks and the like we don't fuss over organic or whole foods. We are still on our journey to eating more organic foods, and it's been over two years, but we try not to be jerky about it. By the way I still have never bought organic nuts or beef (in fact I haven't bought beef in a few years, anyway-we are waiting to get that grass-fed 1/2 cow or something like that).
Also if you are wondering what kinds of foods might be great to get started on a whole foods lifestyle, smoothies and soups are a great way to start. Having a high powered blender is also helpful.
So where do you shop for whole foods? If you live in the Northwest and if you've never been to WinCo before, you should know that WinCo is a GREAT place to shop if you are transitioning to whole foods.  WinCo has a great bulk foods section full a variety of whole foods, plus WinCo has great prices. If you are buying whole foods at WinCo, you should mainly shop the perimeter of the store, as with most grocery stores. WinCo is also one of the best places to shop if you don't use coupons since their prices are already so low, if you are living on a tight budget, and if you aren't eating a lot of organic foods.
Unfortunately, since WinCo has a small organic section, we are shopping there less. Instead of going weekly we still shop there, but now it's about twice a month. I grocery shop there because their prices are so good, and we aren't buying 100% organic foods.

So here is another edition of the WinCo Bulk Price List where I update prices on select bulk whole foods every six months (I post a Costco Natural and Organic Price List every six months too-next one due out in April, so every quarter a new list is posted).  Unfortunately, these prices can change without notice, so these prices were valid Monday  1/13/14, in the Marysville, WA area (98271), and it will, at least, give you an idea of prices at your local WinCo.
Like what I did with my Costco Quarterly Price List, I created a page for my WinCo Bulk Food Price Update. So if you go to this page, you will see the most current WinCo prices.
EVERY time we go to the store we cast our votes with our dollars.  How you spend your money makes a difference!  Stores will stock the shelves with items WE buy.   The more we make better choices, the more we can make a positive change.  Aim for mostly whole foods!
Have you read… 4 Tips for Saving Money on Groceries
…or 10 Tips for Staying Healthier in the New Year?
Do you shop at Costco? Here is the Costco Natural and Organic Price List.