Do you need a high powered blender? Well, it depends on the types of food you eat and drink. It depends on your nutrition goals. It depends on how fast you want to prepare food and the temperature of the food you want (frozen, raw or cooked). It also depends on your budget. If you aren't sure if a high-powered blender is for you, read on. If you already have a blender, how do you use your blender? You can compare how you use your blender to how I do on my visual list toward the end of this post. If you can't afford it, now is not the time to get one, but it might be time to save for one.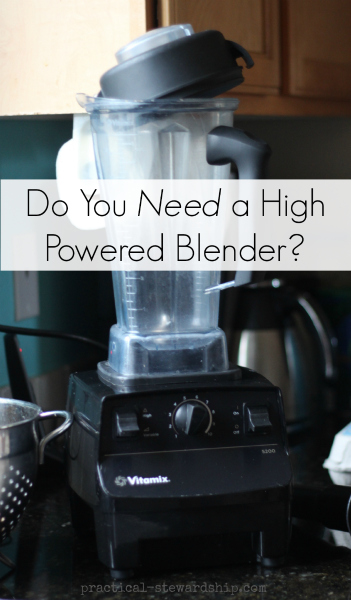 This post contains affiliate links and does not cost you anything more, but supports our blogging efforts. Thank you for your support. No one has commissioned me to write this post. All thoughts are strictly my own.
Do you have a $30 blender already? For our first decade-plus of marriage we had a $30 blender that we had to replace a few times. It did okay as long as we didn't push it too hard. A majority of our food came out of boxes and packages during those years, so we didn't really have need for a high-powered blender at the time. (As an aside, I didn't want a Kitchen Aid Mixer, either. I thought they were a complete waste of money. $200 for a mixer?!? I can mix with a little man-power. Now my thinking has changed, and I have a Kitchen Aid Mixer that I love! It's my multitasking pal as I clean while it mixes.)
Back to the blenders. I think my husband starting eyeing the Vitamix first and started talking about how we should get one. It always seems to take us awhile to make a big move like that. If you know us, we are frugal, slow-moving types. We don't just go spending money willy-nilly. Typically we make very thoughtful and calculated decisions with our money. We knew were drinking more and more fruit and vegetable smoothies as we were getting into more whole foods. And smoothies with a regular blender are okay, but when you swirl a smoothie in a Vitamix you are almost always guaranteed a consistent texture.
Right after Christmas in 2011 we made the move. We bought a Vitamix online at Costco. We went full-bore.  We got the biggest package. It came with three containers: a 64-oz. wet-blade container, a 32-oz. wet-blade container, and a 32-oz. dry-blade container. It also came with a recipe book, a DVD, a tamper (the stick thing to shove food into the blade safely), 3 cutting boards, and a chopping knife. We paid about $700 (can't remember the exact numbers). Ouch! That's a lot of money! (Fortunately, Vitamix and Blendtec have a variety of products and packages, so thrifty buyers don't have to get the big package like we did.) But JSarr says it's worth every penny. We really do use the Vitamix ALL. OF. THE. TIME.
So two years later, JSarr says he would still buy the exact same package that we bought in 2011. I definitely wouldn't, though I will admit that there have been times when I've had all three pitchers in use at once.  I would totally buy a high powered blender again (either a Vitamix or Blendtec-go here to see us compare the blenders), but I would actually buy a refurbished model. A new Vitamix has a 7-year full warranty, and a refurbished model has a 5-year full warranty. And the Blendtec refurb has a 7-year full warranty. That's a pretty great deal!
Some people don't want to go there, but we have had great success with other reconditioned/refurbished items. I think getting the refurb is the most economical route as you get a practically new product WITH the full warranty without the new price. I've had some big ticket items like a refurbished Apple MacBook Pro, an Apple iPhone 4S, a Canon EOS Rebel T3i Camera, (that I use now for my blogging pictures) and more. I highly recommend buying refurbished models with good warranties like these high-powered blenders have. I would be perfectly happy with a 5-year full warranty on a model that had been reconditioned because it's more economical than getting a brand new blender. FYI, right now Vitamix has refurbished blenders on sale from $279-$299, normally $299-$329. And Blendtec is running a sale now (still current as of 6/14) where their refurbished models are $279.95, which is normally $384.95 (over $100 savings)!
An additional note to those who are seriously considering buying a high-powered blender: If you want a new blender and have a Costco membership (non-affiliate link), I would buy it there. If you feel no qualms about buying a reconditioned blender with their full warranties, buy one through their websites, and you'll get free shipping:
For free shipping with Vitamix use coupon code: 06-007202
For free shipping with Blendtec select $0.00 ground shipping
For fun you can see some Will it Blend Videos here where they blend iPhones, Silly Putty, and the like.
So just what do I use my high powered blender for? (I hate ending in a preposition, by the way.) I was looking through our master list of recipes and found a TON of recipes I make in our high-powered blender. Here are just a few:
I make a hot blender tomato soup that heats up in six minutes…using the blender to heat it!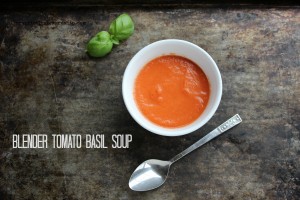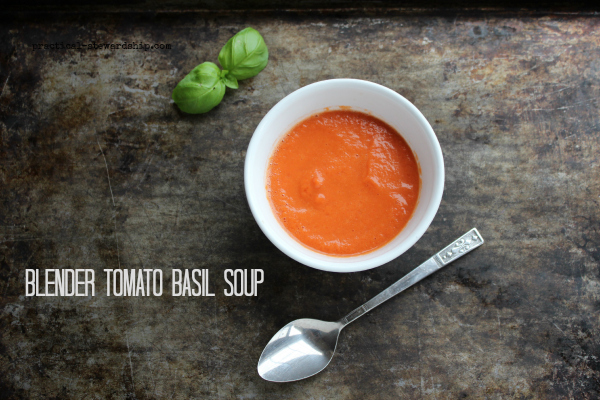 I make pesto in the blender. One way to add creativity in the kitchen is to be able to make your own pestos and sauces. We like regular basil pesto (I make a dairy-free version), pesto with spinach, and cilantro lime pesto. Yum!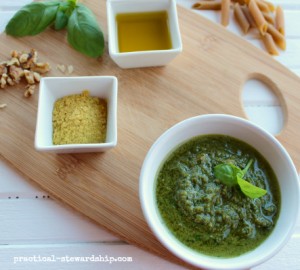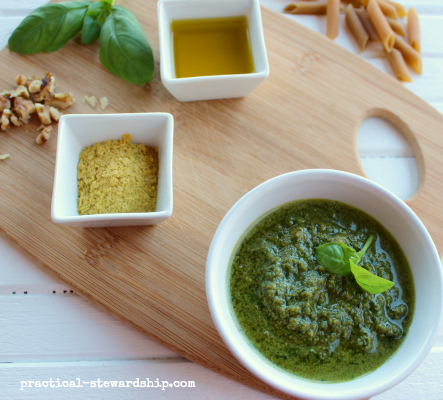 I've made 4 ingredient oat flour pancakes in the blender. The other day I subbed the cottage cheese in this recipe below for almond milk. The pancakes were a little thin but still tasted great so I still need to tweak the recipe to make it dairy-free, but the recipe as is works well!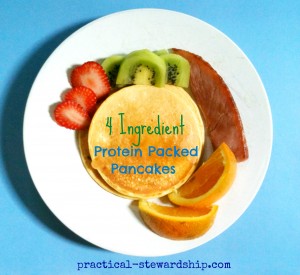 I make a no-flour blender brownie. You know what I sub for the flour???? BLACK BEANS! Crazy, I know, but it's true! And putting the brownie batter in the high-powered blender ensures the black beans will be invisible.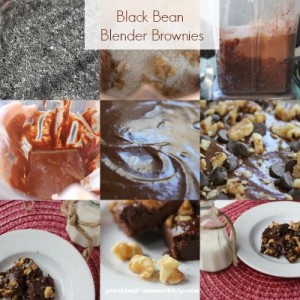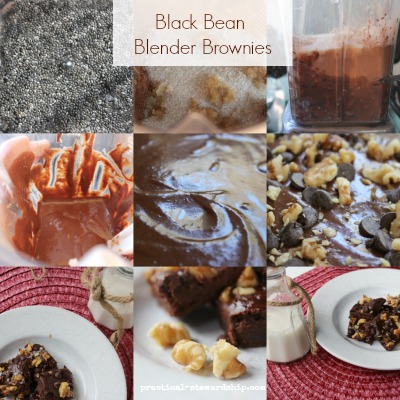 Here is another bean-based recipe that's egg-free, dairy-free, and gluten-free, No Flour Chocolate Chip Cookies!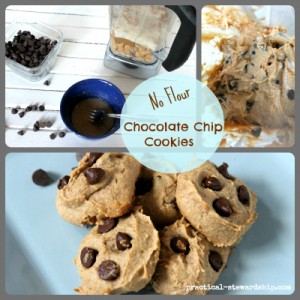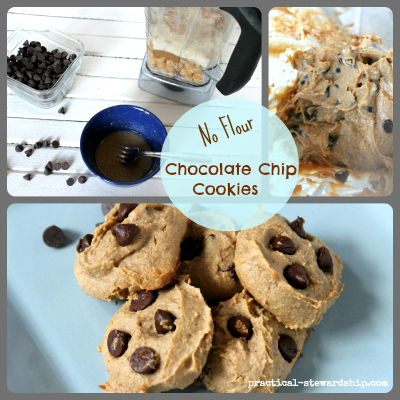 I make a raw blender jam in minutes!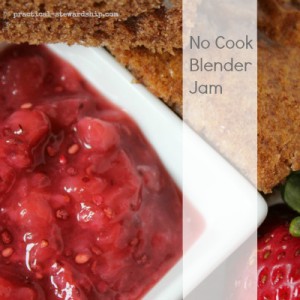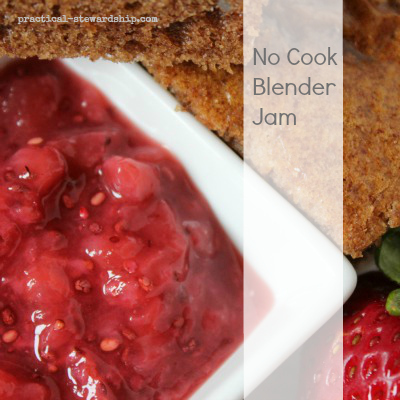 Hands down my favorite breakfast this fall was Oat Flour Blender Pumpkin Waffles.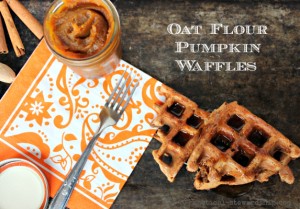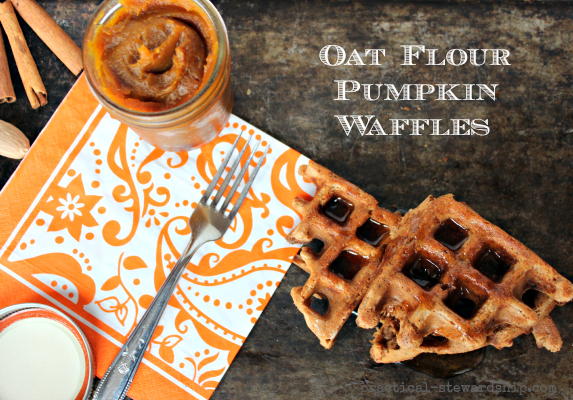 And this summer there was hardly a day that went by that I didn't have banana "ice cream". I usually ended up having it for an afternoon snack.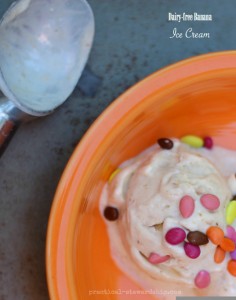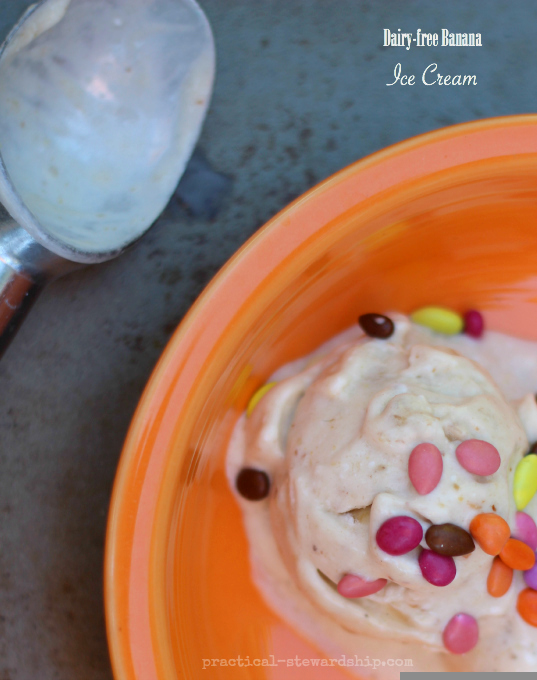 I love making raw pies/"cheesecakes" with the high-powered blender. I make lemon, key lime, pumpkin, raspberry, grasshopper, and chocolate of course!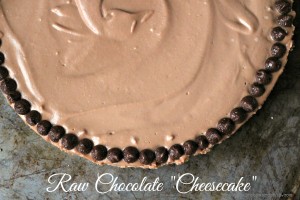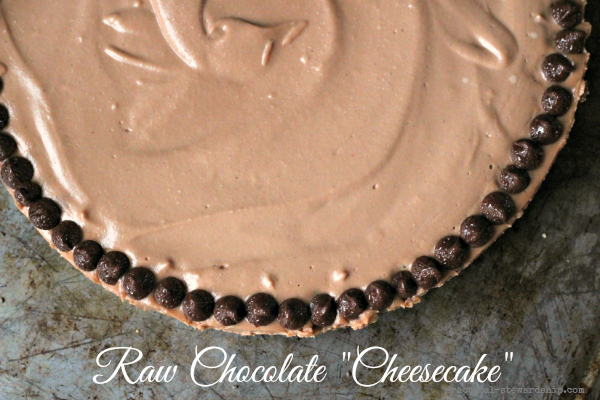 I love making sauces like Alfredo, hummus and creamy dressings like ranch (vegan) and Caesar (vegan). Seriously I've hardly missed having dairy because there are so many great substitutes out there for those dairy laden foods.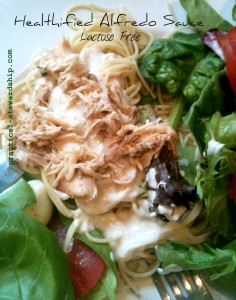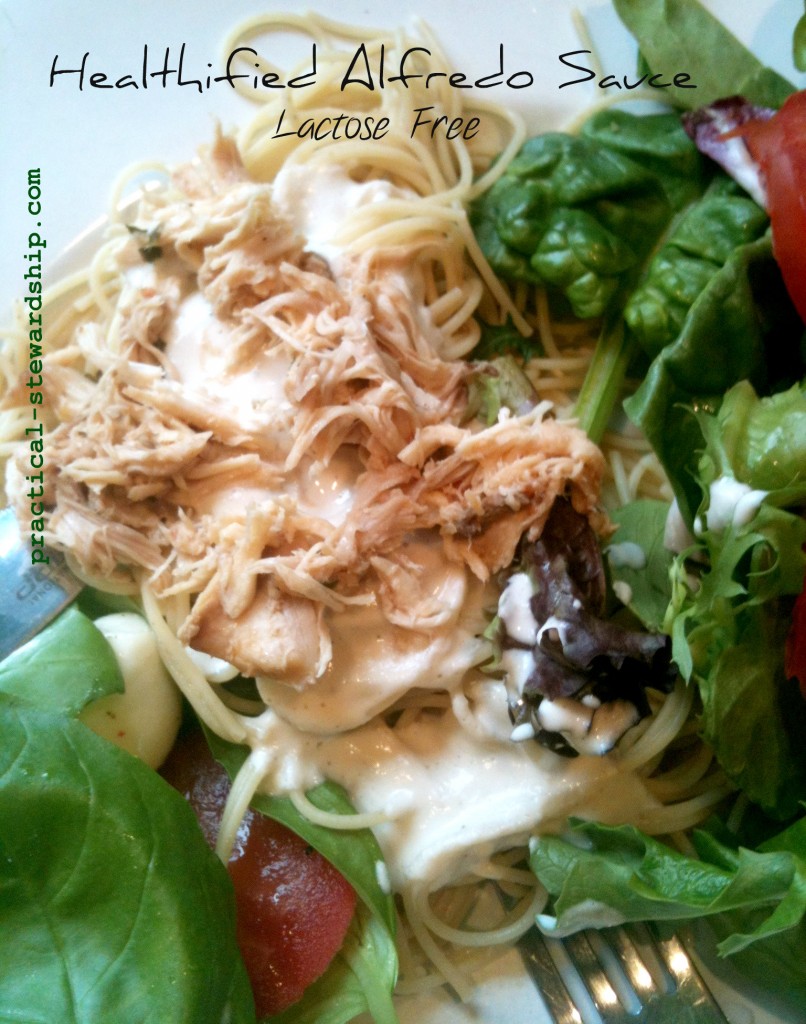 And by far the we use the high-powered blender most to make smoothies!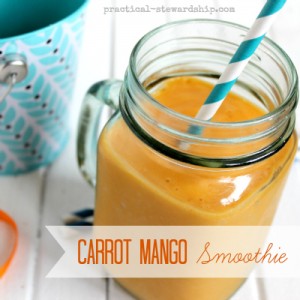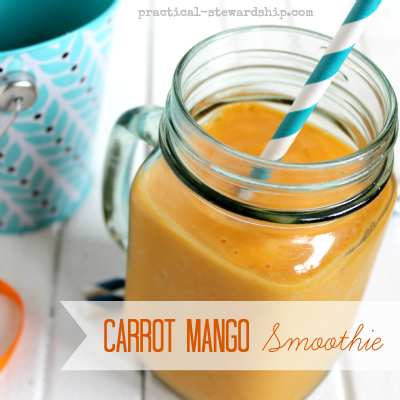 I grind wheat berries to make whole wheat flour (in my wet and dry bladed containers), rice to make rice flour, oats to make oat flour, almonds to make almond flour and more! Here's a quick tip. Never buy powdered sugar again! Just take sugar (I use evaporated cane juice), and blend it up, and in less than 30 seconds, seriously, you have your powdered sugar!
And the clean-up process! Well, it's actually pretty cool unless you are making something oily like pesto. You just fill the blender up half way with water and a tiny dab of soap and blend it! When cleaning the blender after making something oily I usually blend-wash it first, and then wash it by hand. Plus you can throw it in the dishwasher, too.
So do YOU need a high-powered blender? Do you want to eat more healthy, whole foods? Do you want to lose weight by consuming more fresh produce? If you have any food allergies or sensitivities, prefer eating raw or are vegan, having a high powered blender helps you substitute dairy and flours with their non-threatening counterparts easily. To these people I say having a high-powered blender is essential (after saving up for it, of course)! But if you are like we were when we first got married eating most of your food processed or out of packages, you can probably get by without one.
Go here to read our comparison of the Vitamix vs the Blendtec.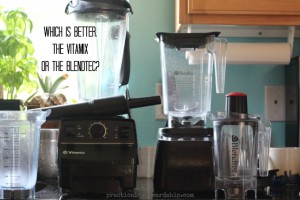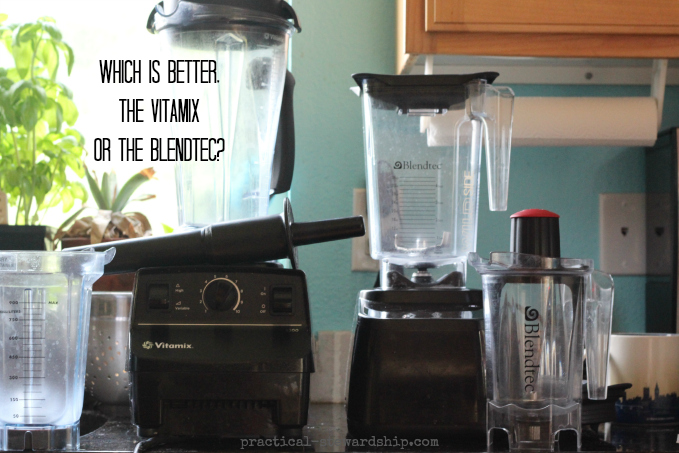 Featured at Healthy Vegan Friday.