With zucchini season in full swing I happened upon a unique recipe using zucchini: Lemon Zucchini Bread from Nancy Creative. The recipe sounded out of this world. Taking zucchini bread, which is great by itself, and marrying it to lemon? Yes! Lemon makes everything better, you know. I took the original recipe and opted to make a dairy-free version using coconut oil and almond milk. I also reduced the sugar in the glaze just because reducing sugar intake always seems like a good idea, don't you think?

I even have made the recipe vegan a few times, replacing the eggs with chia-eggs. Honestly, I love the vegan version better than the egg-full version. I had an eggless twelve months starting back in the fall of 2012. Now that I will occasionally eat eggs, I can detect eggs in baked goods a mile away. My tastebuds never picked up on it before. It's so interesting how tastebuds change.
Regardless, this lemon zucchini bread is an amazing, fluffy delight…with or without eggs. This bread works great as a breakfast, as a snack, as a side to a delightful lunch, as a dessert, or however you would like.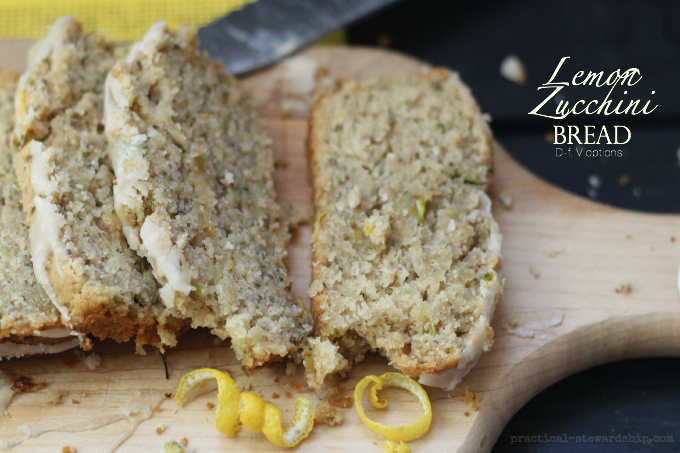 The lemon zucchini bread by itself is great. I could eat it all day. In fact I want to, but that might not be such a good idea. It does have some redeeming qualities like coconut oil and vegetables in it, though, right? Be that as it may, when you pair the lemon zucchini bread with the lemon glaze, the clouds part and the rays of sunshine stream forth in victory! Okay. Maybe a little too dramatic, but wow-zah! The lemon glaze gives a sensational zing to the bread that keeps people coming back for more. I have to limit the kids to one piece each or the bread doesn't even last 24 hours.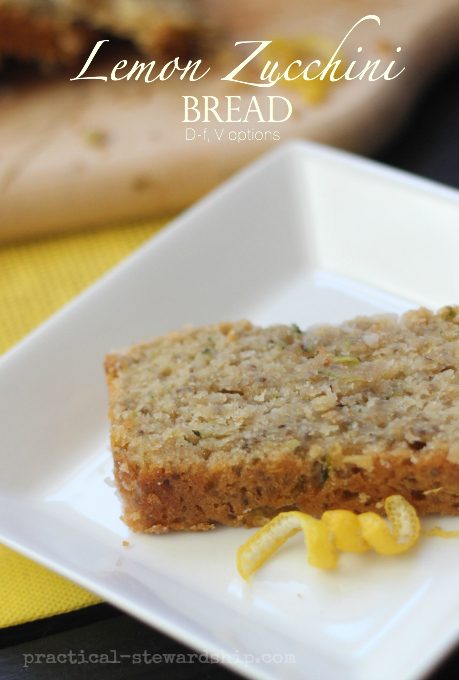 I also tried a gluten-free, egg-free, and dairy-free version that was fine by using the gluten-free flour mix from Costco. If you can't have gluten, it's the way to go, but I do prefer the whole wheat flour version. You may have to bake the loaf a little longer.
Lemon Zucchini Bread with Lemon Glaze, D-f, Vegan opt. G-f opt.
Yield 1 loaf
Ingredients
For the Loaf
2 eggs or 2 chia eggs (2 T chia seed with 6 T water)
2/3 cup evaporated cane juice or sugar
1/2 cup coconut oil, softened
1/2 almond milk or milk of choice
1 cup shredded zucchini
zest of 1 lemon
3 T lemon juice
2 cups whole wheat flour, or g-f flour blend of choice
2 t baking powder
1/2 t salt
For the Glaze
1/3-1/2 cup powdered sugar
1 to 2 T lemon juice
Instructions
If you are using chia egg, stir water and chia seeds together, and let gel for a few minutes.
Preheat oven to 350 degrees.
Grease a 9"×5" loaf pan.
Cream sugar and coconut oil in a large mixing bowl.
Add eggs or "chia eggs" to mixing bowl with milk, zucchini, zest, and lemon juice, and then mix until combined. The coconut oil may clump a bit because of the cooler ingredients, but this is normal and it will melt during baking process.
In a medium bowl mix flour, baking powder and salt.
Add dry ingredients to wet ingredients, and mix until just combined.
Pour batter into loaf pan, and bake 45-50 minutes, or until a toothpick comes out of the center clean.
While loaf is cooling, place powdered sugar in a small bowl, and mix in lemon juice teaspoon by teaspoon until your glaze is pourable.
Pour glaze on cooled bread loaf.
Let glaze solidify, slice bread, and devour!
Need other zucchini inspiration?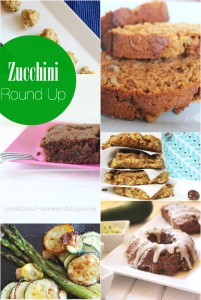 THIS POST MAY CONTAIN AFFILIATE LINKS THAT COST YOU NO MORE MONEY, BUT SUPPORT OUR BLOGGING EFFORTS. THANK YOU!