No Spending Challenge-Shop Out of the Pantry and Freezer Month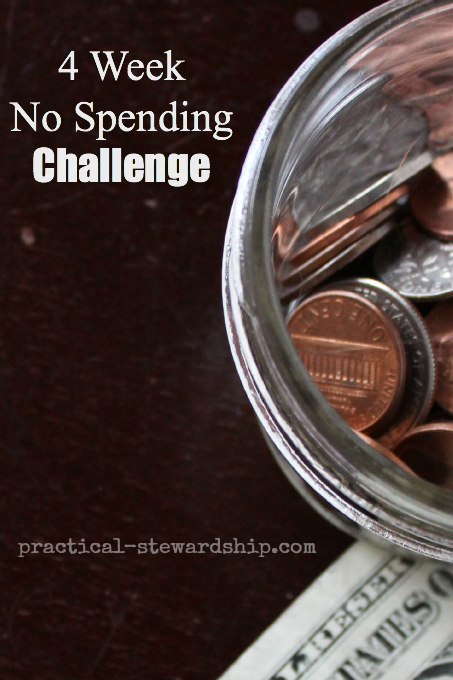 I teach piano and for the last several years, we've used the money I've earned teaching piano to buy groceries. Through the summertime many of my piano lesson families take vacation breaks and such, so our grocery income takes an annual hit. So throughout the year, I'll tuck away $20 here, and $10 there in anticipation of the lean summer months. This past school year, I saved up $150 for summer groceries. We could spend $150 on groceries easily in one week. This summer we've used the summer piano lesson income in combination with some of Jonathan's income, and we've only had to delve in to $50 of the summer grocery income. As of today $100 is all that is left in my envelope for groceries for this August. Now we can still use some of Jonathan's income and I'll have a few lessons here and there, so there will be other grocery money sources if needed.
Because we are nearing the end of summer break (summer break, not summer yet. Please don't leave us yet, summer….), I thought August would be a great time to challenge ourselves not to buy any groceries. I have always called it "shopping" out of the pantry. I keep the pantry stocked with the foods we always eat. In fact, when I open something like a new container of coconut oil, I make sure I buy a replacement on my next outing, so I never have to buy it on the fly. That saves time (because you aren't making extra grocery trips) and it saves money (because you aren't left at the mercy of that day's grocery prices-and you might have time to look for sales).
The Challenge
So my challenge to myself this month (and to anyone else out there who is interested or who needs a little accountability), is to not spend any money on groceries for the next four weeks.
Here are some of my own personal stipulations:
Fresh produce and perishables don't count. You were wondering, right? We can't do without some fresh food. Lord willing we'll be able to buy a little less fresh since we'll have some of the homegrown variety (we just ate our first homegrown tomato of the year a few days ago). But in general I figure I will buy as needed.
When we go on a few overnighters, if needed we will buy food out (but I'll try to bring as much as possible).
If I need to bring something to a potluck or for our neighborhood barbecue cook-off coming up, I will allow myself to feel free to buy something (but chances are I will still feel a tugging in my soul not to buy. I'll try to work as much as possible with what we have).
I am not planning on buying meat; I believe we have enough meat to last our family through August.
What I won't do:
I won't stock up on our staples like oats, nuts or baking products when we run out. When they are gone, they are gone for the month. I'll be sure to add them to a stock-up list, because it will kill me not to stock up right away. I know myself to darn well.
I am doing this right before my once annual tracking of every single food purchase, which I'll probably bump to late September so my restocking of depleted pantry stores is not reflected.  You can see what we spent per week last year here. Are you interested in joining me or doing a modified version? If so, don't wait. Take inventory and start today!
A rather funny thing happened a few weeks ago, if you could call it funny. We were on a road trip visiting my in-laws, so we were away from home for about four days. I was telling Jonathan about my no-spending challenge idea a few times through the trip and how I wanted to "shop out of the pantry and freezer" in August. We had lots of time to talk as our journey took over seven hours each way. Anyway we came home and were greeted by an unsightly and foul smelling ooze coming from our garage. Our standing freezer was open about 3-4 inches thanks to me not completely securing it after getting food out for our trip. Not cool! Well, it forced me (and Jonathan) to get organized right then and there and not in August like I originally thought. God has a sense of humor, right? After about an hour of work, and trash can full of meat and such later, I can now open that freezer and breathe a sigh of relief. We didn't lose everything, thank God, but Jonathan estimates we lost ate least $100 worth of food. I, on the other hand, am trying not to think about it. One of the great things about "the forced freezer cleanse" was that we got rid of a few items that were from 2008! Oops! I had no idea. So God works all things for the good…Good thing we hadn't put much of anything new in the freezer lately, either. Is it time for you to organize your freezer? My freezer hasn't looked this good since the day we got it…SEVERAL years ago!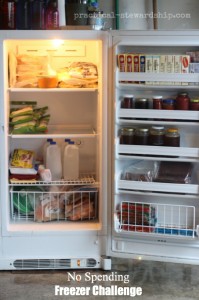 As far as spending in other categories goes, we just aren't crazy spenders. I am probably not going to go hog wild on a clothes shopping spree or something like that. In fact I just won't. It's just not me. BUT if the kids need something for school, I'll get it. We are pretty much set though. The school takes care of their school supplies, and we have uniforms.
Anyone else up for the no-spending challenge?
Find out the results of my no-spending challenge here.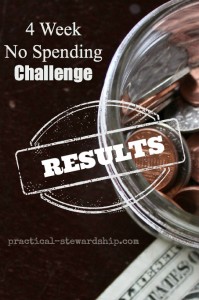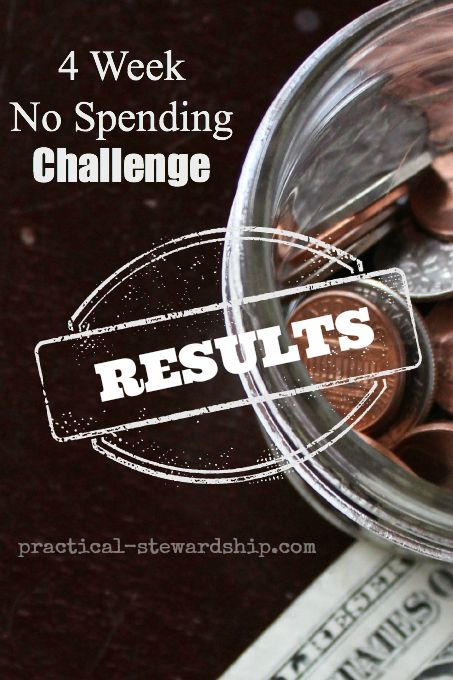 Have you read:
THIS POST MAY CONTAIN AFFILIATE LINKS THAT COST YOU NO MORE MONEY, BUT SUPPORT OUR BLOGGING EFFORTS. THANK YOU!