Crock-pot Apple Butter~a smooth, cinnamon-y, delectable spread.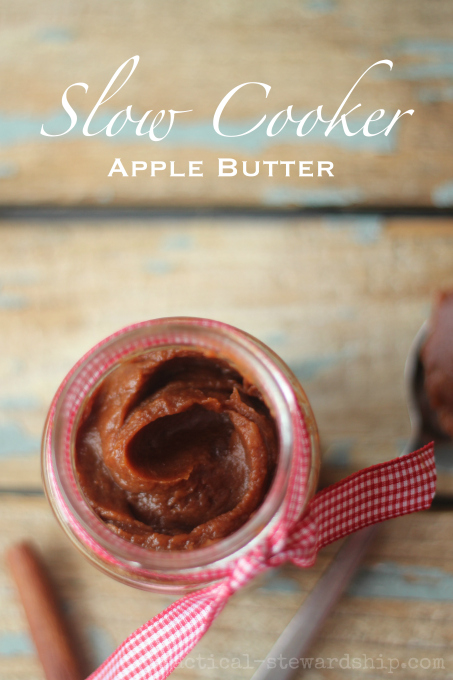 Apple Butter conjures up visions of fall when the leaves swirl around chasing each other and a crispness descends on the day, and yet, I am not ready to say farewell to summer. But when you have apples beckoning, you must answer the call. And this call was for apple butter!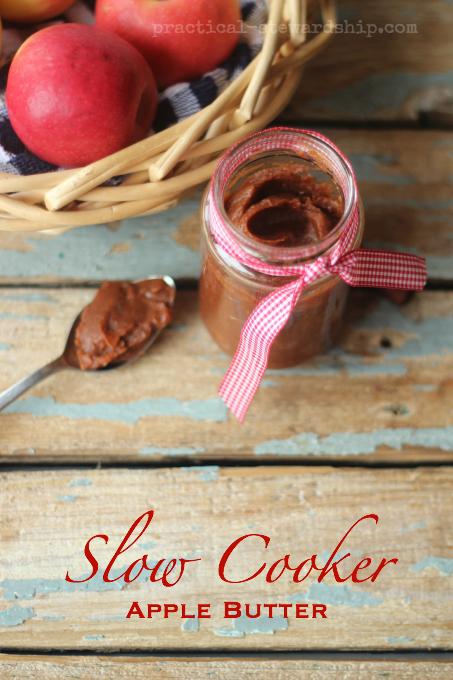 Making apple butter (or apple sauce, for that matter) is a great way to use the undesirables~the apples that have been scarred with the realities of aging. I really have a hard time with waste, so often I will even pick up apples off of the ground if there is a good portion left on them. Yep. I admit it. There's good stuff next to those blemishes. I just chop off those not-so-beautiful spots, peel, core and cook 'em down into oblivion. Then I am left with this gorgeous, deep-colored, luscious spread of apple buttery goodness spiced to perfection.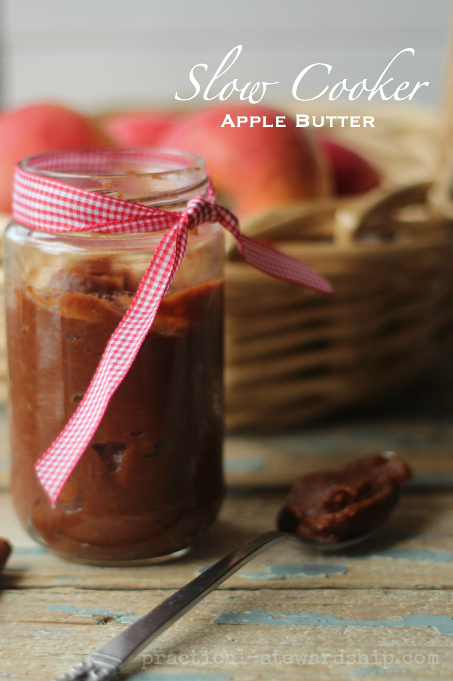 The variety of apples you use does affect the amount of sugar you will want to use. Just like my apple sauce, I really aim to add no sugar. I usually use homegrown apples of unknown varieties, but I will use any apples I can get my hands on. So many different types of apples may go into one batch of apple butter. My apples tend to be tart, but I have tart-lovers in my home, so making this without sugar totally works for us. I dare you to make this without sugar…at first. At the end of cooking, take a taste, stir in a tablespoon of sugar if needed (I use evaporated cane juice or coconut sugar) and repeat until you get the desired sweetness.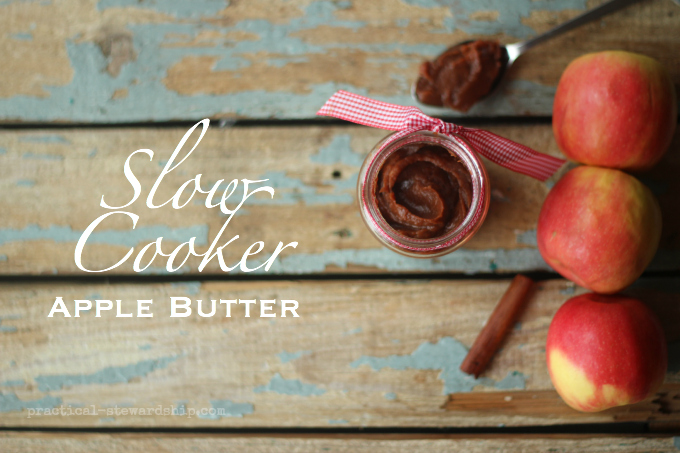 This recipe is really as easy as throwing in the peeled and cored apples into the crock, cooking, stirring, cooking some more, adding the spices, cooking some more, and then you are set. Super simple. Super scrumptious. You could make this even easier with using pre-made apple sauce and start at step #4 in the instructions. But making apple sauce is so easy, so you may as well use homemade. Unless you don't have access to fresh apples. Then definitely use apple sauce.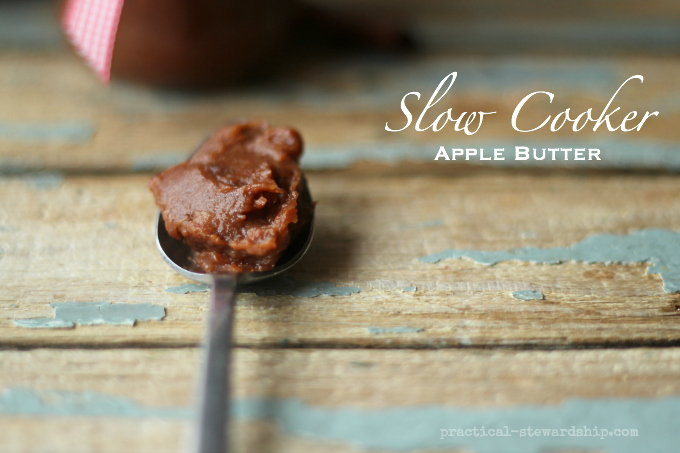 Apple butter makes a great homemade gift. I freeze apple butter in a jar with about one inch of room at the top for expansion.
Crock-pot Apple Butter
Ingredients
approximately 8 cups of apples
2 t cinnamon
1/2 t cloves
1/4 t nutmeg
optional, sugar 1 tablespoon at a time to taste(we use organic evaporated cane juice or coconut sugar)
Instructions
Place peeled, cored, and sliced into a 2-4 quart crock-pot.
Cover and cook on low for about 3-4 hours, stirring about every hour (don't worry if you are gone and can't get to it).
At this point you have apple sauce, and feel free to steal a taste.
Continue cooking for another 8 hours or so with the lid slightly ajar (about an inch-I use a wooden spoon in-between the lid and crock to keep it slightly ajar) to allow moisture to escape. Stir every hour or two until you reach the desired thickness (I've let it go overnight without stirring before).
Add the cinnamon, cloves, nutmeg, and taste. Add more spices if desired. Add sugar at this time, if desired.
Cover and cook another 30 minutes, and enjoy!
Have you made pumpkin butter? Just as easy and tasty.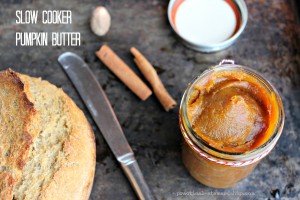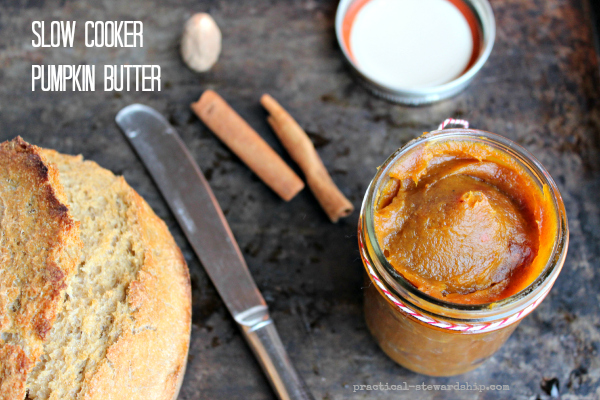 Or for a cooked apple sauce, try slow cooker apple sauce. I do this with big batches of apples before it turns into apple butter.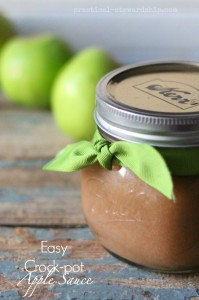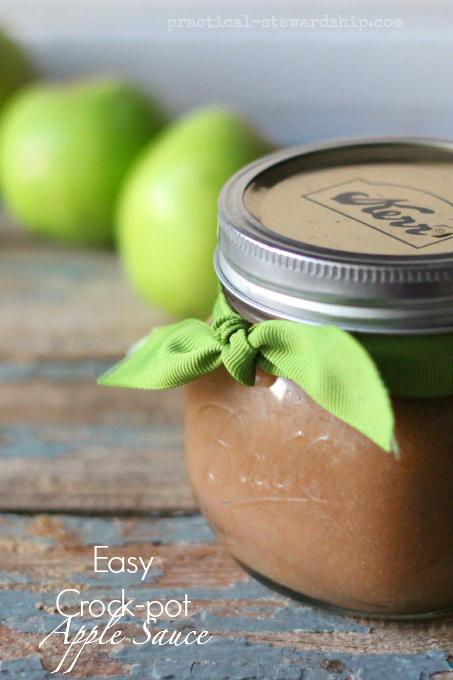 For more slow cooker inspiration, check out my Cookin' with the Crock-pot Board on Pinterest.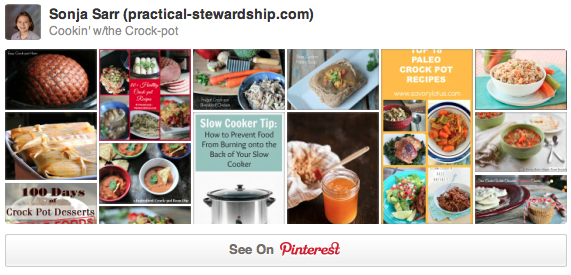 THIS POST MAY CONTAIN AFFILIATE LINKS THAT COST YOU NO MORE MONEY, BUT SUPPORT OUR BLOGGING EFFORTS. THANK YOU!