Cranberry Orange Oatmeal Breakfast Cookies (or any time of the day cookies:)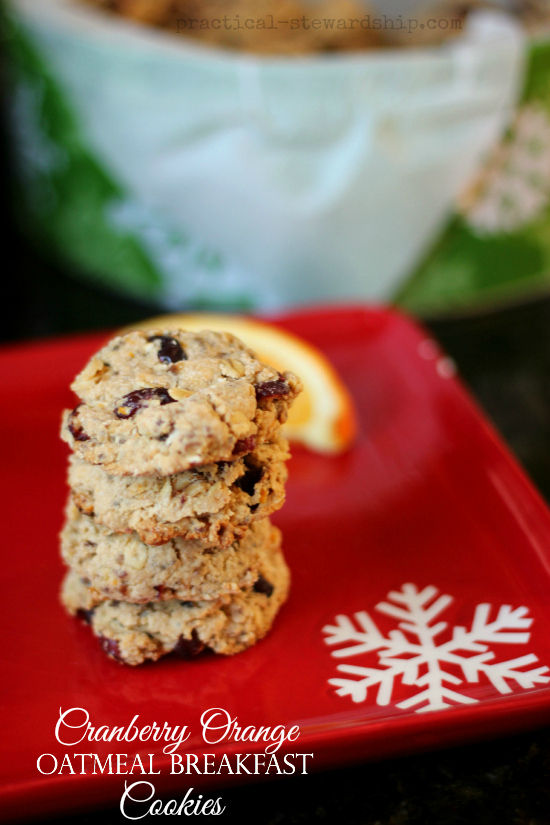 There's nothing like honey-sweetened oatmeal goodness filled with the essence of orange and tang of dried cranberries. These little cookies are a festive treat that I feel good enough giving my kids for breakfast. Away with overly sugary breakfast cereals. Bring on some cookies!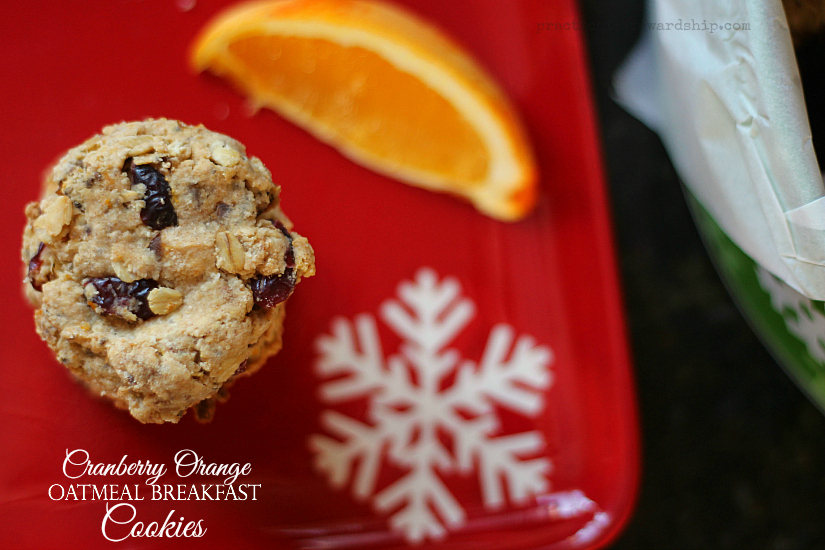 So we made the seven hour journey this year over to my in-laws during Thanksgiving. While we were road tripping, I found the original recipe to these Cranberry Orange Oatmeal Breakfast Cookies in a freebie magazine from Super Supplements called, Delicious Living. I was intrigued since the original cookie is sweetened strictly with dates and no refined sugars. I sure liked that idea. If you know me, that's what the food on this blog is all about: making food healthier…and still tasty. I couldn't get the cookies out of my mind, and I had to try them right away.
So the first time we made these cookies, they were only date-sweetened, just as directed. The cookies turned out just fine but we wanted to take the cookies from so-so, to oh-so good! Both my mother-in-law and I decided that honey
 was just what those cookies needed. So I made them again with honey. Yes! Homerun! And then I made them again egg-less with "chia-eggs", and then I made them again with maple syrup
. And in case you are wondering, my family has not complained once about my testing this recipe over and over again. So here we've ended up with a tasty dairy-free, egg-free, and gluten-free cookie that oozes flavor and can even be made vegan. What more can you ask for?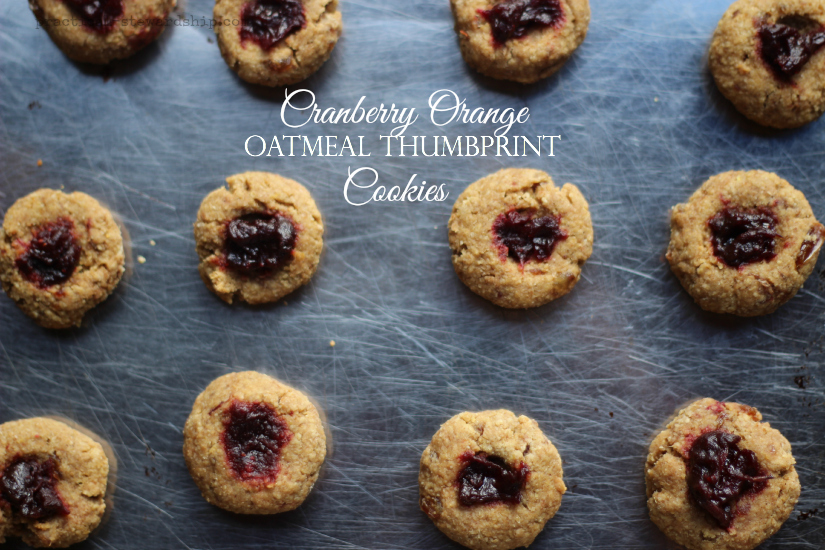 If you have leftover cranberry sauce, you can place your thumbprint on each cookie, and then place a teaspoon of cranberry sauce in the imprint. In this particular Thumbprint batch I didn't have the dried cranberries.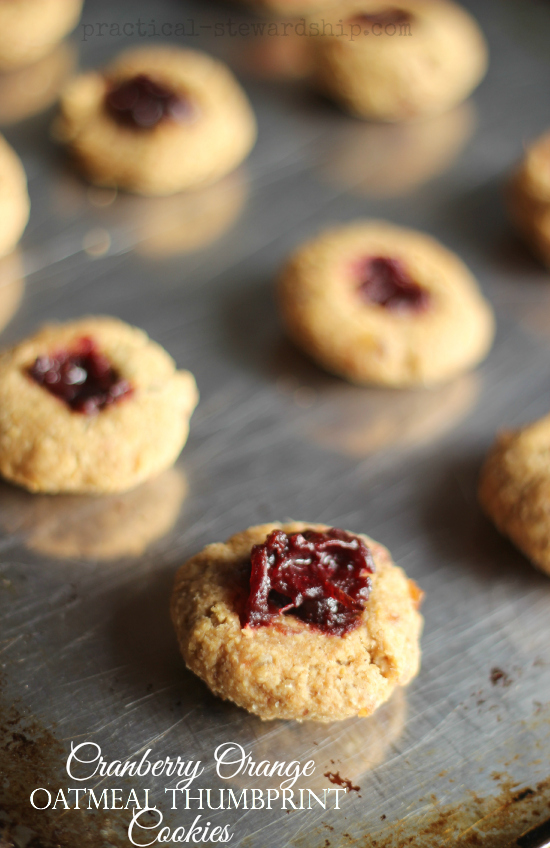 We've eaten them as a fast breakfast. I love that they are grab and go. We've also enjoyed them for snacks and as a dessert. In fact, these were the only desserts I had this Thanksgiving. I didn't even have any pie. I just had these guilt-free, healthy sweet treats. I'm all over that!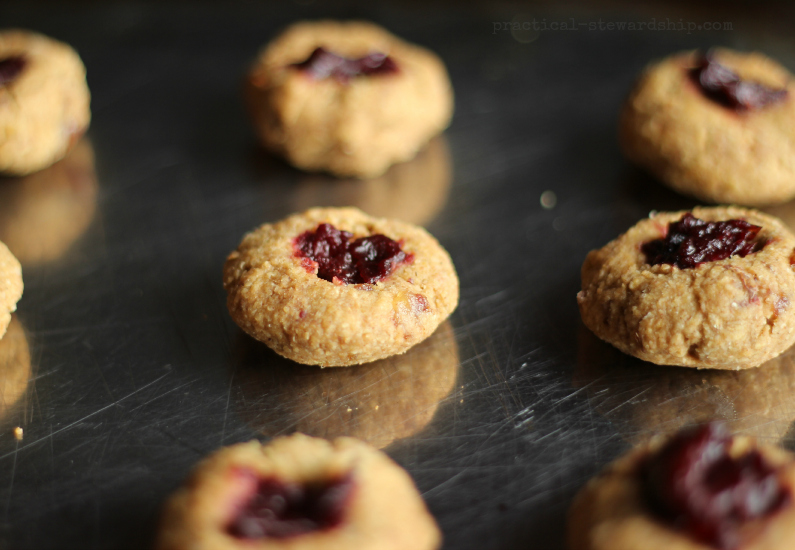 Cranberry Orange Oatmeal Breakfast Cookies
Ingredients
4 cups of old fashioned oats, divided
1 t baking powder
2 t cinnamon (can use 1 t if desired)
1/2 t ginger, ground
1/2 t salt
3/4 cup coconut oil, melted or olive oil (I've used both)
1/4-1/2 cup honey or maple syrup (I prefer 1/4 cup, and you can omit this completely)
1 packed cup medjool dates
3 eggs or 3 "chia eggs"
1 1/2 t vanilla extract
2 T orange juice
zest of a medium orange
1 cup dried cranberries, chopped if desired
cranberry sauce, optional
Instructions
If using "chia eggs", in a small bowl mix 9 T water with 3 T chia seeds, and let sit a few minutes to gel.
Preheat oven to 375 degrees F.
Pulse 3 1/2 cups of oats in a food processor or high powered blender to make oat flour.
Place oat flour in a large bowl, and mix in baking powder, cinnamon, ground ginger, and salt.
Chop dates in a food processor. If the dates are dry, soak them in water for 1 minute, and drain before chopping them.
Place dates in a separate large bowl, and mix in coconut oil, liquid sweetener like honey if desired, eggs of choice, vanilla and orange juice. Add oat flour mixture slowly, and stir to combine.
Mix in the remaining 1/2 cup whole oats, orange zest and cranberries until well mixed.
Drop by the tablespoon onto a baking sheet. You can lightly flatten if desired because the cookies won't flatten on their own. At this time you can lightly press your thumb into each cookie and fill the indentation with a teaspoon of cranberry sauce.
Bake 12-14 minutes or until the edges and the underside of the cookies are a light golden brown.
Cool for 2 minutes on the baking sheet, and place cookies on a wire rack to completely cool.
Store in an airtight container for up to four days.
Looking of other healthy sweet treats?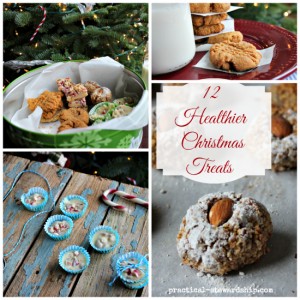 THIS POST MAY CONTAIN AFFILIATE LINKS THAT COST YOU NO MORE MONEY, BUT SUPPORT OUR BLOGGING EFFORTS. THANK YOU!