Homemade Italian Dressing Teacher Appreciation Gift with Free Printable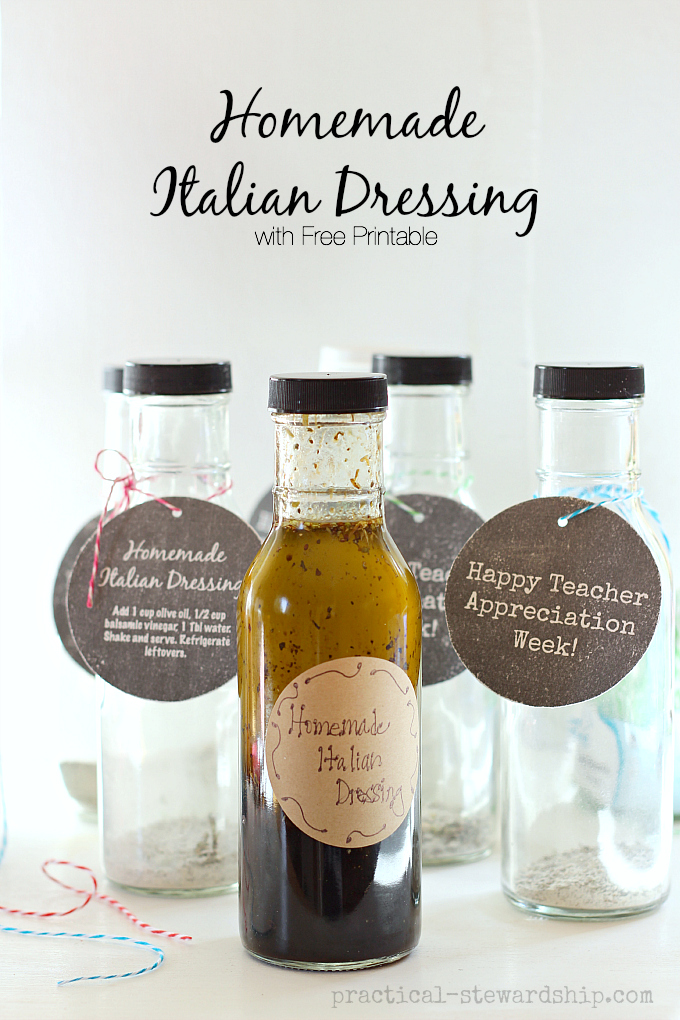 IT'S DIY TIME AGAIN, WHERE I POST SOMETHING YOU CAN DO YOURSELF RATHER THAN BUY, WHICH IS A MONEY SAVER, AND CAN BE JUST PLAIN FUN!  SOME OF THESE POSTS ARE CRAFTS, SEWING PROJECTS, RE-PURPOSED IDEAS, HOMEMADE CLEANERS, HOMEMADE HEALTH AIDS, TUTORIALS, AND THE LIKE.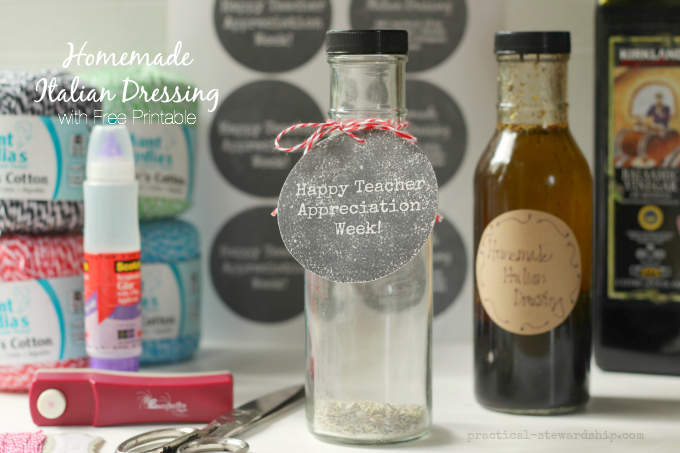 Now is the time of year that we honor those who invest so much in our children. Teachers have a lot on their plates and often wear many hats. Our classical school is tiny (but mighty-just 30 kids), so my kids' teachers do MANY things. Not only do they create lesson plans, and impart their love and knowledge of their disciplines, but they literally vacuum, take out the garbage, oversee lunch and recess, run, play with the kids, have fun and more! So it is only fitting that we take this time and honor them.
I love giving food gifts as those who have followed this blog for awhile, know. Food = Love. I wanted to give a homemade salad dressing mix where the teacher could just add vinegar, water, and olive oil at home. Bonus, herbs are super cheap to buy, and fast to blend together, so this can be a really frugal and fast gift.
I knew last year I wanted to make the teachers a dressing mix, so for over a year I've been collecting various salad dressing-ish bottles. My favorite is the 12 ounce Enchilada Sauce bottle from Trader Joe's. Trader Joe's labels are seriously the hardest labels to remove. Anyone else with me?
Okay. You might think I'm weird for this next part, but this is what I really do. Just ask my husband. After we finish the enchilada sauce, I clean the bottle inside and out. Then I refill the bottle with water, cap it, and leave it in the bottom of the sink for a few weeks. As I wash dishes over the bottle, the label gets wet and loosened. A few weeks later I take off the label and apply baking soda to any sticky areas with a little elbow grease, and then a little more, and then wash it again. And voila! A clean, ready to use bottle at my service. Do you think I'm weird? Can we still be friends? Just keeping' it real.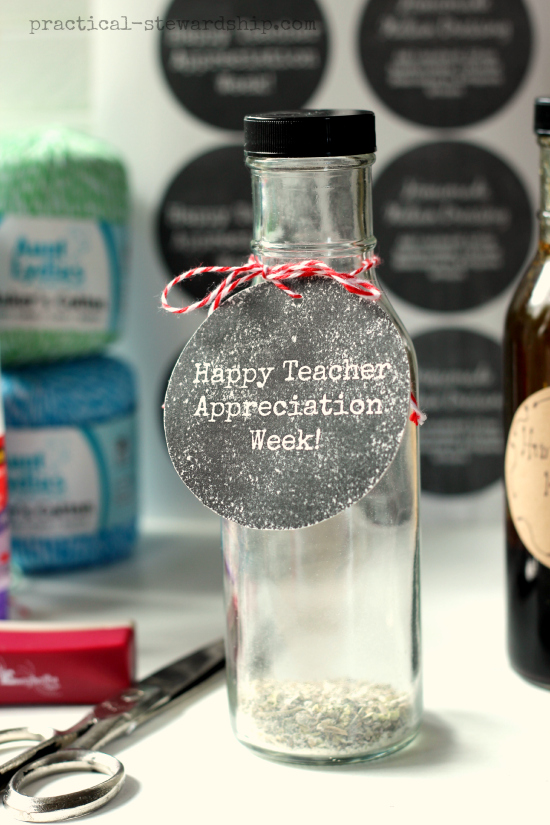 Anyway, if you still want to give this as a gift, yet don't have recycled bottles hanging around, you can use 16 ounce mason jars.
This mix makes approximately 8-twelve ounce bottles of dressing. The directions are included on the printable. If you are interested in my free downloadable printable, go here.
What You Will Need:
card stock
printable
scissors
glue
hole punch
twine/ribbon/or string (see cheap alternative below)
12 ounce bottles
seasonings, see recipe below
optional, 2.5-Inch Avery Labels
The To Dos:
Click on the free printable, and print your tags on card stock.
Cut out the tags.
Glue the two sides together.
Hole punch tags on top.
Make Italian Seasoning Dressing Mix (see recipe below).
Place 3 tablespoons of the Italian Seasoning Dressing Mix in salad dressing bottles, and securely close bottles.
Tie tag on the bottle with twine/ribbon/string.
Optional, add a sticker round craft label
Enjoy giving!
And seriously, I don't like spending money on many things, but sometimes it has to be done. Well over a decade ago I invested in a high quality, tiny, yet heavy duty hole punch
. I still have it after hundreds of uses and use it to this day. I can't find my exact hole punch on-line, but looks like Fiskar's sells a good hole punch
 for around $5. Much better than the cheap dollar punches I had that amounted to nothing.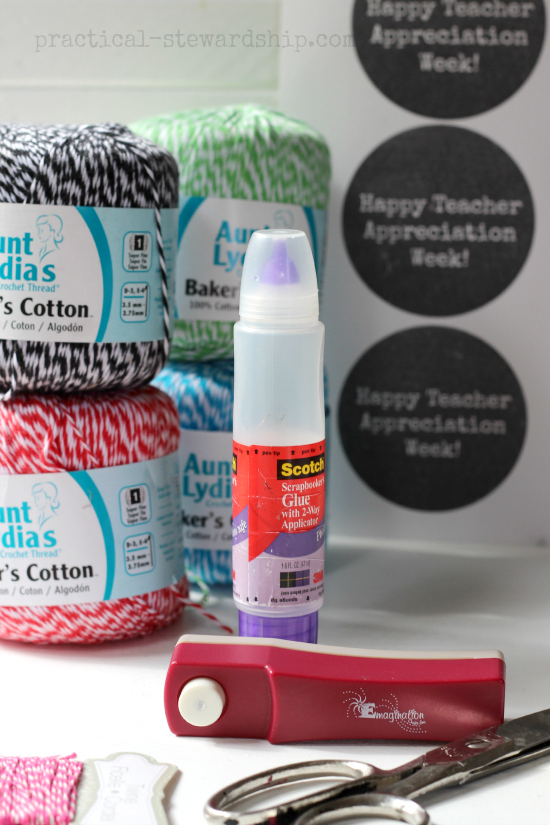 Also, if you want a really frugal alternative to baker's twine, try Aunt Lydia's Baker's Cotton
. You get so much for so little. I have had some for well over a year, use it lots and can see I'll have it for years to come. I found some in the crocheting section at JoAnn's, too.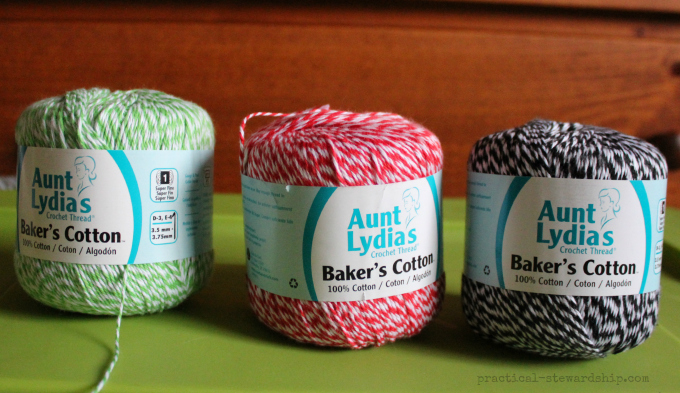 Homemade Italian Dressing Mix
Ingredients
1/4 cup Italian seasoning
2 Tbs onion powder
3 tsp garlic powder
4 tsp salt
2 tsp pepper
1 tsp celery seeds
Instructions
Place all ingredients in a medium bowl and mix well.
Store in a cool, dry place.
Use 1/4 cup of Italian Dressing Mix with 1 Tbs water, 1/2 cup vinegar, and 1 cup of olive oil.
Refrigerate unused portion.
What are you doing for Teacher's Appreciation Week? I'd love to hear your ideas!
For another idea see what I did last year with "You are One Smart Cookie!"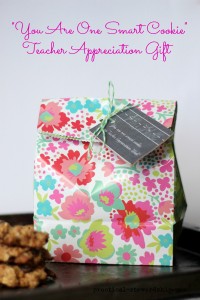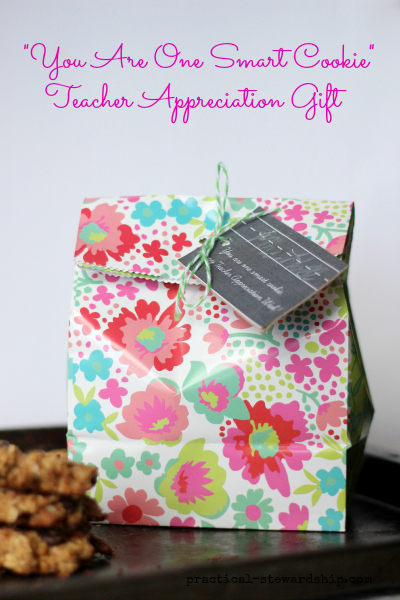 THIS POST CONTAINS AFFILIATE LINKS THAT COST YOU NO MORE MONEY, BUT SUPPORT OUR BLOGGING EFFORTS. THANK YOU!