3 Ingredient Chocolate Chip Cookie Bars~decadent, sweet, chewy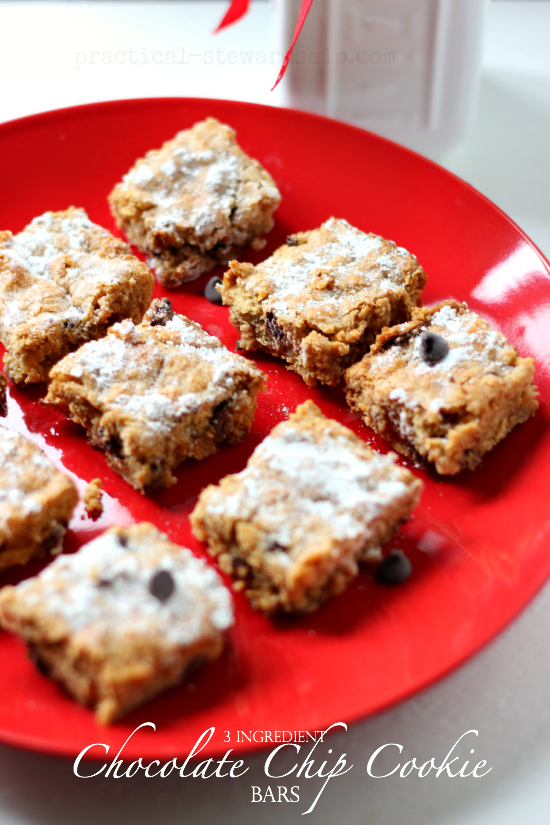 If only but for a brief moment, these 3 Ingredient Chocolate Chip Cookie Bars transport me back to my childhood. This was one of the first and only recipes I ever made with my mom (the other being Nestlé's Toll House Cookies-you know that recipe on the back of the chocolate chip package? Okay. We also made mac and cheese, but I don't think I can count that because it we used the box:).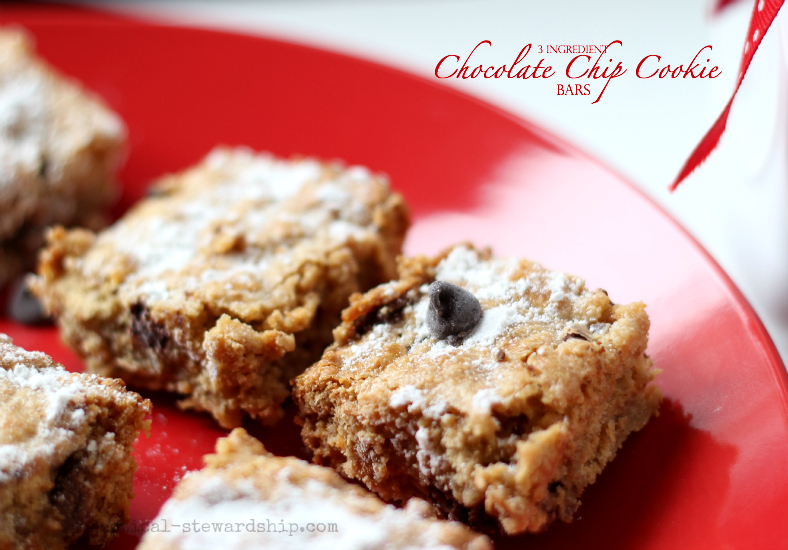 Anyway, I don't have many memories of being together in the kitchen with mom, simply because we weren't there together that often. She did all of the cooking and MOST of the baking (you can read more about us here in Confessions from a Selfish Daughter and Cancer…). But I do remember making these cookies with her many times through the years, oh yes, and these are some of my sweetest memories with her!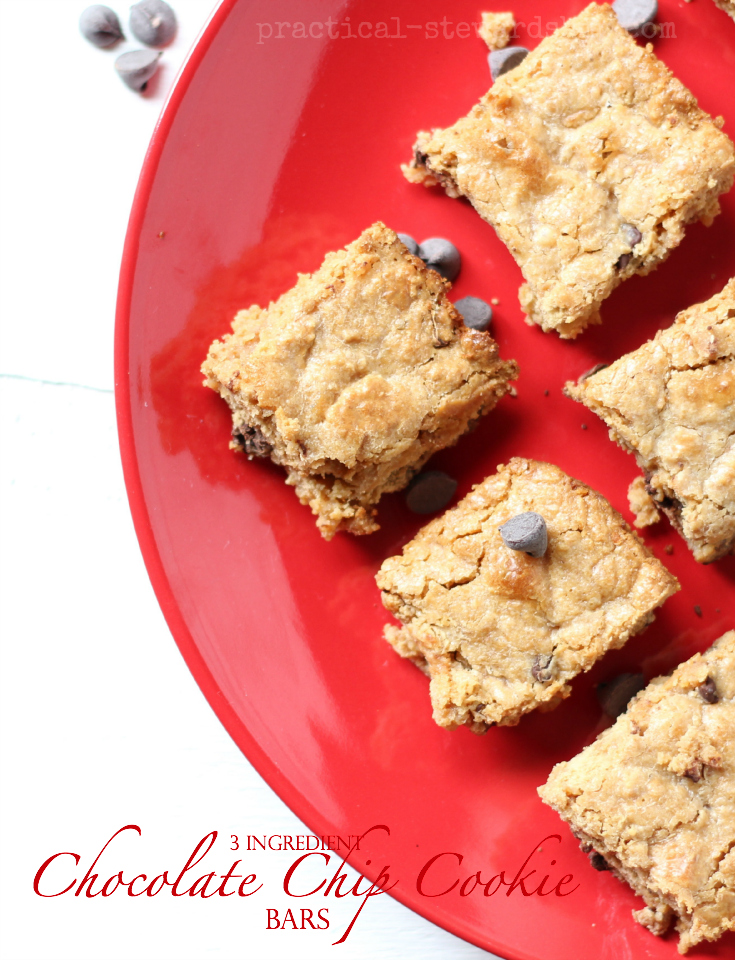 And the recipe is just so easy, I never had it written down. It's all in my head (which can be a scary place sometimes:). Really you just need three items-graham crackers, sweetened condensed milk and chocolate chips. Told you. So easy! And when my mom and I got really fancy, we would dust these cookies with a sprinkle of powdered sugar. So for this past Mother's Day, I was thinking about my mom and all of those years we would make these special treats. I got my heart set on making these Chocolate Chip Cookie Bars that day.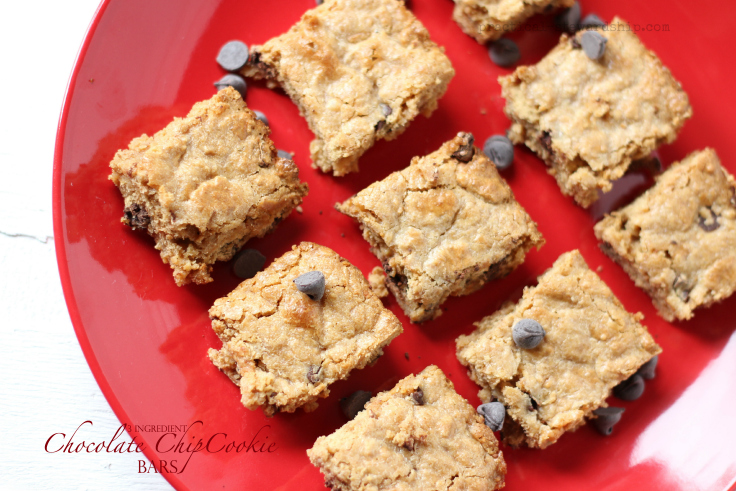 My mom used to say, "A good cook never measures."  She would say it even when baking, as she measured out about a teaspoon of salt in the palm of her hand. This is one of those recipes you don't really need to measure a whole lot. Just make sure you have about 3 cups of the  crushed graham crackers, a can of sweetened condensed milk, and a handful of chocolate chips give or take a few chips. And to crush the honey-sweetened cracker goodnes, we left the crackers in the sleeve and put it into another plastic bag, and grabbing the opening of the bag so it's closed, we attack with a rolling pin. Just get all of those aggressions out…if you want. The graham crackers don't need to be completely decimated into a fine powder. The crumbs can have a little texture to them. The bigger graham cracker sections in the cookies are my favorite part to sink into anyway. It's all about the texture.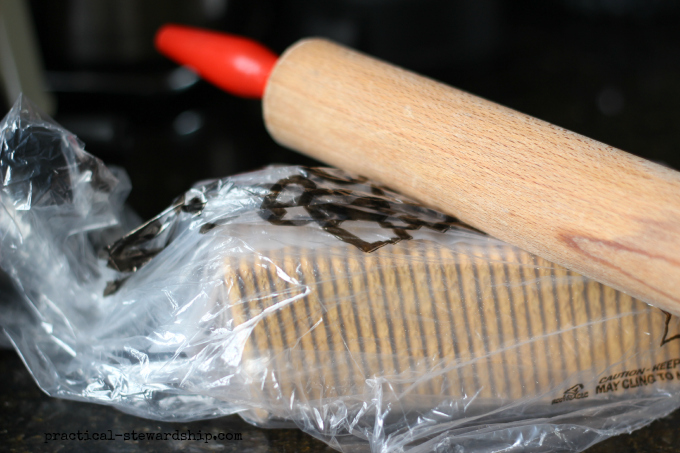 Honestly, this recipe and the 5 Ingredient Cheesecake are the least healthy recipes on the ol' blog, here. For memory sake, I wanted to post this. But of course, if you know me, you know I'm going to try to healthify what my mom and I did way back when, somehow. So if you are looking for some way healthier grahams crackers
, I found some grahams crackers from Back to Nature
. They don't have any high fructose corn syrup, artificial preservatives, flavors, or colors. Gotta love that! They aren't paying me for that, by the way, but Back to Nature, you can feel free to sponsor me:). And then if you need some wheat-free crackers, here are some gluten-free graham crackers
. If you need a dairy-free version, you can actually buy sweetened condensed coconut milk
 or make your own. I could not find any at Whole Foods, but I found some on Amazon. And if you are feeling really daring, you can try a recipe for homemade sweetened condensed coconut milk from the Detoxinista. We've got lots of options, oh yea!
Abbie wants these for her birthday, and I just made these for Joshua's birthday treats for school. That's how good they are! They force me to exercise moderation!
3 Ingredient Chocolate Chip Cookie Bars
Ingredients
3 cups graham crackers, crushed (g-f) if needed
1-14 ounce can sweetened condensed milk, or sweetened condensed coconut milk
1/2 cup (or less) chocolate chips, non-dairy if needed
Instructions
Preheat oven to 350 degrees F.
Crush graham crackers.
In a large mixing bowl, combine all three ingredients until thoroughly combined.
Firmly press the cookie bar dough into a greased 8x8 pan.
Bake for 23-27 minutes, or until golden brown around the edges.
Cool for 15 minutes, and cut into bars.
Optional, dust with powdered sugar.
Store in an airtight container.
THIS POST MAY CONTAIN AFFILIATE LINKS THAT COST YOU NO MORE MONEY, BUT SUPPORT OUR BLOGGING EFFORTS. THANK YOU!