On Tuesday the Sarr family stayed home like many other people in the snowy Northwest, and we went for a long walk in the ankle-deep snow.  But that, by itself would be relatively unexciting and fairly easy.  Taking the jogging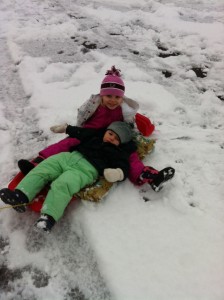 stroller was out of the question given the conditions, so we pulled the sled down from storage and Sonja and I got the privilege of pulling the sled along with rotating precious cargo.  The kids, by ones or twos took turns riding in the sled for our three-mile, hilly venture.  Ellie and Abbie even got to do some pulling, too.
By the time we'd been out ten minutes I was sweating and unzipped my jacket.  Soon I shed my beanie cap and it stayed that way for the rest of the trip.
We had a blast.  We were making a memory, being active, and getting some good exercise.  Our kids did really well on the longer walk, even Joshua, who often looked like a stunned mannequin on his back when riding on the sled.  He also rode on my shoulders and walked a good deal, too.
Joshie slept very hard for his afternoon nap.  He earned it.
We would love to hear from you!  Feel free to comment.  Get free e-mail updates by subscribing here.  Follow us on Facebook and Twitter.