Crock-pot Mexican Lasagna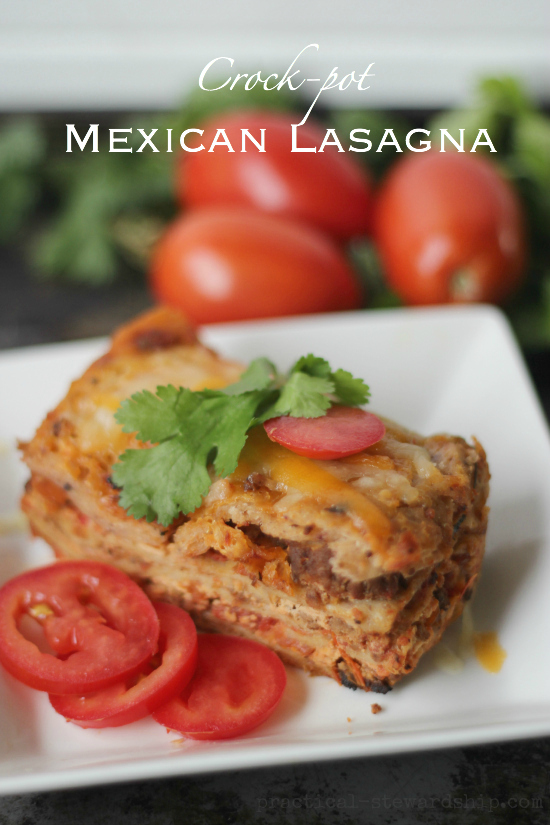 I've been making lasagnas for over 15 years, and I have never tried a Mexican lasagna until this past year.  It's a real fun twist on the traditional Italian lasagna.  This is a super easy dish to put together, especially if you use salsa. Just sub tortillas for lasagna noodles, salsa for marinara sauce, and cheddar cheese and/or Monterey Jack cheese for mozzarella.  If you haven't tried it before, you definitely should give it a go!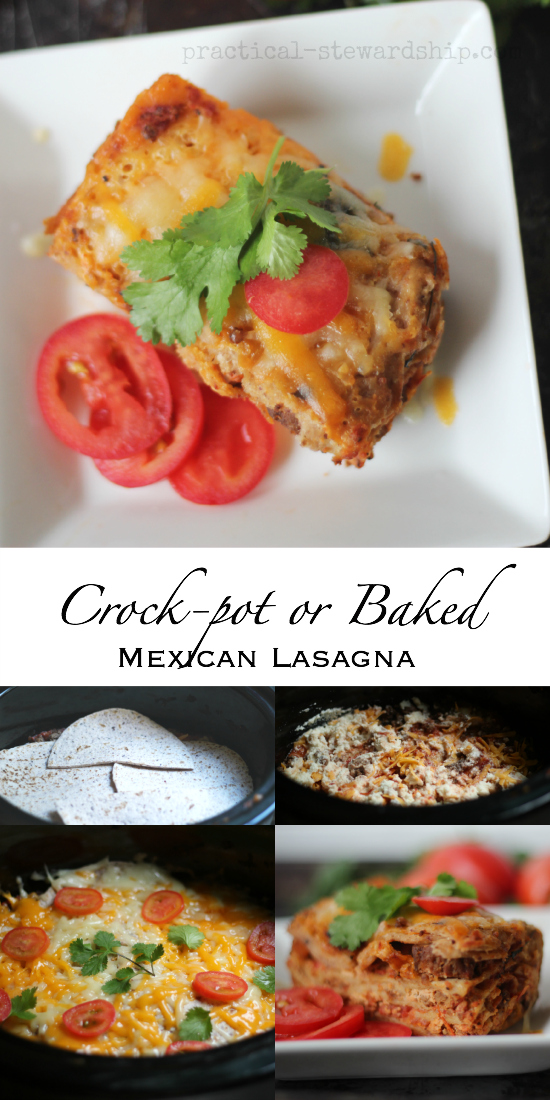 A Crock-pot Mexican Lasagna is way easier to put together than the original because you don't have any noodles to boil and you don't have to risk getting burned by those pesky noodles. Those hot noodles would get me every time! I am sure this would be just as fabulous with noodles, but you just tear and layer with the tortilla.
The Results: I doubled the recipe and crock-potted one and put the other in a pan to bake at a later date. This is a great time and money saver because it doesn't take much more effort at all to make a second batch. Joshua, who is our pickiest eater, just downed this, with no prompting, which is unusually AMAZING! The first time I made it, it had too much ricotta cheese for my taste, and it was more soupy than anything, so I reduced the amount of cheese in this recipe. If it ends up soupier than you desired, use this as a dip. We dipped our nacho chips into the lasagna, and it was great. Update 10/14**. We have since made it again and even the leftovers were a hit~no soupiness as you can see by the pictures~great ratios.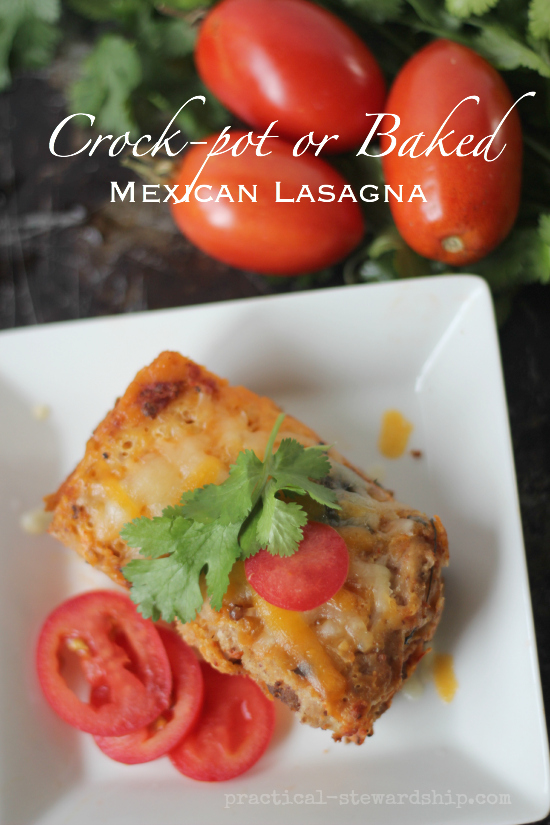 Crock-Pot or Not Mexican Lasagna
Ingredients
1 pound ground beef, turkey, or chicken, cooked
approximately 28 oz of salsa (if using can diced tomatoes instead, add 2 T taco seasonings, & chop up some onions and mince two garlic cloves. I added more veggies like spinach & broccoli to healthify and blend it into the salsa)
1-2 cups of your favorite shredded cheese (I used medium cheddar and raw milk cheddar cheese)
7.5 oz. container ricotta cheese (about half a 15 oz. container~use more if you desire)
approximately 8 (10 inch) whole wheat tortillas
Instructions
Cover the bottom of the crock-pot with a thin layer of salsa.
Combine cooked meat, and the remaining salsa together.
Place a layer of tortillas in the slow cooker.  Tear them to fit if needed.
Place a layer of the ricotta cheese, using 1/3 of what you have.
Sprinkle 1/3 cup of the cheddar cheese or cheese of your choice on the ricotta.
Place 1/3 of your salsa/meat mixture on the cheeses.
Repeat laying until you are out of ingredients.
Slow cook for 3 & 1/2-4 hours on high or on low for 5-7 hours.
If baking, use a 9 x 13 baking dish, layering as stated above. Bake for 30-40 minutes at 350 degrees, until dish is completely cooked through and the cheese is nice and browned.
Go here for the complete list of recipes.
This post may contain affiliate links that cost you no more money, but support our blogging efforts. Thank you! 
Sharing at Weekend Potluck and some of these great link parties.