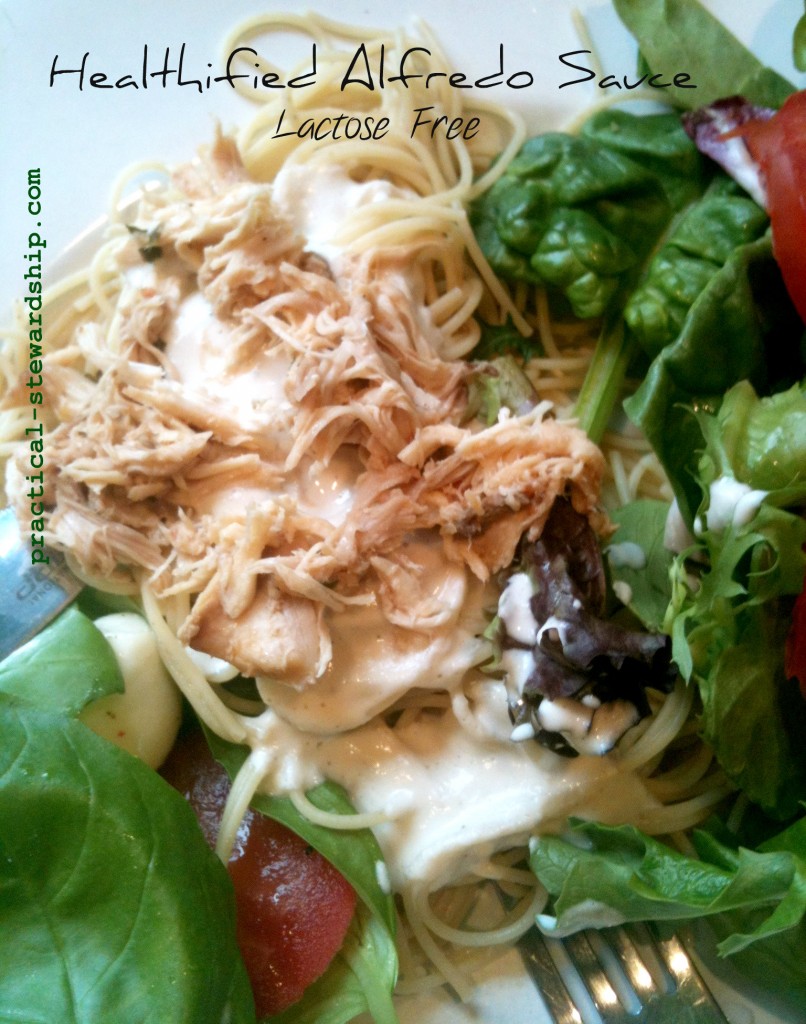 In our early days of marriage, JSarr's meal of choice when we would eat out at a fancy-schmancy restaurant would be Chicken Fettuccine Alfredo.  It's hard to find recipes that are healthified versions of our favorite go-to dishes.  How do you develop a healthier palate?  One dish at a time.  Your taste buds will change!  Sometimes, you don't even have to compromise the taste of the dish when you find a healthified version.  It is just as good or even better, as is the case with this dish…in my humble opinion. And this sauce is just as creamy as a traditional Alfredo!! This recipe can be made lactose-free, too!  The sauce is vegan.  Amazing what can be accomplished in the wonderful world of nuts.  I adapted this recipe from The Detoxinista.

The last time we had the dish, JSarr (the hubs) ate the Alfredo sauce as a topping to his roasted cauliflower as a lower carb alternative and gluten free alternative as pictured above. Yum! I did top ours with shredded chicken, but for a vegan alternative, just omit the chicken.

The Verdict: We have made this at least three times in the last few months, and it's such a treat!  Raw cashews can be expensive, but it's worth it.  Soaking them expands them, too, so it adds to the volume, stretching the dollar.  If I didn't know better, I would not know that there is no cream or milk product in it.  It's amazing!  If you are an Alfredo sauce lover, you've got to try it!!
If the sauce is too thin for your liking, add more cashews.  If it's too thick, add more water.  Add additional spices as needed.
If you have leftovers, don't heat the Alfredo sauce after refrigeration.  I made that mistake a few times, and it's just not the same, gooey, sticky.  After pulling the sauce out of the fridge, let it come to room temperature, and add it to warmed veggies or warmed pasta.  You could also top it on raw veggies.
Healthified Alfredo Sauce Recipe
Ingredients
1 cup raw cashews, (if you don't have a high-powered blender, soak them in water for an hour) drained
1 cup water (if you want it creamier and don't need it lactose-free, you can use milk instead)
1 clove raw garlic (I used 3 the first time I made this because we love garlic so much, and BOY was that too much!)
1 T lemon juice (about half of a lemon-fresh is always best!)
1/4 t onion powder
1/2 t sea salt
1/4 t pepper, to taste
Instructions
Blend all ingredients in a high-powered blender until smooth (like butter or budda).
Stir into your warmed whole wheat pasta or veggies.
Go here for the complete list of recipes.
Have you tried…?