Blackberry Apple Crisp
Here in Western Washington nothing signals summer's end like blackberry and apple crisp.  Apple crisp and blackberry crisp are great alone, but apples and blackberries are even more tasty together as they are great complements to each other.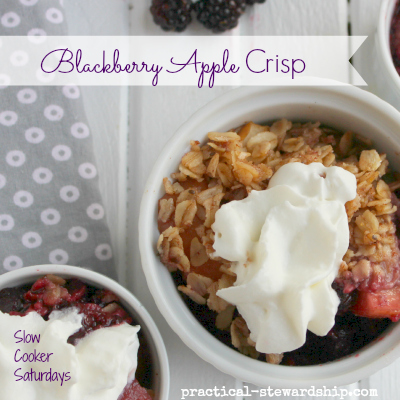 In many ways I hate admitting that the long, warm days of summer are melting away (you don't see me in t-shirts unless it's 78 degrees F), but knowing we get to enjoy some blackberry and apple crisp somehow cushions the blow.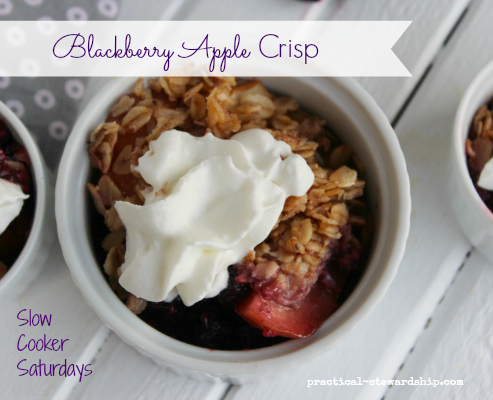 And my kids!  Well, my kids are always really excited about blackberry season!  They love going out and picking right in our own backyard.  The dessert they have been eagerly awaiting the most is blackberry pie.  I still haven't made the pie even though we've had the blackberries around for a couple of weeks.  When a pie just seems like too much work, I love to make blackberry crisp (so I have made lots of crisps lately).  When we don't have enough blackberries to harvest for a crisp, I use apples to complete the filling.
The recipe I am sharing with you today may have double the crisp topping you may normally be used to.  You see, my absolute favorite part of the crisp is the oat mixture, so I wanted to make a crisp recipe that has lots of the oat mixture.  Feel free to use only half of the oat mixture part of the recipe, and store the other half of the oat mixture in the fridge for a second crisp at a later date.

I also wanted to add even more healthy goodness with the addition of the chia seeds, wheat germ, wheat bran and oat bran.  Omit the latter 3 ingredients for a gluten free option.   I leave the peels on the apples for extra nutrients and to save time.
9/5/13 update**  Now that I am dairy-free it's super easy to make this dairy-free and vegan.  I just sub the butter for coconut oil.  The family doesn't even notice the difference.
Crock-pot or Not Blackberry Apple Crisp
Ingredients
2 cups organic oats (use certified organic if needed)
1 cup organic sugar (I used the evaporated cane juice from Costco)
1/2 cup cold butter, diced into small pieces or coconut oil** updated 9/5/13
optional, 1/2 cup nuts of your choice like pecans, walnuts, or almonds (we LOVE the pecans)
2 T cinnamon (or more because it's so good for you!)
1 T Chia Seeds
1 t of each, wheat germ, wheat bran, & oat bran (omit for gluten free)
2 to 3 cups Blackberries/Apples (or as much as you like/have)
Instructions
Cooking in the Slow Cooker:
In a medium bowl mix all of the ingredients together except the fruit.
Fill a 9x5x3 greased loaf pan with the prepared fruit (if your fruit is on the tart side you can sprinkle a couple of tablespoons of organic sugar over the fruit). Optional: you could also just place your fruit in a greased slow cooker. I have done it both ways with success.
Top fruit with the oat mixture.
Place the pan in the slow cooker with no water on the bottom.
Slow cook for 1.5 to 2.5 hours on high or 4 hours on low, or until the butter/oil has melted and the fruit is bubbly.
Cooking in the Oven:
Use the same instructions as the slow cooking instructions except bake at 375° for 20-25 minutes or until fruit is bubbly.
The Verdict:
If you are nuts for nuts like we are, you will find that the addition of nuts is absolutely amazing!  It will take something that is great and make it extraordinary.  If the butter isn't melting in a way that is covering all of the oats, go ahead and move the butter around to get even melting.
Also, if you like lots of crisp topping, you'll love how much crisp topping this recipe produces.
Want other blackberry ideas?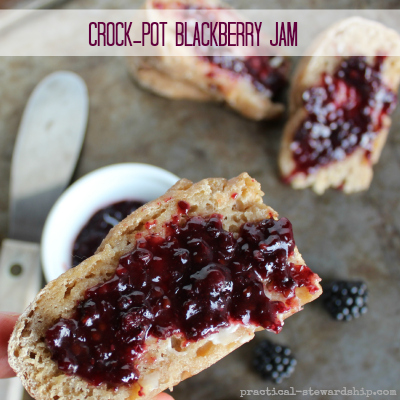 THIS POST MAY CONTAIN AFFILIATE LINKS THAT COST YOU NO MORE MONEY, BUT SUPPORT OUR BLOGGING EFFORTS. THANK YOU!