What do you call it?  Do you call it stuffing or dressing?  I had The Chew on 11/12/12, and the episode was all about stuffing.  They asked the audience what they call it, and different people from different places call it different things.  Half of the people polled in the South call is stuff, and most people in the East call it dressing.  They didn't mention the West or North.  A few even call it 'filling'.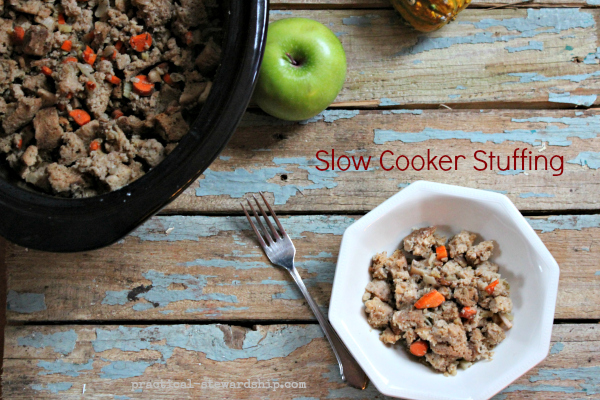 Co-host Michael Simon says if you bake it in the bird, it is stuffing, and if you make it otherwise it is called dressing.  I have historically called it stuffing.  So according to Michael Simon, I am sharing my dressing recipe with you today since this definitely will not be cooked in the bird, but instead cooked in my favorite kitchen appliance, the slow cooker.  Oh, may be my Vitamix is more loved!?!  Or may be it's a tie!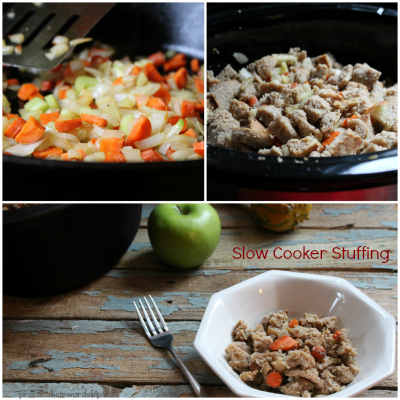 I used to ALWAYS make stuffing out of a box.  I didn't know how unhealthy boxed, processed food could be, typically with a higher sodium content, genetically-engineered, food additives and the list goes on.  I remember a few years ago when my sister and I decided no more boxed stuffing, and we were trying to find a homemade stuffing recipe on the internet.  We were so discourage because everything we found involved using some kind of box.  Maybe we were looking in the wrong place.  We did come up with something that year, and I don't really remember how our first 100% homemade dressing attempt turned out. But ever since then, I have been making it homemade.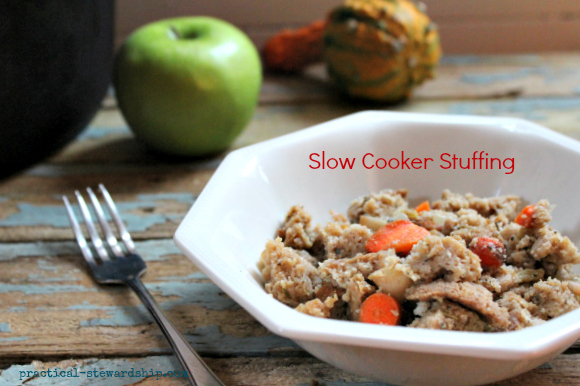 A few days before I make my stuffing, as I am baking bread, I double the recipe and make two batches, so I can store some of the bread away, otherwise it all gets eaten up too soon!
Dairy-Free Crock-pot Stuffing or Dressing
Ingredients
12 cups bread, cubed (use gluten-free bread if needed)
2 cups homemade chicken broth, or broth of choice (have additional around, if you would like to make it more moist)
optional, 2 T grape seed or olive oil
2 stalks of celery, diced
2 carrots, diced
1 medium onion, diced
1 apple, diced with skins
2 tablespoons sage
1 tablespoon thyme
1 teaspoon salt, or to taste
Instructions
Optional, lightly toast cubed bread, on a baking sheet for 5-10 minutes at 200 degrees in the oven.
Optional, sauté celery, carrots, and onion in 2 T of olive oil until onions are translucent for more flavor.
Mix all ingredients in a big mixing bowl.
Place in greased slow cooker.
Cook on high for 1 hour, and then stir. Add additional broth by the 1/2 cup if you would like more moist. Remember the crock-pot keeps food moist with the lid on, so don't overdo it.
Reduce heat to low, and cook for an additional 2 hours, stirring every hour.
Serve and enjoy!
The Verdict: As I was cooking it, the aroma from the crock-pot screamed, "Thanksgiving!"  It was so flavorful, especially with the homemade chicken broth.   I love how this frees up the oven to bake my rolls and one of my turkeys (I crock-pot another turkey at the same time in my 7 quart crock-pot), since I used to bake my dressing.
This post contains an affiliate link.
Want other slow cooker recipes for Thanksgiving?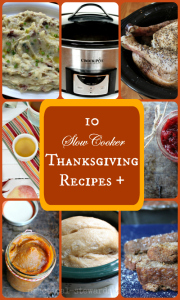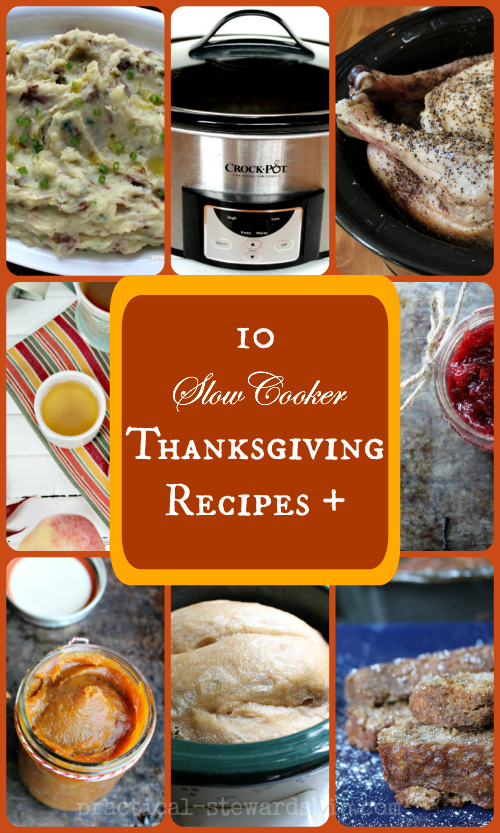 THIS POST MAY CONTAIN AFFILIATE LINKS THAT COST YOU NO MORE MONEY, BUT SUPPORT OUR BLOGGING EFFORTS. THANK YOU!