Have you ever made chicken or turkey stock or broth?  Talk about a frugal idea!!  This is a great way to save $10 or more using food scraps and recycled pasta sauce jars that would be otherwise deemed as garbage.  **Pictures updated 11/13.
**Update 10/1/12: I have been freezing my vegetable scraps and bones in one gallon size freezer bag, and throwing them into the stock when it's time to make it.  That way I don't waste valuable scraps and I know that it's all organic.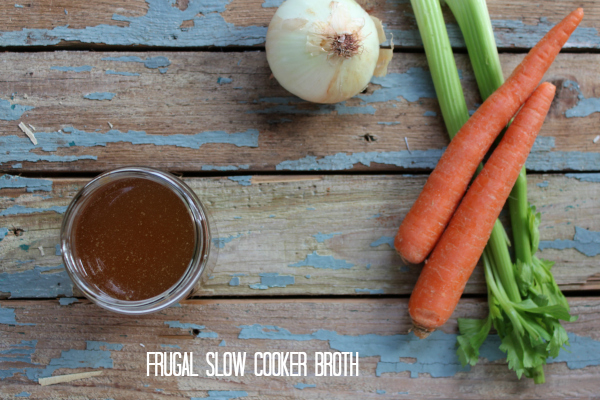 I figure I just saved about $10 now since this recipe gave me four-26 oz. jars of stock, and you can add 6 ounces of water to it to make 32 ounces, and I won't pay more than $2.50 for a 32 ounce box of chicken broth.I can't believe I haven't done this more often, as I do keep broth on hand in our pantry.  Now over the years I have used the drippings from a crock-pot whole turkey or chicken before, froze that in glass jars and have added that to soups or risotto.  I think this stock is better!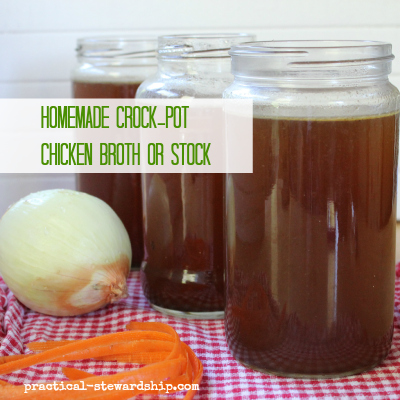 Interested in the stock or broth debate-which one are you using/making?  Some use broth and stock in the same way and see them as interchangeable, and others don't.  Stock uses more bones, and broth uses more meat.  You can go here to Food Network, or here, and here for a few sides to the story, although you can search the Internet and find MANY ideas on both sides of the debate.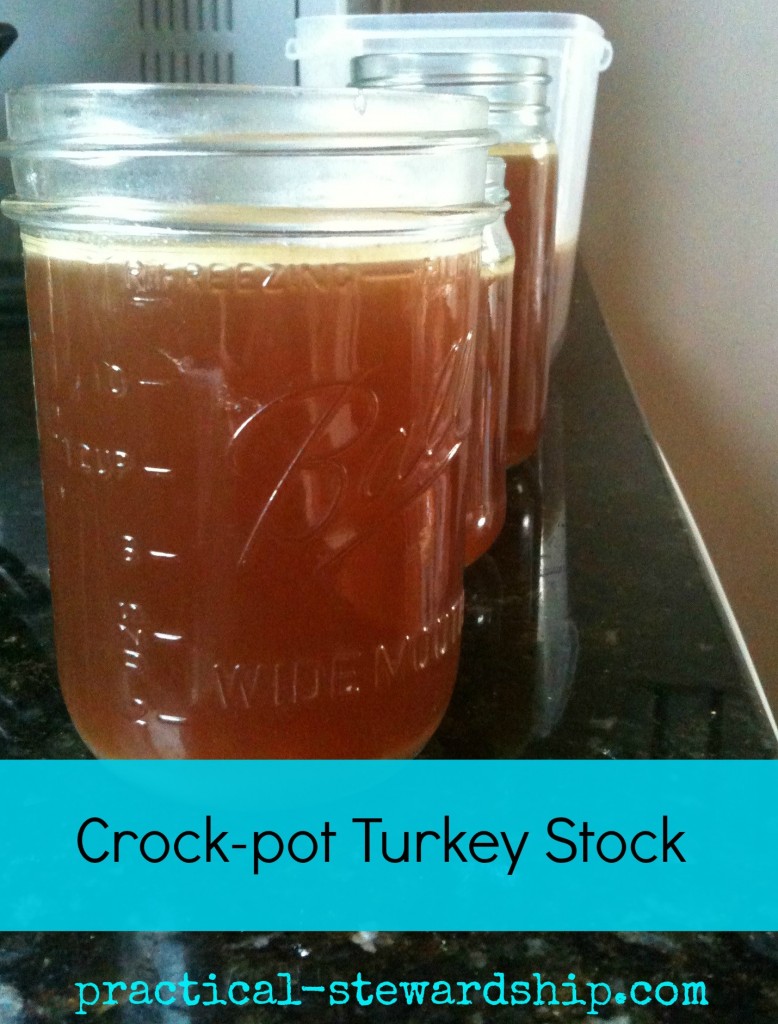 Crock-pot Chicken Stock or Broth
Ingredients
bones left over from a whole chicken (we crock-pot our whole chickens)
2 or more celery ribs, quartered
2 or more carrots, quartered
1 or 2 onions, quartered
2 cloves garlic (unpeeled is fine)
Italian seasonings
2 t salt, or to taste
1/2 t pepper, or to taste
optional 1 T vinegar (can be apple cider)
optional dash of Cayenne pepper
Instructions
Place bones in the crock-pot.
Add vegetables/scraps.
Cover the bones and vegetables with cold water (cold water helps release more flavor/nutrients from the bones), but leave an 1.5 inches of space from the top of the crock-pot.
If you use vinegar, combine it in the crock-pot now, and leave the crock-pot for an hour with the crock-pot off. The vinegar helps bring out the calcium in the bones.
Cook on high for 4 hours, and then low for 4 to 6 hours, or cook 12-24 hours on low. The longer it slow cooks, the more flavorful it will be. This is a great recipe to cook overnight.
Strain, discard vegetables, and store in glass jars. I freeze mine with no issues-just make sure you leave at least an inch of space at the top for expansion purposes.
The Verdict: It is really so easy to do.  You just have to do it!
**Update 11/13:  During the winter months I make broth a couple of times a month.  Now I will cook my broth on low for up to five days.  I am CONSTANTLY using stock for something, whether it be to flavor tetrazzini or other pasta dishes or a myriad of different soups, so it's nice to have the perpetual broth on hand.  I let it cook on low in the slow cooker and take what I need during the week, and just add water when I take out broth.  By the end of the five days, the bones are soft enough to put in my garbage disposal with ease!  Those bones just fall apart; it's crazy!
Go here for the complete list of recipes.