Pizza Hummus is a fun variation on the traditional hummus.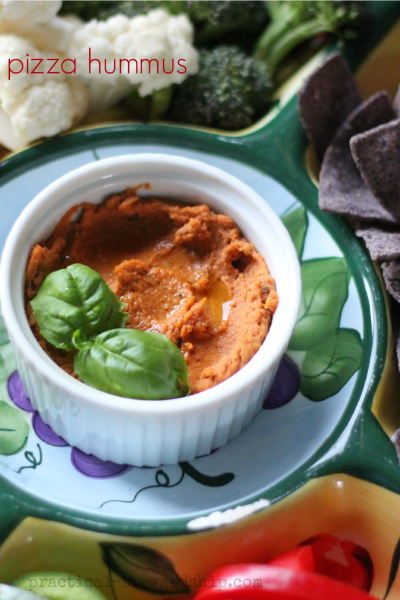 In my ever persistent pursuit to put more produce into our persons (do you like the "P" alliteration?), I knew I needed to start reaching reaching more for veggies for our family's snack attacks.  Honestly, when I want a snack, I usually want carbs.  I especially love granola bars, crackers (although I don't eat a lot of crackers, I do crave them), trail mix and then just plain nuts.  I also like eating fruit.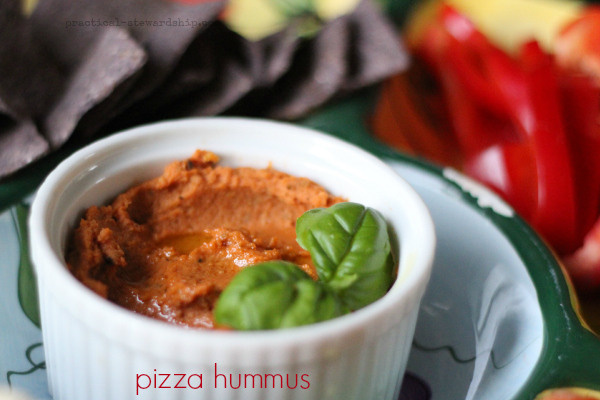 It's been easy for us to add lots of vegetables to our soups, smoothies, at dinner filling at least half of our plates with salads, adding them to scrambled eggs, and the like.  But sorely missing from my snack list are veggies.  And since I truly believe that our lifestyle should consist mostly of vegetables, I know I need to move in that direction and add them to our snack regime.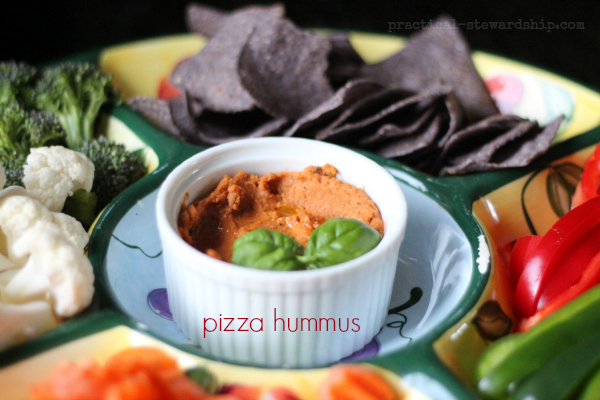 I don't know about you, but dipping vegetables into some kind of sauce makes them more appealing to me.  I was inspired by Chocolate Covered Katie's Melty Pizza Hummus, but she uses no oregano (something I think makes a pizza a pizza) and typically makes portions for a single gal, not a family.  So I adapted her recipe, and I am very pleased with the results!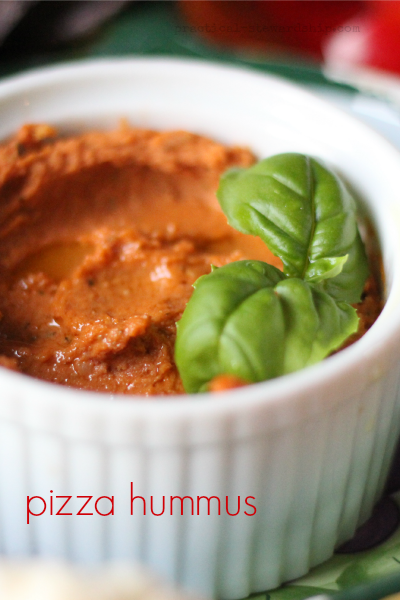 Keeping this hummus around has forced me to be more on top of things and keep a big bowl of raw vegetables around for some easy dipping action.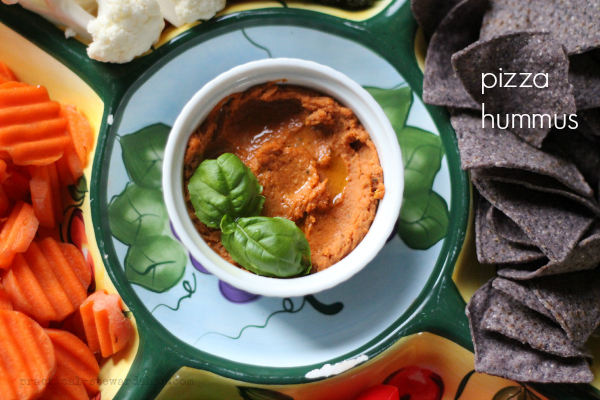 The Verdict: My kids said it tastes like pizza!  That exactly the reaction I wanted!!  This recipe really did help me and the fam eat WAY more veggies then I ever would have with out it this week.  Love it! If you want it creamier add more olive oil or use tomato sauce instead of tomato paste.
This is an easy recipe to double making some to take to a party and keeping half at home for the week.
Easy Pizza Hummus
Ingredients
1 cup cooked garbanzo beans (chickpeas)-canned works well
1/4 cup tomato paste
4 T nutritional yeast (you could try Parmesan cheese if you can use dairy)
3 T organic olive oil
1-3 cloves of garlic depending on your love of garlic
1 t oregano
1/4 t salt or more to taste
Instructions
Process all ingredients in a food processor.
Enjoy with raw vegetables, and chill uneaten portion in the refrigerator.
This post may contain affiliate links that cost you no more money, but support our blogging efforts. Thank you!